Come gather around the fountain and welcome in the holiday season with the Festival of Lights at Normandy Fountain on Sunday, Nov. 26, 2023, from 6-8 p.m. The event is free and no RSVP is required.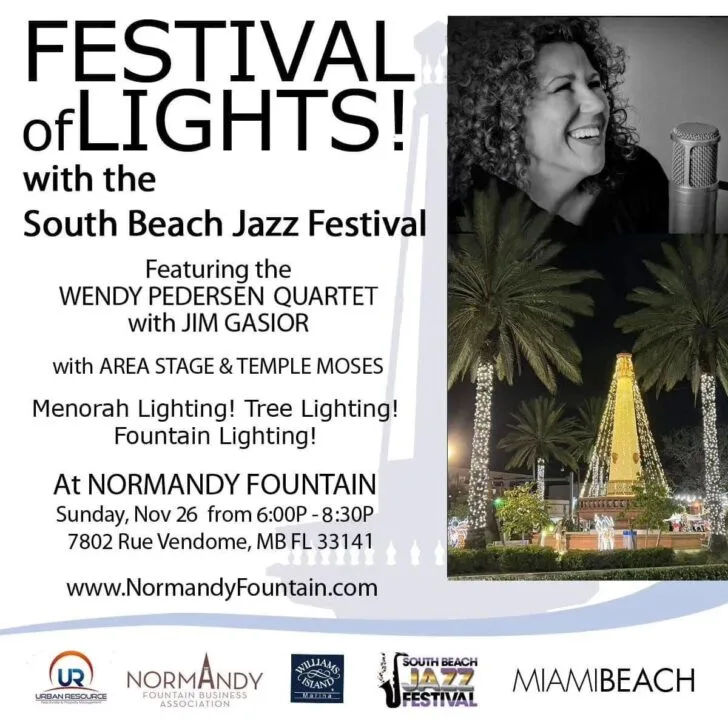 The event is a combination Christmas tree and Menorah lighting to usher in both Christmas and Hannukah. Festivities will include a performance by singer Wendy Pedersen, a fixture on the Miami music scene for decades. She'll be singing plenty of holiday favorites with her quartet and accompanied by jazz musician Jim Gasior.
Also performing will be groups from Area Stage and Temple Moses.
To keep up with latest news, sign up for the daily South Florida on the Cheap newsletter. You can also follow us on Facebook and Instagram.
More holiday events
Friday, December 1, 2023
Saturday, December 2, 2023
Sunday, December 3, 2023
Monday, December 4, 2023
Tuesday, December 5, 2023
Wednesday, December 6, 2023
Thursday, December 7, 2023
Friday, December 8, 2023
Saturday, December 9, 2023
Sunday, December 10, 2023
Monday, December 11, 2023
Tuesday, December 12, 2023
Wednesday, December 13, 2023
Thursday, December 14, 2023