Topeekeegee-Yugnee Park in Hollywood – or TY Park, as it's known – is popular for a variety of outdoor activities. South Floridians love it because it's a great venue for walking, running or skating on a shady path around a lake lined with oaks. It's also a venue for festivals and entertainment.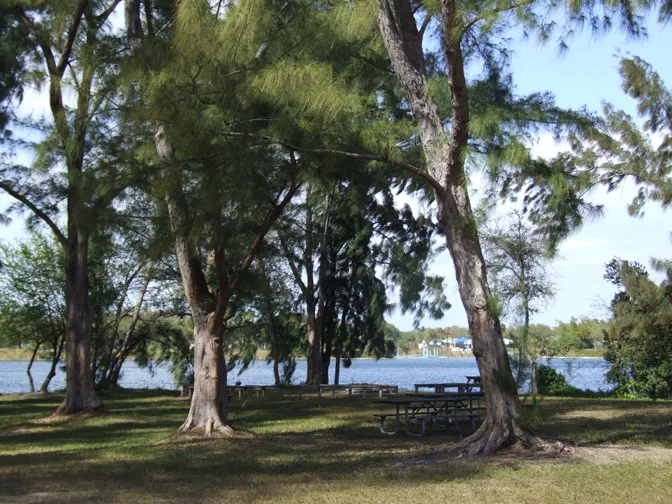 TY Park is at 3300 N. Park Road, Hollywood. Entry is free week days. Weekend and holiday entry fees are $1.50 for guests age 6 and older.
Food Trucks
Events with food trucks are 6 p.m. – 9 p.m. second Thursdays, with free entry.
Water park
The park features a pool and splash playground. It's open weekends in Spring and daily during summer. Phone to verify when it's open.
Pool & water playground within T.Y./Topeekeegee Yugnee Park, 3300 N. Park Road., Hollywood 33021, 954-357-8811
Waterpark fees:
$9.50 per day
Discount opportunity: $5.75 after 3 p.m.
T.Y. Park features
Park manager Jim Babb offers his perspective:
Q: Why do people enjoy walking and biking at your park?
A: "People love the huge live oaks that provide a cool shade canopy over much of the park. T.Y. Park has the feel of a neighborhood park, while providing the amenities of a large regional park," Babb says. "The 2-mile walking path draws residents daily as they enjoy the opportunity to experience the scenic walk around the lake."
Q: What are some features and amenities?
A: They include:
Picnic areas
Tennis
Watercraft rentals on weekends during winter
RV campground
Castaway Island water park (not open in winter)
Playground and other amenities
Q: What types of wildlife reside at T.Y.?
A: "T-Y Park is home to squirrels, green parrots, box turtles, peacock bass, Egyptian geese, egrets, and ibises among many others," Babb says.
Q: Where's your favorite place?

"Sitting lakeside watching the fountain," Babb says.
For other information, log in at the Broward Parks' website or 954-357-8811
Sign up for South Florida on the Cheap newsletter. Follow on Facebook, Twitter and Instagram.
Other fun Things To Do
Other Free Fun Events & Activities
Wednesday, December 6, 2023
Thursday, December 7, 2023
Friday, December 8, 2023
Saturday, December 9, 2023
Sunday, December 10, 2023
Monday, December 11, 2023
Tuesday, December 12, 2023