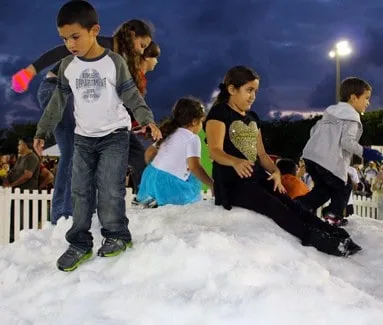 The City of Hialeah Annual Santa's Snowblast will be from 6-10 p.m. Saturday, Dec. 9, at Milander Park.
The event will include carnival rides, games, food for purchase from a variety of food trucks, live musical entertainment and the chance to play on a mountain of glistening, white snow, 50 tons of it!
All access rides wristband is $18, ride tickets are $15, and snow pile and bounce house tickets are $6. Pictures with Santa Claus are also $6.
To keep up with latest news, sign up for the daily South Florida on the Cheap newsletter. You can also follow us on Facebook and Instagram.
More free and cheap holiday events in Miami-Dade:
Saturday, December 2, 2023
Sunday, December 3, 2023
Monday, December 4, 2023
Tuesday, December 5, 2023
Wednesday, December 6, 2023
Thursday, December 7, 2023
Friday, December 8, 2023
Saturday, December 9, 2023
Sunday, December 10, 2023
Monday, December 11, 2023
Tuesday, December 12, 2023
Wednesday, December 13, 2023
Thursday, December 14, 2023
Friday, December 15, 2023