Welcome the holidays with a festive tree lighting.
The Village of Palmetto Bay will host its annual Light Up Your Holidays celebration from 6-9 p.m. Saturday, Dec. 2, 2023. And admission is free!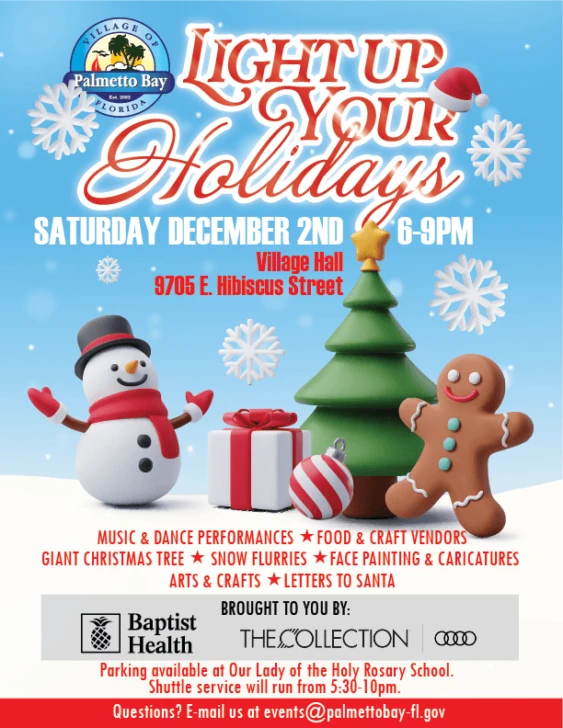 This festive family event at Village Hall, 9705 E. Hibiscus St., is expected to include:
Giant Christmas tree lighting
Snow flurries
Face painting and caricatures
Music and dance performances
Craft activities
Letters to Santa
Food vendors
For more information, click here.
Parking will be available at Our Lady of the Holy Rosary School. Shuttle service will run 5:30 to 10 p.m.
More Free and Cheap South Florida Holiday Events
Friday, December 1, 2023
Saturday, December 2, 2023
Sunday, December 3, 2023
Monday, December 4, 2023
Tuesday, December 5, 2023
Wednesday, December 6, 2023
Thursday, December 7, 2023
Friday, December 8, 2023
Saturday, December 9, 2023
Sunday, December 10, 2023
Monday, December 11, 2023
Tuesday, December 12, 2023
Wednesday, December 13, 2023
Thursday, December 14, 2023
Friday, December 15, 2023
Saturday, December 16, 2023
Sunday, December 17, 2023
Monday, December 18, 2023
Tuesday, December 19, 2023
Wednesday, December 20, 2023
Thursday, December 21, 2023
Friday, December 22, 2023
Saturday, December 23, 2023
Sunday, December 24, 2023
Monday, December 25, 2023
Tuesday, December 26, 2023
Wednesday, December 27, 2023
Thursday, December 28, 2023
Friday, December 29, 2023
Saturday, December 30, 2023
Sunday, December 31, 2023
Monday, January 1, 2024
Tuesday, January 2, 2024
Wednesday, January 3, 2024
Thursday, January 4, 2024
Friday, January 5, 2024
Saturday, January 6, 2024
Sunday, January 7, 2024
Monday, January 8, 2024
Tuesday, January 9, 2024
Wednesday, January 10, 2024
Thursday, January 11, 2024
Friday, January 12, 2024
Saturday, January 13, 2024
Sunday, January 14, 2024
Monday, January 15, 2024
Tuesday, January 16, 2024
Wednesday, January 17, 2024
Thursday, January 18, 2024
Friday, January 19, 2024
Saturday, January 20, 2024
Sunday, January 21, 2024
Monday, January 22, 2024
Tuesday, January 23, 2024
Wednesday, January 24, 2024
Thursday, January 25, 2024
Friday, January 26, 2024
Saturday, January 27, 2024
Sunday, January 28, 2024
Monday, January 29, 2024
Tuesday, January 30, 2024
Wednesday, January 31, 2024
Thursday, February 1, 2024
Friday, February 2, 2024
Saturday, February 3, 2024
More Holiday Events