Get answers and learn everything you need to know about EVs but were afraid to ask, plus take a test drive from 10 a.m. to 1 p.m. on Saturday, Sept. 23, 2023. The City of West Palm Beach is hosting the Electric Vehicle Car Show at the Cox Science Center and Aquarium, 4801 Dreher Trail North.
This is a rare opportunity to ask questions of EV experts and find out ways to reduce your carbon footprint, plus take home some free giveaways.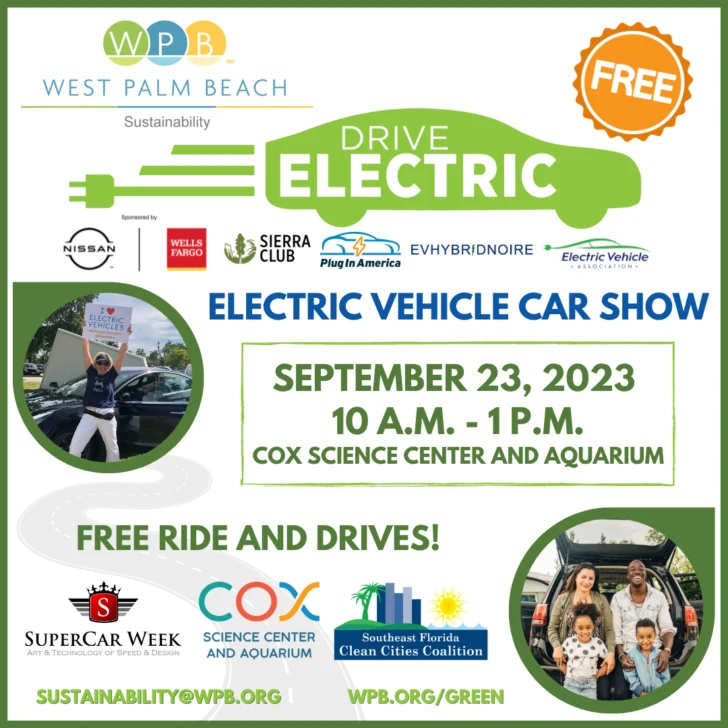 So, get charged up and take the whole family because this event is FREE to attend and it is also dog-friendly.
Personal EV owners are encouraged to attend and showcase their vehicles. Register your vehicle at this website:
driveelectricweek.org/event.
To keep up with the latest news, sign up for the South Florida on the Cheap newsletter. Follow on Facebook, Twitter and Instagram.
More Free Things To Do
Friday, December 1, 2023
Saturday, December 2, 2023
Sunday, December 3, 2023
Monday, December 4, 2023
Tuesday, December 5, 2023
Wednesday, December 6, 2023
Thursday, December 7, 2023