Due South Brewing, which just celebrated its ninth anniversary, offers free entertainment every week, including Trivia Night from 7:30 p.m. to 9:30 p.m. on Wednesdays and BINGO 6:30 p.m. to 8:30 p.m. on Thursdays. Challenge Entertainment hosts the trivia games. On both nights, free beer on tap and in special bottles will be awarded as prizes. (There will be a food truck parked out front.)
Be warned: Before the pandemic, a group of Trivia Night regulars competed at nationals in Las Vegas. They will be regrouping over the next few months.
To get the most bang for your buck, Fairall suggests getting a flight of four beers. "Don't drink pint after pint, try the five-ounce samples," he said. "That way people can [economically] sample more flavors and pick their favorites."
The price of these specialty 5-ounce beers will range from $2.50 to $4. The cheapest pale ale will sell for $5.50 for a 16-ounce draft. The most expensive beer, containing peanuts, coconut and more alcohol, will sell for $7.50 for 12 ounces, he said.
Due South's newest flavor, "Honey Vanilla Wheat," will be on tap. And the brewers will offer a second variation of that beer, with either orange or strawberry. "We're working on it now and will see which one tastes better," Fairall said. The taproom will also serve its popular "Strawberry Coastline," which is sold in area stores.
After hearing about Due South's need for honey from one of its brewers who happened to be hunting on their 12.6-acre property in Palm Beach Gardens, beekeepers Sierra Malnove (of Sierra's Bees and Palm Beach Creamed Honey) and her husband Al Salopek, donated 100 pounds of Saw Palmetto honey to the brewery, Malnove said. (Salopek founded and owned the very successful Bizarre Avenue Cafe in Lake Worth and Too Bizarre in Jupiter.)
The couple harvested the honey from 500 hives on their 12.6-acre farm and other apiaries in Palm Beach and Martin counties. The couple puts the "bee" in "beer," and are collaborating on the newly launched "honey" flavored beers, Malnove said.
She recommends spreading the fresh honey on crackers, waffles and pancakes, similar to fruit preserves. She added the specialty honey blends well with charcuterie; cheese, olives, dried fruit, ginger, sausage, etc.
"Do not use this honey for baking, a lot of the flavor will be lost," she warned. "Use it to highlight something special."
Palm Beach Creamed Honey creates private label honey for 17 private clubs in Palm Beach County, including Broken Sound in Boca Raton. See for yourself what the fuss is about, via the company's gift sampler of nine, 3-ounce, small batch jars, ranging from blueberry to jalapeno.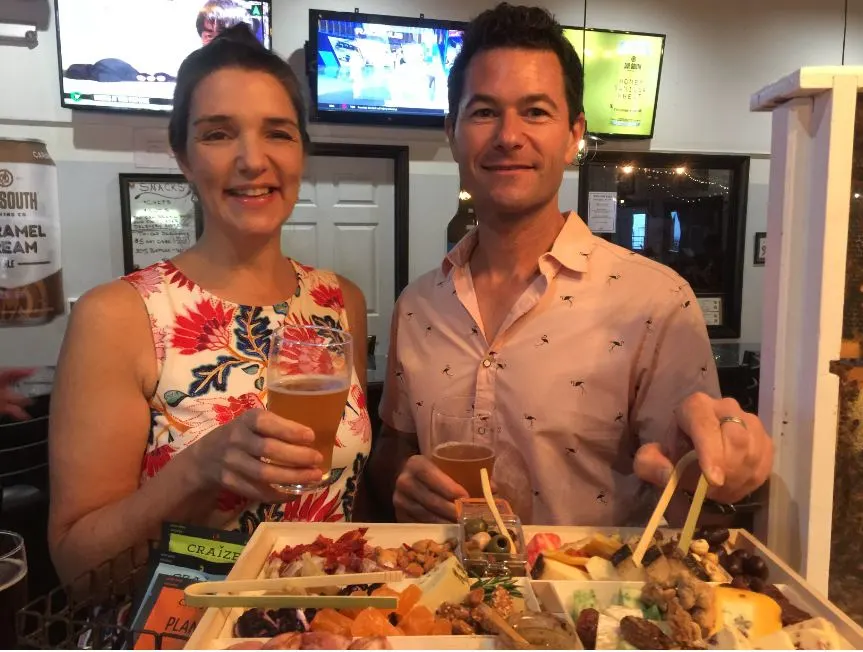 Photo by Sharon Geltner
Palm Beach Creamed Honey is offering Palm Beach on the Cheap viewers a 15% discount. When you shop on Amazon, type this code: PALMBEACH15.
Due South Brewing is located at: 2900 High Ridge Rd. #3, Boynton Beach, Florida, 33426.
Phone: 561-463-2337
Web: Due South Brewing Co. – Crafting beer for South Florida since 2012