Constantly evolving, shuffling collections in and out the Boca Raton Museum of Art knows how to keep things fresh. This summer bring the kids with you for a new adventure or check out their special summer workshop smART with activities for the whole family.
Enjoy free admission on Father's Day presented by PNC Bank
Sunday, June 20, 2021, from 11 a.m. – 7 p.m.
Have a cultural experience and beat the heat with kids all summer long. The museum's galleries and garden always have self-guided, age-appropriate activities available, including an Art Find and Look, See, Create books that incorporate artworks on view.
FREE smART Workshops
Each month get interactive with your kids with the Museum's FREE smART (Saturday Morning Art) program, with enough going on to involved the whole family.
The Museum's FREE smART program is back beginning in June offering hands-on activities for kids ages 5+ and their parents, grandparents and adult friends. This summer, smART meets Saturdays: July 10 and August 7 from 10 – 11 a.m.
Upcoming smART events include:
Boca Raton Museum of Art 35th Annual Festival in Mizner Park
Saturday, Feb. 5 2022, 10am – Sun, Feb 6 2022, 5pm
Each year 40,000 art collectors and enthusiasts gather for the Museum's Art Festival, the longest-running event in Boca Raton. Approximately 165 artists and artisans nationwide are selected to showcase their artworks ranging in mediums from ceramics, wood, fiber, glass, drawing, painting, mixed media, jewelry, photography, and sculpture.
Artists who wish to show their work can apply here.
What's Happening Right Now
Discover the Undiscovered
Don't miss "An Irresistible Urge to Create: The Monroe Family Collection of Florida Outsider Art," running through Sept. 5. Discover unusual items painted by people who were relatively undiscovered. People who didn't hold Masters of Fine Arts degrees, didn't have dealers or agents and never sold works in galleries. Today they're recognized for their colorful individuality in expressing themselves visually.
Photographer Gary Monroe collected 1,000 pieces of "outsider, marginal and underground" art; the museum is displaying 86 of them.
"Things just came my way," he says. "The artists were all interesting. I became curious about the work, which was all so invigorating because of the makers' freedom of expression and, of course, the visual resolve they found to express themselves. These works questioned assumptions of what art is or what art can be. While they provoked, they delighted. Further, the artists possessed little, if any, concern with public acclaim, museum exhibitions, or their creations' sales. Needless to say, they did not have artists' reps or résumés."
Portraits by Paul Gervais
Make sure to see Paul Gervais' portraits, inspired by Lucien Freud. Since March 2020, he has painted intimate portraits of people he knows personally, such as his partner of 46 years and paintings of objects that came entirely from his imagination.
Gervais was inspired by a Freud exhibition at London's Royal Academy of Arts.
He also paints abstract objects, completely from his imagination.
Stunning Glass Art: The Glasstress Exhibit
Don't leave without taking in the U.S. premiere of the Glasstress exhibit running through Sept. 5. Not only are the objects of art delightful to look at, but learn some art history too.
The Museum notes that; "Throughout history, glass art has been very popular, dating back to the ancient civilizations of Egypt and Assyria. This noble craft had an important role since the glass masters used to produce both decorative and utilitarian objects spanning from monumental stained glass works and wall hangings, to jewelry and tableware, to everyday objects such as glass vessels (glasses, vases, or decorative jars)."
Some of the most famous for hundreds of years are glass objects from the island of Murano in the Lagoon of Venice. But more recently, due to furnaces being shut down, the glossy reputation began to fade.
The mission of Glasstress is to restore the visibility and reputation of Murano glass, after decades of closures of ancient, centuries-old glass furnaces. Thirty-four artists were invited to Venice to try their hand at creating original works of glass art.
Most of these artists have never worked with glass, so they united their artistic ideas with the technical expertise of their skilled collaborators. The results are breathtaking.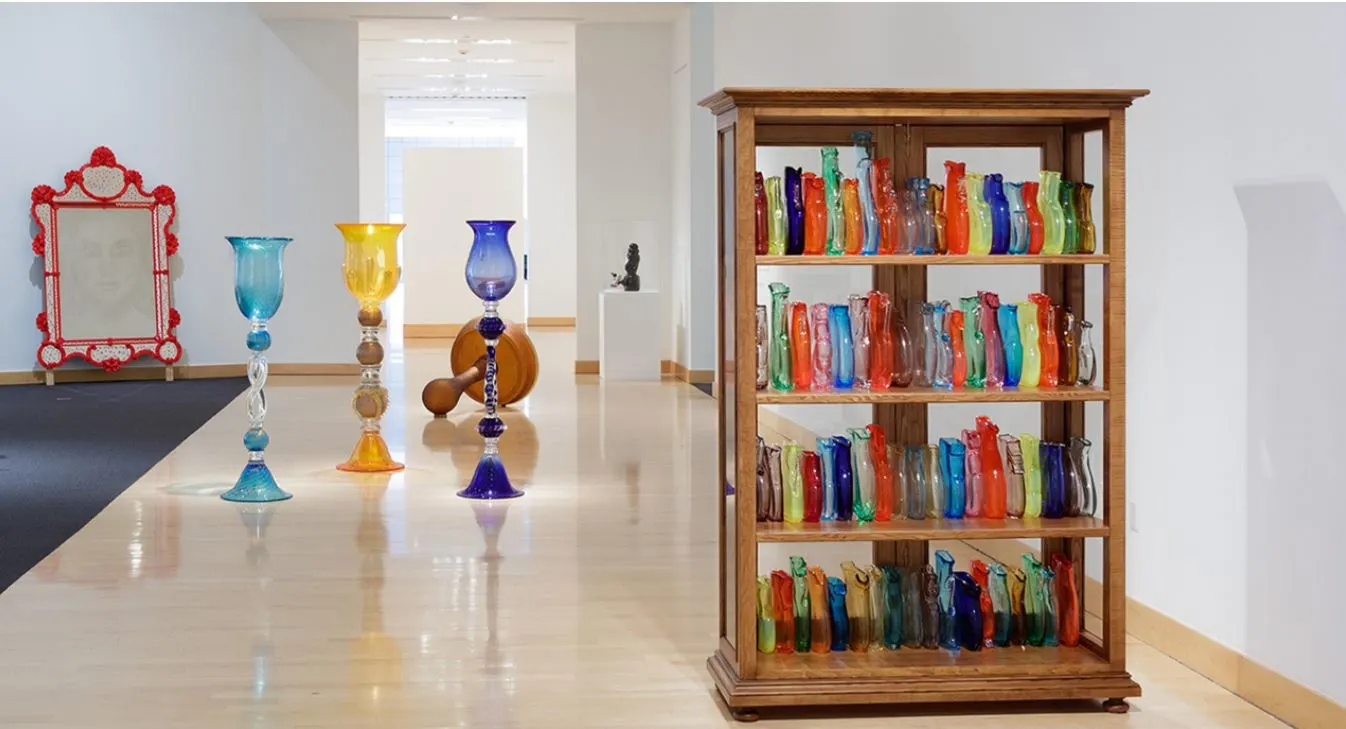 From 5:30 to 7 p.m., you can watch a free film: "Exhibition on Screen Cézanne: Portraits of a Life."
Visit Virtually
Enjoy the Boca Raton Museum of Art ANYTIME with virtual visits.
Get access to digital Gallery Guides with a collection of videos that extends the museum to everyone. Meet the artists at work, hear music in the museum and explore exhibitions from the comfort of your own home.
Admission is always FREE for students from kindergarten through college. Museum hours are 11 a.m. to 7 p.m. Wednesday through Sunday.
Parking is FREE at nearby Mizner Park garages, where there are also lots of area restaurants.
The Boca Museum of Art is located at 501 Plaza Real, Boca Raton. For more information on the latest exhibits, lectures, programs, music and other surprises visit, The Boca Museum of Art (https://www.bocamuseum.org/) or call, (561) 392-2500.