Drawing from myth, stand-up comedy and science, Ocean Filibuster plunges us into the most heated debate of our time – the intimate, critical relationship between humans and the ocean.
Ocean Filibuster is a genre-crashing music theater experience during which the ocean tells its side of the story through an epic battle of wits and wills, smarts and sass, facts and anthropocentric fiction. It is a new theater work from PearlDamour; and presented as part of Live Arts Miami's EcoCultura series of "Performances for the Planet."
The show opens at 8 p.m., Saturday, Nov. 12, with multiple shows running through Sunday, Nov. 20, 2022 at the Adrienne Arsht Center in the Carnival Studio Theater located at 1300 Biscayne Blvd, Miami, FL 33132. Tickets are $45 per person and can be purchased at www.liveartsmiami.org. Use promo code WAVES for $10 off. Valid only for Nov. 12 & 13 shows. 15% ticket fee is applied at checkout.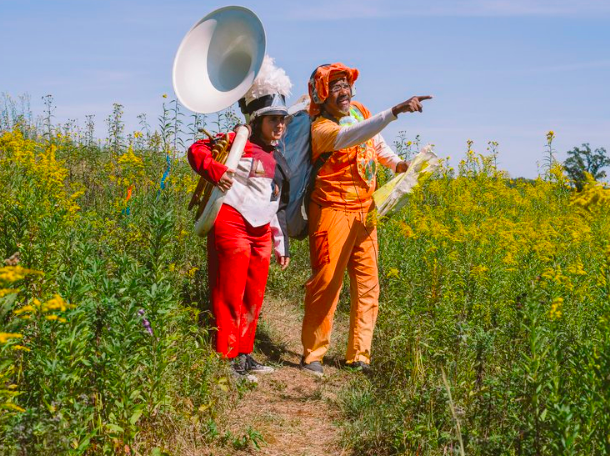 INTERACTIVE INTERMISSION
The performances include a special interactive intermission, where audiences can explore multiple "mini-labs" combining scientific fact and playful fabulation to evoke wonder and curiosity and bring them deeper into the themes of the show. This will include an augmented reality experience using the show's "Deep Wonder" app to bring audiences close up to view the deep ocean floor through the screen on their phone or tablet.
EDUCATIONAL EXPERIENCE
Following the public performances, audiences can enjoy a talk-back/Q&A with the artists facilitated by a local environmental leader who will engage in conversation about the show, its creation process, and the issues it confronts. Audiences can also learn more about opportunities to get involved and make a difference with each of the organizations featured addressing local environmental challenges.
PayByPhone parking is available on streets surrounding the Center, including locations 40602, 40603 and 40908. For further information, please visit https://www.paybyphone.com/locations/miami or the Miami Parking Authority website.
Other Transportation Options
RIDE SHARE: The Adrienne Arsht Center encourages the use of ride share services. The drop off and pick up location is located on Bayshore Drive between NE 13th Street and NE 14th Street.
METRORAIL OR METROMOVER: Train services are from 5:00 a.m. to midnight, seven days a week. The Adrienne Arsht Center Metromover station is just one block away from the Knight Concert Hall on NE 15th Street (across from the Omni Garage).
BRIGHTLINE: Enjoy your travel experience to the Arsht Center by booking a trip on the Brightline. Brightline provides express service connecting you to Miami, Fort Lauderdale and West Palm Beach-with planned future service to Orlando. Brightline trains offer free, high-speed Wi-Fi, power outlets and USB ports right at your seat. Bites and beverages are available for purchase. Trains provide bike racks, luggage racks and are pet friendly.
Other free and cheap things to do
Tuesday, November 29, 2022
Wednesday, November 30, 2022
Thursday, December 1, 2022
Friday, December 2, 2022
Saturday, December 3, 2022
Sunday, December 4, 2022
Monday, December 5, 2022
Adrienne Arsht Center
1300 Biscayne Blvd
Miami, FL , FL 33132
(305) 949-6722