Are you really from Miami if you don't celebrate the famous 305 Day?
Every year, Miamians gather to celebrate this day on March 5 (3/05), which commemorates the well-known area code, of course. In other words, it's just another reason for the great people of this city to throw a "pachanga" (or party).
This year is no different! SWARM, a planning and event-producing company, is hosting its inaugural Tres Cero Cinco "305" Day on Saturday, March 5, 2022, at Wynwood Marketplace, 2250 NW Second Ave.
Not a Miami resident? Doesn't matter because the event is free and open to the public and runs from 12 p.m. to 3 a.m. (Yes, a.m.!) Plus, the first 100 people at the festival will receive free Cuban cafe served out of a giant La Cafetera.
Like any good party in Miami, authentic food including a Cuban "Caja China" — pork roast — will be available, as well as live entertainment by emcee Marcos aka "El Caballo" and music and fun with resident DJ Mr. Pauer.
If you're planning to go all out for this celebration, you can even participate in a domino competition, which will run from 12-6 p.m. and a beer pong competition from 4-8 p.m.
Authentic food, live music and plenty of fun activities can be expected at Tres Zero Cinco "305" Day, and we're pretty excited ourselves!
Veza Sur Brewing Co. is also celebrating "305 Day" with its very own Carnaval! The brewery, at 55 NW 25th St., is known for celebrating its Latin American roots, making it yet another great place to celebrate this special day.
This free event will get "la rumba" started at 12 p.m. and is also expected to run into the wee hours! Guests may enjoy "cerveza fria" and dance to DJ Wasabi, DJ ILLSET and DJ KA5 at the turntables. There will be other live entertainment as well, featuring Brazilian and Colombian samba dancers.
Carnaval at Veza Sur sounds like it'll be one heck of a party!
A 305 Day Takeoever is also happening at The Wharf Miami, 114 SW North River Dr., on Friday, March 4 starting at 4 p.m.
The event will be hosted by Miami's favorite Instagram account, Only in Dade. Happy hour specials will be available such from 4-7 p.m. with $1 Wharf Lager and $3 wine by the glass.
Then on Saturday, March 5 head back to The Wharf Miami to celebrate all things Miami with live painting and live music. Enjoy a $30 Whispering Angel special from 12-4 p.m.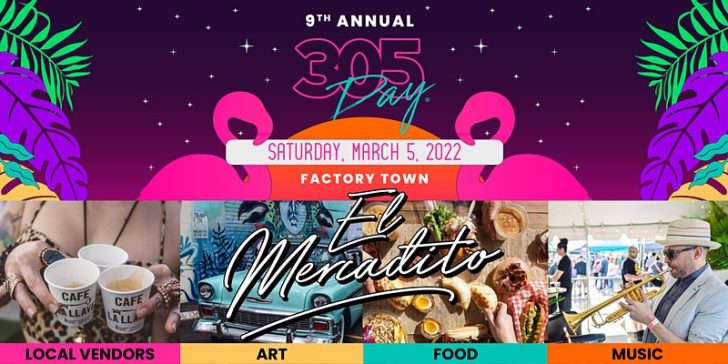 The 9th Annual 305 Day celebration at Factory Town, 4800 NW 37 Ave., is back with an outdoor celebration unlike any other.
Hosted by Lucy Lopez and Only In Dade's Carlos Hernandez, this free outdoor experience will feature everything from vendors, art, live music, and great food the whole family will enjoy.
Guests can upgrade their ticket to be able to experience the live musical acts at the outdoor concert space.
Free Cafecito by Cafe La Llave and Free Pastelitos by Vicky Bakery will be given to the first 1000 people. Free Jim Beam x Pinecrest Bakery BBQ sliders with your cocktail purchase will also be given out!
Miami breweries: Free & cheap tours, tastings
Aside from offering some of the best craft beers in the area, oftentimes, these breweries also offer free or cheap tours of the facilities. (Some may even throw in a free brew!) Check out our handy roundup by clicking here.
Best outdoor Happy Hours in South Florida
South Florida offers plenty of activities for savoring the fresh air — including outdoor happy hours.
Whether you're in Miami-Dade, Broward, or Palm Beach counties, we've got your one-stop shop for finding the perfect outdoor venue to enjoy a drink — or two. Check out this roundup by clicking here.
More fun in Miami-Dade County