Bargain-hunters who want to find the best deals know that thrift stores are where it's at. You can find discounted designer clothes, handbags and shoes, as well as furniture and home accessories.
But do you know where they are? If you're looking to do some bargain shopping, check out our list of thrift stores by neighborhood below. (Miami On The Cheap tip: Come armed with cash and patience, because the hunt can be lengthy.)
Also, as always, it's recommended you contact the place you wish to visit to make sure it is open and to find out its social distancing and safety protocols. Businesses are reopening and reclosing every day, so it's best to check beforehand.
Miami
Bargain Barn, 9801 NW Seventh Ave., Miami, 33137
Mon.-Fri. 9 a.m. to 3:30 p.m. Closed Saturdays and Sundays. Tel: 305-572-2063.
Bargain Barn is the Miami Rescue Mission Thrift Store.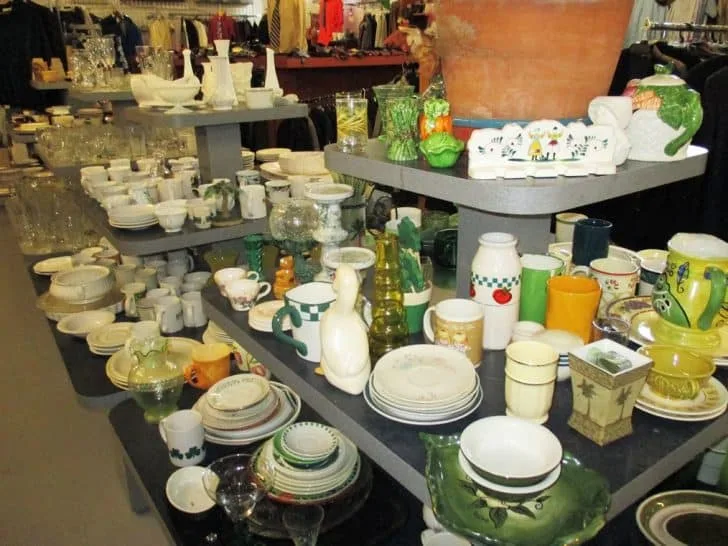 In the Barn they have dining room sets, sofas, wall units, desks, file cabinets, mirrors and all at ridiculously low prices. Indoors, they've got a variety of clothing, housewares and even wedding dresses. Like most items at a thrift store they all may need a little TLC but for the price, they're in excellent shape.
Little Havana
Dragonfly Thrift Boutique, 3141 SW Eighth St., Miami, FL 33135
Open Mon.-Fri. 11 a.m. to 7 pm., Saturday 11 a.m. to 6 p.m. and Sunday 11 a.m. to 5 p.m. Tel: 786-534-4178. Online store now open.
Dragonly is the thrift store opened by LEAP an organization that for the past decade has been providing transformational education to women transitioning from prison and the boutique is run by graduates who have been in prison since they are not eligible for homeless services and employment is difficult. They now have an online store.
Bargain Box Thrift Store, 1350 W. Flagler St., Miami, FL 33135
Open 10 a.m. to 5 p.m. Monday through Saturday. Closed on Sunday and Federal Holidays. Tel: 305-643-2945
Bargain Box is a thrift store owned and operated by the Woman's Cancer Association of the University of Miami. They sell donated items brought to the store including furniture, art, collectibles, small appliances, household goods, handbags, hats, clothing, shoes and other miscellaneous items. They also sell their items on EBay at wcabargainbox. The store is easily recognizable thanks to the colorful flower mural created by artist Corey O'Brien. Proceeds of sold items benefit the Association.
Miami Midtown (Wynwood, Design District, Edgewater, Little Haiti)
Out of the Closet, 2400 Biscayne Blvd., Miami, FL 33137
Open Mon.-Sat. from 10 a.m. to 7 p.m. and Sunday 10 a.m. to 6 p.m. Tel: 305-764-3773
Out of the Closet is a unique national chain of thrift shops benefiting the nonprofit AIDS Healthcare Foundation. At either of their spacious Miami-Dade locations, you'll find a fantastic selection of pre-loved goodies, from your favorite old-new jeans to comfortable sweaters and broken-in heels. Even better, you can bring your prescriptions to the on-site pharmacy and have them filled while you shop. If that weren't enough, Out of the Closet also offers free, confidential HIV testing, so you can finally get yourself checked before or after hitting the check out aisle.
The Salvation Army Family Store & Donation Center, 90 NW 23 St., Miami, FL 33127
Open 9 a.m. to 6 p.m., Monday – Saturday. Tel: 305-403-9813
The Salvation Army is perhaps one of the best known charitable organizations in the country having been in operation since 1879 when their first meeting was held in the US. Assisting people in need, offering elderly and veterans services, as well as combating human trafficking and hunger are just some of the issues the Salvation Army helps with. Most of them are funded by items donated and then sold at their thrift stores. Shop this large and airy store for household goods, appliances, furniture and clothing.
Lotus House Thrift Chic Boutique, 2040 NW Seventh Ave., Miami, FL 33127
Open 10 am to 7 pm, Tuesday – Saturday. Tel: 305-576-4112.
The Lotus House Thrift Chic Boutique is a thrift and vintage shop run by and benefiting the women of the Lotus House Women and Children's Shelter.
The cozy Wynwood thrift shop welcomes donations of clothing, accessories, books, furniture, collectibles, including designer brands and prime vintage finds. In fact, the store is actually divided into a thrift and vintage area. Whether you're looking for a gently used love seat or a fun pair of earrings, Lotus House will have something for you to treasure.
---
North Miami-Dade
Goodwill Supercenter, 441 NE 81st St., Miami, FL 33138 (more Goodwill stores here)
Open 9 a.m. to 9 p.m., Monday – Saturday, 10 a.m. to 7 p.m., Sunday. Tel: 305-751-1931
The Goodwill Supercenter, just west of Biscayne Boulevard, is a clean and well-organized spot for anyone looking for deals on clothes, accessories and housewares. It's important to look closely and inspect the items, but overall the merchandise at this Goodwill location is in decent shape.
The rows and rows of bargain items include blouses and men's shirts for $4, men's and women's denim for $4.50, women's jackets and blazers for $7, women's suits for $12 and purses for $2.50. There are racks of shoes and plenty of unique jewelry and watches by the front display case, plus shelves of books.
Red White and Blue, 12640 NE Sixth Ave., North Miami, FL 33161
Open 9 a.m. to 6:30 p.m., Monday – Saturday. Tel: 305-893-1104
This store is an institution and has been in North Miami for more than 50 years. It's packed to the rafters with clothes, household goods, toys and more, with a small furniture section in the back. This is my go-to place if I need clothes, especially for a trip to somewhere with winter. I got a fabulous long winter coat here for $15 one year. If you go during the weekend, bring patience, because the small store can get crowded and the lines can get long.
---
---
South Miami-Kendall
Salvation Army, 9790 SW 40th Street, Miami, FL 33165
Open 10 a.m. to 6 p.m., Monday-Saturday. Tel: 305-554-9669
Cheap, quality clothes, the Salvation Army's got your back. This particular shop always seems to have an influx of great designer pieces or lightly worn items for absurdly low prices (say, under $10). Visit on Wednesdays, and it'll be even cheaper for Half-Price Day. The store also has electronics, household wares, furniture, books, records, etc., but the best prices hands-down are on the clothes. All proceeds from Salvation Army purchases go toward Salvation Army's Rehabilitation Centers, which offer struggling individuals housing, jobs, and therapy at no cost.
South Miami-Dade
Salvation Army, 453 N. Krome Ave., Florida City, FL 33034
Open 10 a.m. to 6 p.m., Monday-Saturday. Closed on Sunday. Tel: 305-242-8788
Hialeah
Red White and Blue Flamingo Plaza, 901 E. 10th Ave., Hialeah, FL 33010
Open 9 a.m. to 6 p.m. Monday – Saturday. Tel: 305-887-5351
This place is the crème de la crème of thrift stores, it's even featured in a YouTube video with a full report from a Univision reporter. Here it's all about designer duds with names like Prada, Jimmy Choo, Chanel, Manolo Blanik and Christian Louboutin being thrown around. The items at Flamingo Plaza are in excellent condition, and some are even brand new with the tags still visible. This is one of Miami's most popular and quality thrift stores. It's also no secret that local and national celebrities have been spotted there. No credit cards are accepted, and be prepared to wait in line, especially on weekends. It's worth it however, since the deals are unbeatable.
901 E. 10th Ave., Suite 28, Hialeah, FL 33010
Open 9 a.m. to 6 p.m., Monday – Saturday; 10 a.m. to 5 p.m., Sunday. Tel: 305-888-0481
12560 NE 6 Ave., North Miami, FL 33161
Open Monday – Saturday, 9 a.m. to 5 p.m.; closed Sunday. Tel: 305-893-3535
Anyone familiar with bargain shopping in Miami knows about Hialeah's thrift mecca, Flamingo Plaza. Red, White, and Blue is the most popular store, but Community Family Thrift isn't far behind. It also carries lots of affordable goods. This particular store sells household appliances, electronics, jewelry, used books and records, holiday décor, antiques, musical instruments and, of course, lots of apparel for women, men and children. Daily specials means you need to pay close attention to tag colors and any signs for discounts. Community Thrift's sales help the Slomin Family Center for Autism and Related Disabilities.
---
Coconut Grove
This 'N That Thrift Shop, 3155 Commodore Plaza, Miami, FL
Open noon to 5 p.m., Tuesday – Saturday. Tel: 305-448-2114
Open for 63 years at Plymouth Congregational Church, the store is operated by church volunteers. For sale are donated items including clothes, furniture, jewelry, housewares, books, records, fine China, silverware, musical instruments and sports equipment. All proceeds from sales go to Miami-based charities.
---
More useful links:
Shop for luxury brands and old school finds at Miami vintage & consignment shops
Find out where to find the most popular Outdoor Miami Markets
Updated and interactive list of Miami Garage Sales
---