South Florida travel brochures are filled with beautiful people driving fancy cars and frolicking in the surf. While it is fun to imagine motoring up to a luxury resort with a Black American Express Card in one hand and a frozen mojito in the other, budget-conscious travelers would rather spend their money on great adventures by day than expensive hotels by night.
This Guide to the Best Miami Cheap Hotels pairs pocket-friendly accommodations with the city's most popular attractions to help take the guesswork out of affordable travel planning. Find a clean, safe spot to spend the night and have plenty of cash left over to discover the real Miami.
We've partnered with aResTravel to offer hotel deals to travelers coming to Miami. If you're traveling to Miami, or welcoming guests to Miami, please check out some of these deals.
You can book online, or by phone at 888-330-9972.
---
Best Business Hotel Deal Downtown

Unless you are a member of the cast of Mad Men, three-martini lunches are a thing of the past. In our current economic climate, a hotel offering spacious rooms, a 24-hour gym, located near the Miami Convention Center and an efficient concierge staff for under $190 a night should make any corporate bean counter proud. The Hyatt Regency in Downtown Miami has 612 newly renovated guest rooms, high speed WiFi, flat screen TVs and ergonomic work stations ideally suited to titans of industry or lowly idea guys seeking much-needed venture capital. Located at the edge of the Miami River, the hotel stands at the intersection of the Brickell Avenue Financial District and the commercial heart of Downtown Miami. The free MetroMover railway system connects the hotel to business, nightlife and the performing arts district in minutes. Just 8 miles to the Miami International Airport leaves plenty of time for a quick martini before your flight.
Click to find out more and to book the Hyatt Regency Miami.
Also close to the Port of Miami, Bicentennial and Bayfront Park and the American Airlines Arena.
Rates start at $180/night.
---
Best Cheap Hotel to Shop at the Top

If your pulse quickens each time a glossy magazine drops into your mailbox, you're probably a Fashionista. Dedicated South Florida shoppers travel far and wide in search of the latest designer creations at every price point. Each season they make a breathless pilgrimage to the dazzling Bal Harbour Shops to see the newest offerings from Chanel, Prada, Gucci and Pucci at the luxury mall Women's Wear Daily ranks tops in the country. Conveniently located just across from the beach, the most productive shopping mall in the country packs over 100 of the world's top designer boutiques into a tiny tropical package. If you hope to explore the best spot for Louis Vuitton, Valentino, Hermes and Dior and still have enough cash to pay for valet parking, check into the nearby Daddy O Hotel where king beds, fine linens, flat panel TVs and in room safes are less than $100 a night. Close enough to toddle to the mall in your highest Jimmy Choos, even a dedicated window shopper will appreciate the amenities of the Daddy O where a complimentary continental breakfast fuels your ascent to three levels of awe-inspiring fashion. Our Best Cheap Hotel is for Power Shoppers who know that a great value is always in style.
Click for more info and to book a room.
Also close to Indian Creek Country Club, Florida International University and Haulover Beach Park. Rates from $99/night.
---
To see our complete Miami Shopping guide with lots of special deal suggestions click here.
To see all of our hotel recommendations by area and special interests follow this link.

---
Best Hotel Deal for Bridezillas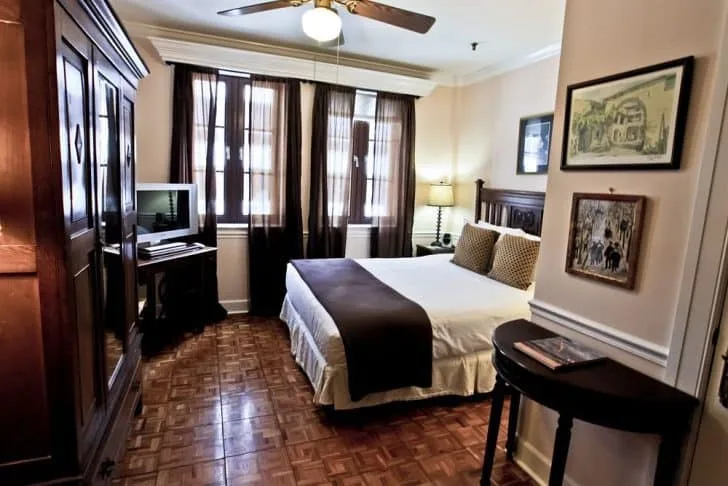 If planning your big day has transformed you into a gigantic city-stomping, fire-breathing reptile who won't take "no" for an answer, check into the charming Hotel St. Michel in Coral Gables and you will still have plenty of money for the perfect wedding dress. Steps away from dozens of bridal boutiques on tony Miracle Mile, the St. Michel has an old-world charm that can soothe the savage breast with deep wood paneling, shiny parquet floors, and plenty of antiques and fresh flowers. Nothing says "wedding" quite like booking into a European-style boutique property with double, queen and king- sized beds where you and your bridesmaids can argue about veils, trains and bustles all night long and then make up over a complimentary continental breakfast. Rested, fed and fortified with photos from dozens of bridal magazines, you'll be ready to torment the eager consultants at David's, Alegria's, Leggenda and Bellissima until it's time to return to the Hotel St. Michel to try again tomorrow. The Best Cheap Hotel for rampaging Bridezillas can help take the bite out of planning the perfect wedding.
Click to find out more and book Hotel St. Michel
Rates start at $139 (includes a continental breakfast)
Also close to the University of Miami, Biltmore Golf Course and Coconut Grove.
---
---
Best Cheap Hotel for Cruise Passengers
Nearly four million cruise passengers visit the Port of Miami each year so finding the Best Cheap Hotel for an overnight stay before or after you sail is a top priority. While many people opt for a quick overnight in the industrial areas surrounding the Miami International Airport, savvy travelers have discovered that staying at a downtown hotel offers not only proximity to both the port of Miami and Miami International airport, but also places guests within easy reach of South Beach, the lively downtown and Brickell areas, the Arscht Art center and American Airlines Arena as well as the Wynwood Arts district. From this central location cruise passengers can explore the best Miami has to offer pre or post cruise. The Yve Hotel, in downtown Miami has 243 rooms, a restaurant and free WIFI and is located across the street from Bayside Market Place.
Click to find out more and to book a room at the YVE Hotel.
Rates from $102/night.
---
Best Cheap Hotel for Bargain Shoppers

To adequately explore the 240 outlet shops, restaurants and bars that make up The Dolphin Mall, it's safe to assume you will want to book the Best Cheap Hotel in the area so you can shop 'til you drop into a comfy bed that is really close to the bargains. Clocking in at just five minutes door-to-door, the Baymont Inn Miami has 92 comfortable guest rooms and suites starting at $89 for a double- or king-bedded room. Guests enjoy free internet access, free airport shuttle service and a free breakfast to help power up for a twelve hour Dolphin Mall bargain bonanza. The largest outlet shopping center in Dade County opens its doors at 10 a.m., a magical hour when the racks are freshly stocked and most aisles are quiet and clear. By closing time, all the off-price goodies have been tried on and tossed, mulled over and discarded. At 9:30 p.m., security guards have to physically shepherd diehard shoppers out of Coach, Neiman Marcus and Saks Off Fifth so dozens of late-shift support staff can restock discount treasures for the next morning's onslaught. The Best Cheap Hotel for Dolphin Mall outlet shoppers makes it easy to edge out the morning rush for the best buys in town.
click here and for our Shopping guide to all of Miami go here.
---
Best Hotel Deal for Miami Sightseeing

Cuban restaurants and cigar factories in Little Havana, historic museums and shopping in Coconut Grove and the serene beaches off Key Biscayne attract thousands of tourists each year who hope to find the Best Cheap Hotel for Miami Sightseeing. The city packs dozens of popular attractions into a relatively small area, which makes the art-filled Hotel Urbano the perfect spot to access the Villa Vizcaya Museum and Gardens, Bill Baggs Cape Florida State Park and the Barnacle Historic State Park, the Miami Museum of Science and the Miami Art and Historical Museums downtown. With 65 contemporary rooms offering city and pool views, the Hotel Urbano has king and double beds, mini refrigerators, flat panel satellite TVs, free WiFi and in-room safes. Starting at $89 a night, guests can relax on private balconies or reserve lanai rooms opening directly onto the tropical pool deck. Dine at Bistro Urbano or explore the restaurants and bars at nearby Mary Brickell Village. Steps away from public transportation, the Hotel Urbano is the Best Cheap Hotel for touring all of Miami's most popular sites.
Also close to the Financial District, the Port of Miami and Jackson Memorial and Mercy Hospitals.
Click to find out more and book Hotel Urbano.
Rates from $118/night
---
Best Cheap Hotel to Party Like a Rock Star

A truly decadent weekend on South Beach is far out of reach of most budget travelers without the Best Cheap Hotel to Party like a Rock Star — The Catalina Beach Club. For just $148 a night, you and your potential band mates can check into a sleek room in the thumping heart of the Collins Avenue scene and find a chilled bottle of premium vodka waiting for your arrival. Pour a few shots, pull on your boots, undo the top three buttons on your shirt and get ready to rock! The hotel is across the street from the FDR and the Rose Bar, where the paparazzi wait for hours to catch celebrities, starlets and professional athletes trying to make discrete midnight getaways. Two blocks away from Sky Bar and Hyde Beach , a quick hop to and a stone's throw from Baoli and Wall Lounge, no matter how high you fly, the Catalina is close enough to stagger home and toast the dawn from your rooftop poolside lounge. Keeping in mind that VIP bottle service at most South Beach nightclubs will run more than twice your room rate, it makes perfect sense to book the Best Cheap Hotel so you can afford to Party Like a Rock Star.
Also close to the Miami Beach Convention Center, Ocean Drive and Lincoln Road Mall.
Click for more info and to book the Catalina Hotel and Beach Club

---
Best Cheap Hotel for Backpackers on South Beach

Once home to Al Capone's gambling operations, Espanola Way is a tiny strip of vintage Mediterranean Revival properties dating back to Miami Beach's early development in the 1920s. While the Art Deco restoration of South Beach is what makes big waves with architecture buffs visiting the city, this quaint enclave houses cool bars, trendy boutiques, a popular yoga studio and the city's only retro cinema. Sidewalk cafes, and a decidedly European vibe also serve as the perfect backdrop for the Clay Hotel and Hostel, our Best Cheap Hotel for Backpackers on South Beach. Friendly, funky and sometimes noisy, this historic hotel is ideally situated just two blocks from the beach, two blocks from busy Lincoln Road Mall, and in the heart of the prime nightclub district. Guest rooms with double or queen beds and a few wrought-iron balconies offer private baths, televisions, ceiling fans and air conditioning. For backpackers, the Clay's hostel facilities include male and female dorms of 4 to 12 beds, shared bathrooms and a group kitchen. Ideal for travelers who want to meet new friends and definitely easy on the budget, the Clay is a humble oasis in the very heart of the glitz and glamour of South Beach.
---
---
Note: Hotel information was accurate at the time it was published (February 2014), but can change without notice. Please be sure to confirm all rates and details before planning your trip.
---
Click to check out our other Hotel Specials
Miami Tours and Activitiy Discounts

---
We pick hotels based on several criteria, looking for hotels that have positive ratings and range from good to excellent while also offering great value. We provide the lowest rates available at the time of publication but, as is common with hotels, rates fluctuate based on the season and whether there are any special events or conventions in town.
Our affiliate relationships with the vendors you see here means we make a small commission if you book via our website. It does not cost you any more and helps us keep bringing you deals and special offers. We only enter into affiliate relationship with companies we believe bring good value to our readers.
---