The first weekend of December in Miami each year marks one of the city's biggest art events, Art Basel. And the week leading up to that marks Miami Art Week.
We're here to guide you through and let you know the free and cheap events during that week.
Museum of Contemporary Art (MOCA) in North Miami, 770 NE 125 St.
Take advantage of the Museum of Contemporary Art's extended hours. Located in the heart of Downtown North Miami, there will be two exhibitions on view inside by artists William Didier and Leah Gordon plus a public art installation on the plaza by artist Chire "VantaBlack" Regans. The public reception is Dec. 1 from 8-10 p.m., admission is $20, otherwise admission to the Museum is $10. Click on the link above to see the special expanded hours from Nov. 27-Dec. 4. Admission $10.
LnS Gallery, 2610 SW 28 Ln., Miami
Opening night of the exhibition "Transcendentalism, Distilled" featuring a comprehensive collection of works by modern artist Rafael Soriano completed in the 1990s. Dec. 2 from 7-10 p.m. Free
ArtBeat Miami, various locations throughout Miami
Ninth annual Art Fair showcasing the works of more than 30 emerging and well known local and international artists at various venues throughout Miami including Brightline Miami Central Station, Joseph Caleb Center and Lyric Theater. Dec. 2-4, Free
Inter-Continental Miami, 100 Chopin Plaza
The Downtown Miami hotel's lobby will be the site of an exclusive sensory immersive multimedia pop-up featuring works by national and international mixed media artists, painters and sculptors. The free two-week showcase runs from Nov. 30 to Dec. 10. Free
Perez Art Museum Miami (PAMM), 1103 Biscayne Blvd.
At Miami's premier museum, there's plenty to enjoy during Miami Art Week and admission is always $16 for adults, a bargain when there's so much to see. Aside from their permanent collection, take in five traveling exhibitions on display as well as the works in their sculpture garden and other ongoing exhibitions. There are also plenty of special events during Miami Art Week. Admission $16.
One of the neighborhood's longest-running art venues, Miami Art Week will see the unveiling of a new mural by well known street artist Shepard Fairey, along with work by international muralists Dasic Fernandez, Leon Keer, Shok1 and Lelin Alves. Admission $12.
Wolfsonian-FIU, 1001 Washington Ave., Miami Beach
Aside from exploring this museum's massive permanent collection, check out new works by artist Robert Lugo in the exhibition "Street Shrines," debuting Nov. 28 during Miami Art Week. Admission is $12, $8 for senior, students with ID and kids 6-18 years old.
Patricia and Phillip Frost Art Museum FIU, 10975 SW 17 St.
Take time to walk around and view the many sculptures on display. While inside the museum enjoy their trio of current exhibitions, "Rafael Soldi," "In the Mind's Eye" and "Rembrandt Reframed" and on Dec. 4 at 11 a.m. enjoy Breakfast in the Park, their free annual Miami Art Week event. Free
Elevate Espanola, Washington Ave. and 14 St., Miami Beach
Debut of installation "Trapeze Contortionists" by local Haitian artist Edouard Duval-Carrie featuring the silhouettes of 15 figures of dancers made of lightweight aluminum to be suspended above the pedestrian street on Miami Beach. Nov. 28 at 1 p.m. Free
"Passages" presented by AIRIE (Artists in Residence in the Everglades), Carter Project, 3333 NW 6 Ave., Miami
AIRIE artists Cornelius Tulloch created "Passages," a journey through The Everglades through projection mapping featuring poetry, song and visual explorations by several fellow AIRIE artists. Dec. 3 and 4 from noon to 4 p.m. Free but RSVP required.
The Art of Transformation, The Arts & Recreation Center, 675 Ali Baba Ave., Opa-locka
A five-day event featuring a trio of exhibitions including "This Here Place: Africa and the Global Diaspora," "A Beautiful Human Love" and "The Beautyful Ones Are Not Yet Born" along with a film screening and dance performance. Dec. 1-4, Free
The Bass Museum of Art, 2100 Collins Ave., Miami Beach
Miami Art Week features plenty of special events at The Bass including extended museum hours and a daily highlights tour from 1-2 p.m. from Nov. 27 to Dec. 4. Admission $15, $8 for seniors, students and youth 7-18 years old.
Lincoln Road, from Alton Road to Collins Ave., Miami Beach
Stroll along the outdoor pedestrian mall to view 12 monumental bright eye-popping life-size sculptures by renowned French artist Richard Orlinski. Look out for the pink lion, red crocodile, a standing bear and Wild Kong among others.
Art of Transformation, Ali Baba Ave. between Opa-locka Blvd. and Aladdin St., Opa-locka
A four-day, three-block event in the heart of Opa-locka featuring three art exhibitions exploring the African diaspora, "This Here Place: Africa and the Global Diaspora," "A Beautiful Human Love" and "The Beautyful Ones Are Not Yet Born."
FilmGate Interactive Media Festival #09, locations in Downtown Miami and Miami Beach
The Ninth Annual festival merges film and tech telling stories using extended reality and a variety of immersive multi-level experiences. Events take place during Miami Art Week, Dec. 2-5. General admission events on Dec. 4 and 5 are free and students with ID $25 VIP Pass for the festival (excluding opening or closing events). Click here to RSVP or buy student VIP Pass.
INK Miami Art Fair, Dorchester Hotel, 1850 Collins Ave., Miami Beach
The five-day fair is in its 15th year and happening Nov. 30 to Dec. 4. This year's fair will feature works by 20th century masters as well as leading contemporary artists. Admission is free but RSVP is required.
Point Comfort Art Fair + Show, Ward Rooming House, 249 NW 9 St.
This annual event is the perfect opportunity to explore this gallery space in the heart of historic Overtown. View the work of eight artists in a tent at the gallery's gardens and on view inside the gallery is the exhibition "Charles White, Move on Up!" featuring 40 of the artist's works. Nov. 28 to Dec. 4, admission varies by day.
Open Studios, Brunch and Tour, Oolite Arts, 924 and 928 Lincoln Rd., Miami Beach
Spend a few hours touring the two current exhibitions, "Rosie's Fare" by Germane Barnes and the group exhibition, "Miami is Not the Caribbean. Yet It Feels Like It," enjoying brunch and meeting with the artists. Event is Dec. 3 from 10:30 a.m. to noon.
Trio of exhibitions at Nina Johnson Gallery, 6315 NW 2 Ave., Miami
Opening on Nov. 28, head to this chic gallery in Little Haiti to view works by artists Nadia Ayari and her paintings and clear cast glass sculptures, Minjae Kim's functional furniture and objets d'art and Raul de Nieves and his beaded childlike sculptures and small ceramic works.
Sagamore South Beach Miami Art Week Takeover, 1671 Collins Ave., Miami Beach
Known for it's extensive art collection, this year's Art Basel theme "Into the Wild (Future)" will feature hotel-wide art displays, immersive audiovisual experiences, mural artists and the exhibition "Streams of Consciousness" in the lobby and gallery room. Nov. 30 to Dec. 4.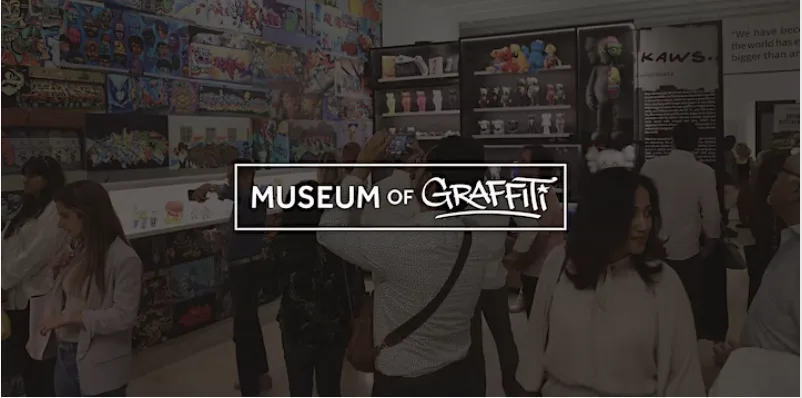 Museum of Graffiti, 276 NW 26 St., Miami
Miami Art Week events include opening of the interactive exhibition "Writers on Wax: The Sound of Graffiti" on Dec. 1 at 11 a.m.; the live art activation "Stack the Deck" featuring live painting by eight graffiti artists Dec. 3 from 11 a.m. to 3 p.m.; Mi Campo Artist Lounge featuring DJ's, art installations, painting, fashion customizations and Mi Campo tequila tastings, Nov. 30 and Dec. 1 from 11 a.m. to 1 p.m. and Dec. 2 from 11 a.m. 3 p.m. Admission $16, kids 13 and under free.
10th Annual Umbrellas of Little Havana Art Festival, Futurama at 1637 SW 8 St., Miami
Head to Little Havana to see 25 newly-designed hand-painted patio umbrellas as well as a variety of other art displays. Dec. 2-4. Free
Miami Design District, between 38th and 41st St. and NE 2 Ave. and North Miami Ave.
Stroll through the chic Design District and view the many pop up outdoor installations including "Rock | Roll" by Germane Barnes, "The Ares House" a 30-piece collection of NFT's by Daniel Arsham, "100 Years" group exhibition at the Buick Building, Craig Robbins Collection at DACRA Building 3841 NE 2 Ave., "I Don't Need it but I Want It" The Office & F2T Gallery at 3930 NE 2 Ave., Ste. 202.
N'Namdi Gallery, 6505 NE 2 Ave., Miami (Little Haiti)
"The Art of an Athlete" exhibition featuring the mixed media works by Harlem Globetrotter Maxwell Pearce, whose pieces explore diversity within black athleticism. Dec. 2-4. Free
More Miami-Dade events
Friday, September 22, 2023Saturday, September 23, 2023Sunday, September 24, 2023Monday, September 25, 2023Tuesday, September 26, 2023Wednesday, September 27, 2023Thursday, September 28, 2023