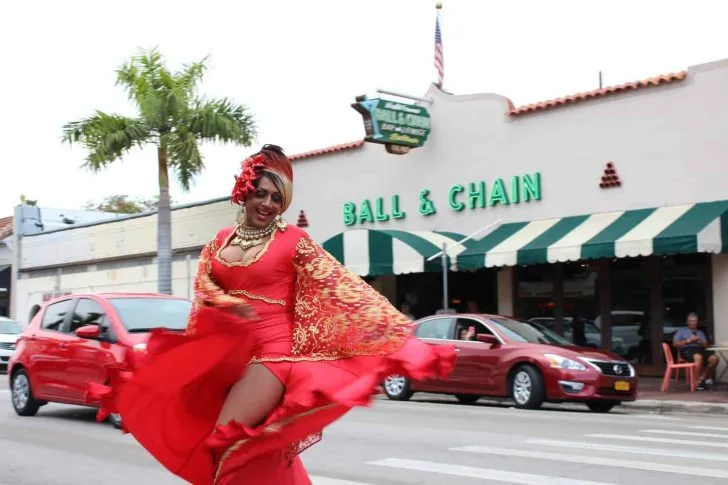 Move over, South Beach. Little Havana drag queens are coming through and closing down the street. Get ready for a free street festival with a gay Latino flair.
Gay8 Festival (GayOcho!) runs from 11 a.m. to 10 pm on Sunday, Feb. 16, on Calle Ocho and features some of Miami's most celebrated bands and artists including Albita, DJ Alex, Sonlokos, Lucy Grau, Pepper Mashay and Robbie Elias.
The event also will include the Best Miami Sandwich Competition hosted by the Burger Beast, a doggie village with a dog obstacle course, and foreign LGBTQ-themed films sponsored and curated by the OUTshine Film Festival and the Miami Film Festival. There also will be dance parties at Girl Central and Macho, merchant booths and a literary event Tertulia hosted by the Miami International Book Fair.
The street festival will be on Calle Ocho (Southwest Eighth Street) from 14th to 17th avenues. The street will be closed beginning at 6 a.m.
Here's the schedule:
• Food and art events will begin at 11 a.m.
• The Main Music Stage will be by the intersection of 17th Ave. and Eighth St. with music starting at 11 a.m.
Main Stage schedule:
11 a.m. – DJ Alex
Noon – Best Miami Sandwich
12:30 p.m. – Next Level
12:45 p.m. – DJ Alex
1:30 p.m. – Gay8 Dancers
2 p.m. – Nic 'N Taya
3 p.m. – Robbie Elias
3:30 p.m. – Marytrini
4 p.m. – HOUSE of Ballroom Production
4:45 p.m. – Sonlokos
6 p.m. – Pepper Mashay
6:45 p.m. – Gay8 Dancers
6:55 p.m. – Tiffany Fantasia
7 p.m. – Lucy Grau
8 p.m. – Albita
9 p.m. – Comparsa Street Dance
Noon
• Film Showcase. Free films at Miami Dade College's Tower Theater
• Women's Tertulia at Cubaocho, 1465 SW 8th St., Miami, FL 33135
2 p.m.
• Girl Central Tea Dance by iCandee, 1637 SW 8th St, Miami, FL 33135 Map
Free event
• MACHO next to the Tower Theater, 1508 SW 8th St., Miami, FL 33135 Map
Free event
Ball & Chain Salsa Experience & Class, 1513 SW 8 St.
Other museum deals, free days and special events:
Saturday, June 3, 2023
Sunday, June 4, 2023
Monday, June 5, 2023
Tuesday, June 6, 2023
Wednesday, June 7, 2023
Thursday, June 8, 2023
Friday, June 9, 2023