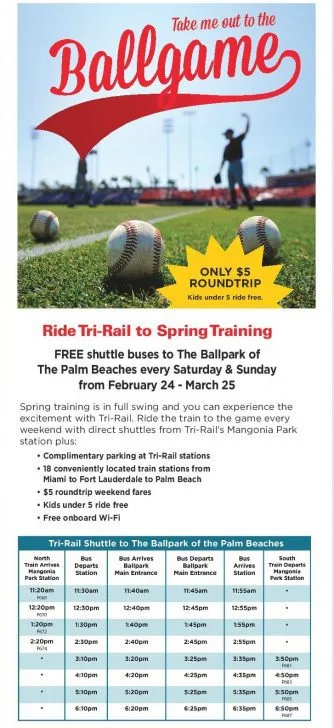 Sports fans, feel free to skip the traffic when venturing out to watch Spring Training action in South Florida.
Tri-Rail offers $5 all-day fares on weekends. That includes round-trip fares to the Ballpark of the Palm Beaches in West Palm Beach, where the Houston Astros and Washington Nationals will be playing throughout March.
The $5 round-trip fare includes a direct shuttle ride from the Tri-Rail station to the stadium. Children age 4 and younger ride Tri-Rail free of charge.
Find more information by clicking here or calling 800-TRI-RAIL.
Weekend Spring Training action includes:
Feb. 22 Astros vs. Nationals
Feb. 23 Nationals vs. Astros
Feb. 24 Nationals vs. New York Mets
Feb. 25 Astros vs. Miami Marlins
Feb. 26 Astros vs. St. Louis Cardinals
Feb. 27 Nationals vs. Astros
Feb. 28 Nationals vs. Tampa Bay Rays
Feb. 29 Astros vs. New York Mets
Games are at 1:05 p.m., but subject to change. The stadium is at 5444 Haverhill Road. Information about the stadium and Spring Training tickets is available by clicking here online or 5 or calling 561-500-4487.