Rom-com film fans in South Florida are in for a treat. Hulu is screening "The Valet" prior to its official debut, and offering our readers an opportunity to see in a theater for free.
Extra perk, Eugenio Derbez, who stars in the film, is set to introduce the flick in person.
When: 7 p.m. May 17
Tickets: Download a voucher for 2 people online. Tickets are available while supplies last. Seating at the event is first-come, first served and not guaranteed.
Where: Dolphin Mall in Miami — CMX Cinemas Dolphin 19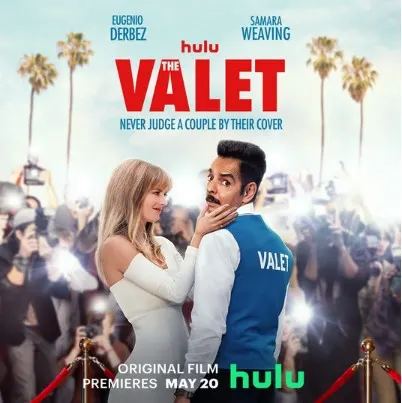 Dolphin Mall is at 11471 NW 12th St., Miami 33172
'The Valet' stars Derbez, Samara Weaving & Max Greenfield. Description from Hulu: "world famous movie star Olivia (Samara Weaving) faces a PR disaster when a paparazzi snaps a photo of her with her married lover, Vincent (Max Greenfield). The hard-working valet Antonio (Eugenio Derbez) accidentally appears in the same photo and is enlisted to pose as Olivia's new boyfriend as a cover-up. This ruse with Olivia thrusts Antonio into the spotlight and unexpected chaos. In this fish out of water romantic comedy, two worlds and cultures collide as both Olivia and Antonio start to see themselves more clearly than ever before."
If you'd like, watch a trailer on YouTube.
Other Entertainment, including free events

Sunday, June 4, 2023
Monday, June 5, 2023
Tuesday, June 6, 2023
Wednesday, June 7, 2023
Thursday, June 8, 2023
Friday, June 9, 2023
Saturday, June 10, 2023
Sunday, June 11, 2023
Monday, June 12, 2023
Tuesday, June 13, 2023
Wednesday, June 14, 2023
Thursday, June 15, 2023
Friday, June 16, 2023
Saturday, June 17, 2023
Sunday, June 18, 2023
Monday, June 19, 2023