Guide to North Miami shopping neighborhoods.
Aventura Mall


High energy, very busy and popular mall housing a large variety of shops from Louis Vuitton and Tiffany & Co to Nordstroms, Bloomingdales and JC Penney's. Macy's has two locations at Aventura Mall and major sales events are a regular occurrence at this department store. "Affordable Luxury" is their mantra and popular US designer brands such as Michael Kors and Tommy Hilfiger are featured. Be sure to ask any sales associate for current in house specials, to get maximum bang for your dollar, across all departments. International tourists automatically receive a 10% discount by showing their passports. H&M, Urban Outfitters and JC Pennys are other good bets for scoring good deals. In all, Aventura Mall houses over 300 brand name stores and several dining options. Plan on spending all day here, a couple of hours is simply not enough.
For an updated list of specials and sales events at Aventura Mall, click here and for a Map and Directions go here.
Should you want to make the most of your shopping time in North Miami and avoid time traveling to and from the malls you may want to check out our Aventura Mall Hotel Deals and recommendations for places to stay.
---
The Village at Gulfstream Park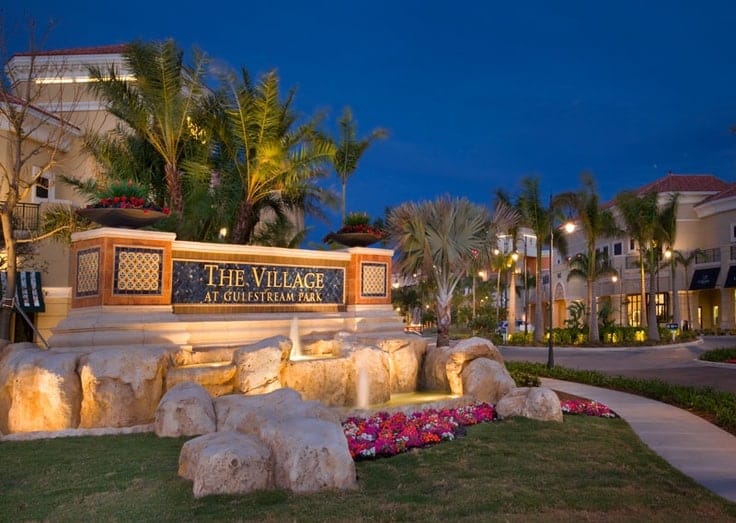 Although not technically in Miami, this charming outdoor spot, just across the county line in Broward and minutes away from Aventura Mall is certainly worth a visit. Apart from an eclectic mix of national brands and smaller locally owned boutiques you can enjoy outdoor dining at a variety of restaurants and bars and a pleasant stroll along the streets and plazas at this Mediterranean style complex. Some of the stores you'll find here include Z Gallery, West Elm, Lilly McKay and Charming Charlie. Art galleries, spas and salons add to the allure of the village. Since this is part of the Gulfstream race track and casino you can make a whole day out of your visit. Click here for a list of current deals at the Village and for directions and general information click here.
---
---
Bal Harbour Shops

Not exactly the best place for a bargain hunter, this lush, smaller luxury mall caters to the well to do by offering the most sought after, top luxury brands around. Neiman Marcus and Saks Fifth Avenue are the anchors here and a large selection of high end brand shops such as Gucci, Bottega Veneta and Chopard make Bal Harbour the place to go for top of the line luxury. For a full list of stores go here and for a Map & Directions to Bal Harbour shops click here.
---
If you do not have the time or the desire to head outdoors and prefer to do your shopping online, from the comfort of your own couch or kitchen table you should definitely check out our store promos and coupons section HERE. Choose from thousands of regularly updated deals at some of your favorite merchants, use the promo code provided upon check out or in some cases print out coupons for use in store as well. You can easily search deals by categories and there are thousands of specials available every day!