Downtown Miami and surrounding neighborhoods are in a constant state of flux, with major new projects planned that will continue to transform the area for years to come. From a new Central Station to the Worl Center that will house a new Macys and Bloomingdales, the shopping options keep expanding. Below you will find some info on what is currently open and/or in the works.
Bayside Marketplace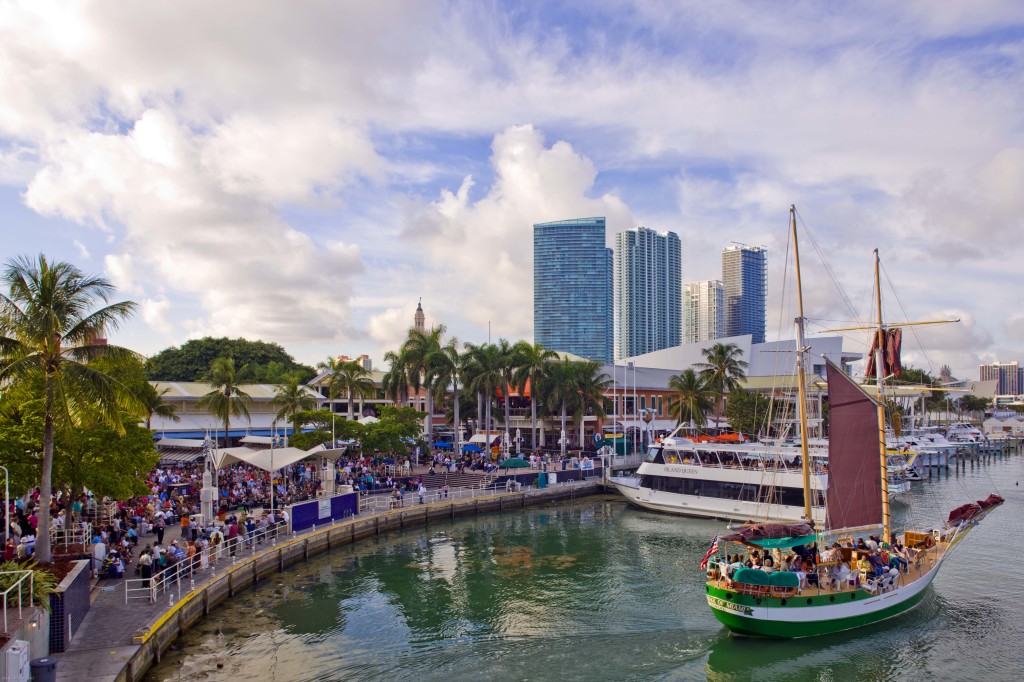 Waterfront shopping and dining in the heart of downtown Miami. This casual outdoor mall is also a jumping off point for boat tours, and a popular tourist and locals destination for strolling, dining and enjoying special events in the adjoining parks. You will find good deals here among the mom and pop open air shops. and there are some major chain names as well, such Gap, Bath & Body Works and Victoria's Secret. Bayside offers the "Premier Passport" for extra savings. Print your discount shopping pass before you head down to shop, to get the most out of your visit.
---
Downtown Miami/Flagler Street

The heart of downtown Miami offers an eclectic mix of fashion, electronics, diamonds, gems and beads, fabric shops as well as a Macy's department store and some of the best cheap eats in town. Walk along Flager Avenue and check out Steps boutique where you will be very impressed with their low, low prices on trendy women's fashions, dash into the Seybold building to shop several stories worth of fine jewelry then exit on the other side at NE 1st street to visit "La Casa de Las Viejas" (The Old Ladies House) to buy that beaded fringe applique you always wanted.
---
---

Macys Downtown Miami is located on Flagler St. and major sales events are a regular occurrence here. "Affordable Luxury" is their mantra and popular US designer brands such as Michael Kors, Ralph Lauren and Tommy Hilfiger are featured, as well as major cosmetics houses Clinique, Lancome and Estee Lauder. These three run a "Free Gift With Purchase" promo on a rotating basis. The freebies always consist of multiple items packaged in a chic beauty bag and are usually a fantastic deal. Be sure to ask any sales associate for current in house specials, to get maximum bang for your dollar, across all departments. International tourists automatically receive a 10% discount by showing their passports. Find a map to Miami downtown to make the most out of your shopping.
Shop the Flagler area of downtown Miami during daytime hours only, as most stores are shuttered by 6 pm. Bayside Marketplace stays open till 10 PM.
---
---
Brickell Neighborhood
The Brickell neighborhood which is also Miami's Financial district has for years been a place for dining and bar hopping with little in the way of shopping, apart from a few boutiques at Mary Brickell Village. That is about to change, since major construction is in the works for a retail-residential and entertainment complex called City Center. Future tenants are rumored to include Nieman Marcus and a large Apple store as well as Mario Batalli's Eataly market and restaurant. Click for more information on this exciting project.
Fashion Market Brickell
This fashion-centric event happens 4-5 times a year and is held at the Inter-Continental Hotel in downtown Miami. Eclectic local boutiques and artists showcase their wares at this vibrant bazaar where you will find all kinds of unique and out of the ordinary items. Lasting only for a few hours, usually from 11am to 7pm, the Brickell Fashion Market has become the place to go for fashionistas and trend setters. Click to visit their web site and to find out the dates for upcoming markets.
---

---
If you do not have the time or the desire to head outdoors and prefer to do your shopping online and from the comfort of your own couch or kitchen table you should definitely check out our store promos and coupons section. Choose from thousands of regularly updated deals at some of your favorite merchants, use the promo code provided upon check out or in some cases print out coupons for use in store as well. You can easily search deals by categories and there are thousands of specials available every day!
Deals courtesy of Savings.com an online coupon code resource.
---
Related links: