Whether you've been naughty or nice, diners can cross a stress-free meal off their holiday wish list. A number of restaurants are open on Christmas Day 2021, including low-cost and moderately priced options.
As always, we urge you to call ahead and confirm, as some independently operated franchises opt to close on Christmas or limit their hours. And please be sure to follow your regional and restaurant guidelines to have a happy and healthy holiday.
We will continue adding to this list as restaurants announce their holiday plans, so keep checking back! If you know of other South Florida restaurants that will be open on Christmas Day and offering reasonably priced meals, email us at news@miamionthecheap.com.
Want to order Christmas food to-go instead? Click here!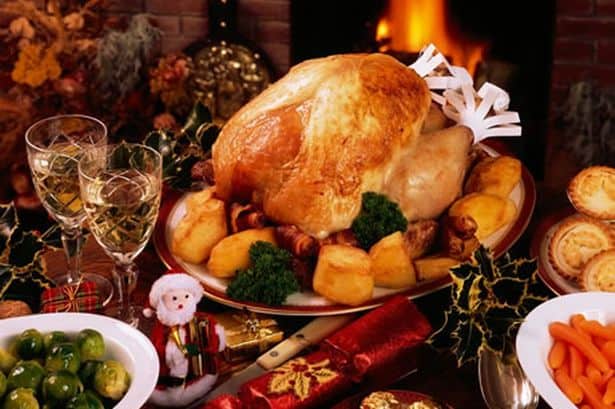 Restaurants open Christmas Day 2021
Avalon Steak & Seafood in Delray Beach, 3-9 p.m.; $85 per person
CHICA Miami: Celebrate Christmas Day with a specialty curated menu: entree specials include Wagyu Picanha Anticucho for 2 – crispy bok-choy, charred pineapple, farofa, criolla ($95) ; and Veal Shank Barbacoa for 2 – marrow, heirloom blue corn tortillas, chili jus ($130). Reservations are necessary and can be made online.
Chesterfield Palm Beach in Palm Beach, Christmas Day dinner, from $119 per adult and $35 per child age 12 and younger
Denny's: Christmas is the diner chain's busiest day of the year, and many locations intend to roll out the food again this year too, but certainly call ahead to check the status and holiday hours for your location. They'll have all their usual dishes (breakfast, lunch and dinner available any time), as well as a turkey and dressing plate. Prices vary by location.
Flanigan's resturants in South Florida
Participating Gyroville restaurants, phone for information
IHOP: Open all day with a holiday menu. (24-hour restaurants will keep to schedule, hours may vary at other locations). Call your local restaurant for details
McDonald's: Some participating locations are open. Call ahead to confirm.
MILA Restaurant: Celebrate Christmas with a special dish that embodies their luxurious "MediterrAsian" concept: "Hirame." The Summer Flounder is flavored with dill for freshness, mustard seed for aroma and nuttiness, and fig vinegar for a bittersweet bite. Make sure to make a reservation online.
Naked Taco in Miami Beach, 8 a.m. – 9 p.m. December 25, 1111 Collins Avenue
Panda Express: Open Christmas Day at many locations. Is yours one of them? Give them a call
Ponce de Leon Ballroom – Holiday Buffet in Palm Beach, 2-6 p.m. Dec. 25, $210 per person; $125 for age 12 and younger; 561-655-6611
Riviera by Fabio Viviani, 4-11 p.m. Dec. 25, Hotel Maren, 525 S. Fort Lauderdale Beach Blvd., Fort Lauderdale
Ruth's Chris Steakhouse: Their 11 locations will be open Dec. 25; see the hours here. Reservations necessary and can be made online.
Starbucks: Most free-standing locations are open. Check the mobile app to see the status of the ones close to you.
Shooters Waterfront offers Brunch With Santa 1:30 p.m. – 4 p.m. December 25 at , 3033 NE 32nd Avenue, Fort Lauderdale 33308, 954-566-2855
Waffle House: Some locations will be open; phone your favorite for verification
Wharf Fort Lauderdale, 20 W. Las Olas Blvd., Fort Lauderdale, opens 4 p.m., after 6 p.m. 21 and older only. Open-air venue with holiday decor, entertainment, food & holiday drinks, For reservation requests, Table Request Link, 954-372-7606, hello@wharfftl.com
Yardbird: Christmas done Southern with entrees including Seared Jumbo Scallops, Herb Crusted Prime Rib, and Yardbird's Signature Lobster Mac and Cheese; all wines are $25 by the glass and $99 by bottle. Reservations strongly recommended and can be made online.
Looking for a more formal dining experience? Check OpenTable. The online restaurant reservations site lists upscale restaurants (the kind that take reservations) open on Christmas Day. You can search by city.
Information from our parent site, Living On The Cheap, was used to supplement this article. Used here with permission.
Hungry for more food deals?