Looking for fresh, local produce? South Florida has several options. There are farmers' market operations and growers packing up groceries for delivery or pickup. There also are wholesale food suppliers doing their part by selling their stock of ingredients and other supplies.
If you know of others please e-mail us at info@miamionthecheap.com and let us know!
FARMERS' MARKETS & GROWERS
Aventura Market provides farm-to-car, drive-through pickup of food and locally made items from their regular Farmer's Market vendors at Aventura Mall. Includes breads, jellies, nuts, spices and sweets. Pick up at the Aventura Mall Macy's Parking Lot near the Aventura Slide Tower. Order in advance by clicking here; pick up between 9 a.m. and 1 p.m.
Burr's Berry Farms is selling mixed vegetable boxes of what they've got available from the harvest from for $25 available for pick up Saturday 9 a.m. to 5:30 p.m. Check their website for updates on what's available. 12741 SW 216 St., Miami 305-251-0145.
Cool Runnings Organic Farms located in Homestead has a selection of produce including collards, broccoli, ginger, peppers, cucumbers and eggplants. Availability changes. Located at 26500 SW 217 Ave., Homestead Call or text to 305-853-6310 or direct message them on Instagram.
Crystal Valley Specialty Produce says it plainly on its website: "No Lines. No Crowds. No Worries. Right from the Source." It has fruit and veggie boxes available for pickup in Miami. Items may vary but can include: French Beans, blueberries and blackberries, baby zucchini and baby lettuces, asparagus, baby heirloom tomatoes and baby carrots. There also are Latin fruits and veggies, such as: yuca, malanga and cachucha peppers. More info: Email info@crystalvalleyfoods.co or call 305-591-6567.
Farmer's Markets To Go provides access to a selection of South Florida artisan and farmer vendors in one spot. There's a $50 minimum on all orders and a $15 delivery fee. The pickup option is free. Vendors include Gratitude Garden Organic Farm, Doctor Pickle, Gables Delight Jams & Jellies, and more. For more details, click here.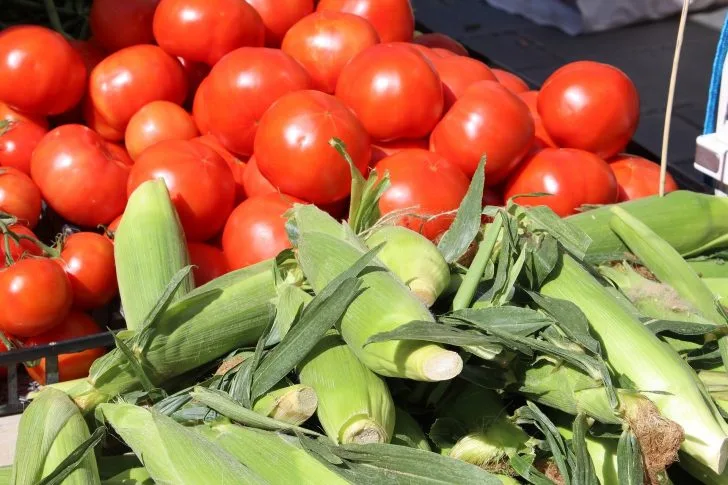 Little River Cooperative a small local urban farm in Miami sells produce boxes of what they've got available from the most recent harvest at French Farms. Orders can be picked up Tuesdays and Wednesdays. $36 a box or $30 minimum order. E-mail them at mail@littlerivercooperative.com with any questions.
Michael Borek Farms located in South Miami-Dade sells eggs, tomatoes, herbs and lettuces, vegetables and three prepared produce boxes with a variety of produce. The boxes include small (serving one to two people) $26, medium (serving two to three people) $36 and large (serving three to five people) $36. Offering pick up only, located at 19051 SW 147 Ave., Miami, 306-216-5044.
Mima Market is a small market in Downtown Miami Shores selling locally made items including Kombucha drinks, jams and preserves, snacks, cookies, chocolate products, sauces and pastas, oils, cheeses and produce from Magic City Gardens. Order online.
Shops at Merrick Park has converted their Sunday market to drive-thru market featuring their usual vendors selling fresh juices, local honey, artisan breads, gourmet jams and other provisions. Pre-ordering from the vendor is encouraged and social distancing guidelines are being followed and large orders will be brought to a designated waiting area. Sundays noon to 5 p.m.
Tiny Farm a small one-acre farm in Homestead is taking orders online. They sell mixed produce boxes in medium and large sizes. The items in them varies depending on the harvest and can include radishes, tomatoes, lettuces, peppers, cucumbers, green onions. More info on what they have available, e-mail them at info@tinyfarmiami.com.
Urban Oasis Project markets is taking online orders from Wednesdays from until 9 p.m. on Saturday and pick up is available between Saturday and Monday. Saturdays at Allapattah/Radiate Lab 2134 NW 24 Ave., Miami from 10 a.m. to 1 p.m. and near Tropical Park at UOP Old Warehouse from 3-4:30 p.m.; Sundays at Vizcaya Village, 3251 South Miami Ave., Miami from 10-11 a.m. and Mondays at the Arsht Center, 1300 Biscayne Blvd., Miami from 4-6 p.m. Online order form here. For residents in the Supplemental Nutrition Assistance Program (SNAP): The Urban Oasis Project is still doubling SNAP benefits, now for 100 percent of your total order.
FOOD SUPPLIERS
Mac Edwards Produce & Co. is a family owned and operated business in Doral that's offering produce by delivery or curbside pickup. Available items include fruit and vegetables, dairy and eggs and other grocery items. Pickup window is from 10 a.m. to 3 p.m. Tuesdays through Fridays; delivery windows are from 10 a.m. to 3 p.m. Tuesdays through Saturdays. 7974 NW 14th St., Doral; 305-326-7223 or 888-965-7223. Click here for more details.
Chefs' Warehouse usually reserved for restaurant chefs they're now open to the public and selling bulk portions of chicken, cuts of beef, sausage, fish, a large variety of fruits, vegetables and dairy products, pantry items, breads and baked goods and household items. Order by noon and order will be completed and delivered in one to two business days. No order minimum required but delivery fees apply. Order here.
Freedom Fresh Direct located in Medley is taking online orders for fresh produce, cheese and limited dairy and eggs. Order and pay online and pick up between 10 a.m. and 2 p.m. and orders are brought to your car. 11001 NW 124 St., Medley, 305-715-5700.
Mercato is an online company selling items from local shops in Miami like Proper Sausages, Meat 'n Bone, Babe's Meat & Counter and Indo-American store including meats and chicken, pantry items and produce, dairy items and cheeses and deli products. Find markets nearby when you search by zip code. Delivery and pick-up. Click here for info.
Miami Food Co is doing online sales of cases of meat, chicken, fish and seafood in 10-20 pound sizes so if you've got an additional large freezer or refrigerator for storage at home, this might be a good option. The site also features a tab with Flash Sales.
Miami Purveyors sell high quality meat and poultry including beef, poultry, pork, meat, lamb, veal and exotics. Shop online here, call 305-262-6170 or e-mail sales@miamipurveyors.com.
Primeline Direct is a good alternative to traditional grocery stores with a large selection of pantry items, cheeses and dairy, oils and vinegars, bakery items, meats, seafood, beverages and dessert. They are located in Fort Lauderdale and offer next day delivery in South Florida. Order online here, call 1-800-272-0254 or e-mail orders@primelinedirect.com
OTHER FOOD RESOURCES:
More Food Resources: