Celebrate National Tequila Day on Saturday, July 24, 2021, with these tequila cocktails at some of Miami's top restaurants! Although we don't need a specific reason to enjoy a good cocktail, this is a good excuse to plan a well-deserved outing.
We've rounded up a few events offering deals on tequila shots and cocktails around Miami.
Events Offering Tequila Drink Deals
Bodega Taqueria y Tequila
1220 16th St.
South Beach
A true Tequila Day celebration, not only will there be Happy Hour specials but guests can expect to find a photobooth and giveaway wheel with tons of prizes. Primetime celebrations include $7 Teramana cocktails and $3 Teramana shots during Happy Hour from 6-8 p.m. If you're looking for a refreshing cocktail that will last a little longer, a 22 oz. stadium cup filled with a frozen margarita will be available for purchase all day. For more information, click here.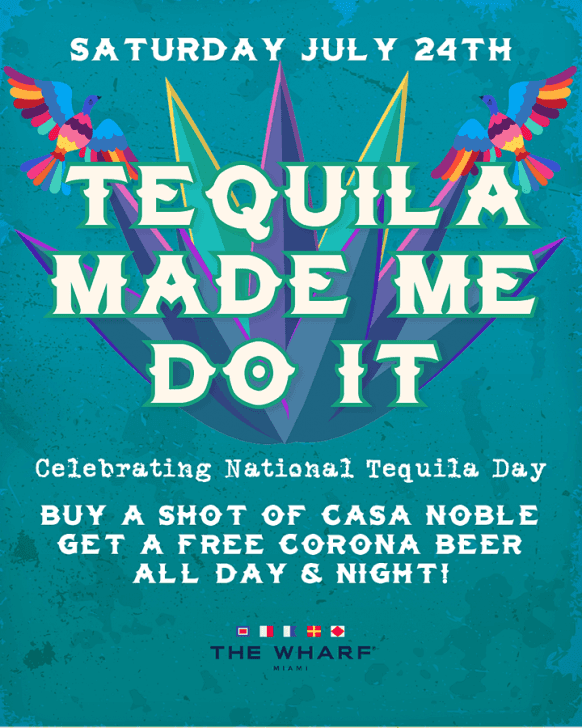 The Wharf Miami: Tequila Made Me Do It
114 SW North River Drive
Miami
Enjoy a nice day out by the Miami River with The Wharf Miami's Tequila Made Me Do It celebration. All day, guests can enjoy a FREE Corona beer each time you buy a Casa Noble Tequila shot. While you're there, enjoy eats by The Chicken Spot, Sake Room, Spris Artisan Pizza & La Santa Taqueria. Children and leashed pets are welcome before 6 p.m.; after 6 p.m. The Wharf is strictly 21+. For more information, click here.
The Shelborne: Good Vibes and Tequila
1801 Collins Ave.
Miami Beach
Cincoro Tequila – co-created by Michael Jordan – and The Shelborne come together to put on an over-the-top tequila event with cocktails, giveaways, photobooth, bottle specials, and more! Dance to beats by DJ Spiff, lounge by the pool, or enjoy the private beach club. For more information, click here.
Royal Palm South Beach Miami, a Tribute Portfolio Resort: Yoga, Beach, and Margaritas with Casamigos
1545 Collins Ave.
Miami Beach
Daycation App has partnered with the Royal Palm South Beach and Casamigos to host a unique Tequila Day event. Guests can enjoy some yoga with a beautiful beach backdrop and a complimentary drink, Royal Palm's signature 'Fresca cocktail featuring Casamigos Tequila. The event is set to be an Instagrammers dream with branded yoga mats, cups, and more that make great props for the perfect pic. The event runs from 10-11 a.m. and tickets are $20. This gives you exclusive access to the event. If you'd like to spend the rest of your day at the pool and beach, please book a Pool and Beach Day Pass. For more information, click here.
Restaurants to Enjoy a Tequila Cocktail
Beach Bar @ Newport Pier
16501 Collins Ave.
Sunny Isles Beach
Now that we're enjoying more sunny days enjoy National Tequila Day at Beach Bar @ Newport Pier. The overwater restaurant sits on a pier in Sunny Isles and serves American classics and handcrafted tequila cocktails. Skip the beach and head straight to the bar to order The Pier Margarita ($13.99) mixed with Sauza Blue Tequila, a dash of agave nectar, and freshly squeezed lime juice. If things get crazy you can order the Coco Loco ($14.99), served on the rocks with Don Julio Blanco Tequila, agave, coconut puree, fresh lime juice, and a pinch of cinnamon. Like summer in a cocktail!
OLA Miami
2360 Collins Ave.
Miami Beach
OLA Miami, short for "Of Latin America," features a combination of Pan Latin, Spanish and Caribbean flavors. At The Gates Hotel South Beach. Head here, not only for the food, but for the popular classic Ola Margarita ($14), mixed with tequila, lime, Cointreau, grapefruit, and agave.
Mamey Miami
1350 S. Dixie Highway
Coral Gables
Located inside the THesis Hotel in Coral Gables, Mamey Miami serves two tequila cocktails that should not be missed. The Kiwi's Last Word ($14) will transport you to the Caribbean. It is made with Don Julio Blanco Tequila, Green Chartreuse, Luxardo Marraschino, kiwi and lime. The Jerk Margarita ($14) is another fan favorite and is made with Partida Tequila Blanco, 400 Conejos Mezcal, strawberry, watermelon, jerk spiced agave and lime. Additionally, you can find the Jerk Margarita for $10 during happy hour which runs daily from 3-6 p.m. at Mamey on 3rd, the rooftop extension of Mamey Miami nestled on the third floor of the THesis Hotel.
Entertainment calendar
Bodega Taqueria y Tequila