We've compiled a month-by-month roundup of fairs and festivals in Miami-Dade, Broward and Palm Beach counties. Keep in mind that some events may be virtual. Others may follow strict safety protocols. You'll want to get all the details and decide which options are best for you and your family. Have fun!
JANUARY
JAN. 7-9
SOUTH BEACH JAZZ FESTIVAL
Organizers of the South Beach Jazz Festival have decided the show will go on!
The sixth annual event, presented by Power Access, is scheduled for Jan. 7-9, 2022, at outdoor venues throughout Miami Beach. Most of the performances are free – making it a great weekend activity to enjoy with anyone who enjoys hearing the sounds of Jazz music live in the city.
The three-day musical event takes pride in featuring world-renowned musicians who also have disabilities. For more information, click here.
JAN. 13-27
MIAMI JEWISH FILM FESTIVAL
The 25th annual Miami Jewish Film Festival returns to its normal time of year.
Typically set for January, this popular South Florida event had to be rescheduled for April in 2021. But the 2022 edition is expected to take place Jan. 13-27, 2022.
Touted as "the largest Jewish film program in the world," this year's edition – like last year's – will be a hybrid of virtual and live programming events, showing a record 148 films, according to organizers. The opening night's offering: "iMordecai," a comedy that is described as "a love letter to the city of Miami," starring Judd Hirsch, Sean Astin and Carol Kane.
Virtual screenings will be free of charge, while in-person/outdoor events range in price from $15-$36. (A special All-Access Badge will be available for $239 apiece, good for all films and special events.) For more information, click here.
JAN. 15-16
BEAUX ARTS FESTIVAL OF ART
Behold! The 71st annual Beaux Arts Festival of Art has been scheduled for Jan. 15-16, 2022.
The 2021 edition took place online, but organizers have announced a new location at the University of Miami campus in Coral Gables this year. Their official event Facebook page promises: "We are back and better than ever!"
Each year, the festival features more than 200 juried artists. Displayed artwork includes wood, watercolor, photography, oil and acrylics, mixed media, jewelry, graphics, glass, ceramics and 3-D sculpture.
Admission is free. Click here for more information.
JAN. 22-23
PINECREST GARDENS FINE ARTS FESTIVAL
The Pinecrest Gardens Fine Arts Festival will feature the work of dozens of artists, in all types of mediums, on Jan. 22-23, 2022.
The two-day event, set for 10 a.m. to 5 p.m., traditionally has always offered a great selection of food, live music and activities for the entire family.
The botanical garden, at 11000 Red Road, has winding paths and exotic foliage, which make for a wonderful backdrop as well. Admission and parking are free. For more information, click here.
FEBRUARY
FEB. 1-MARCH 1
BLACK HISTORY MONTH
For Black History Month, we've found February events being offered throughout Miami.
Even during these difficult times, when many events have been canceled, there is still in-person and virtual programming available to commemorate the special month.
Make your plans to celebrate, honor and learn during Black History Month. (And keep checking back, as we will be adding events!)
Click here for more information.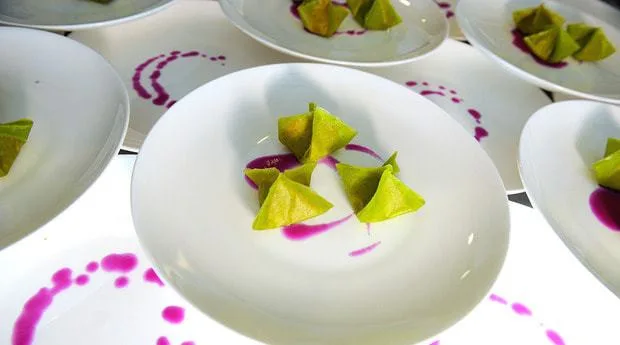 Feb. 24-27
SOUTH BEACH WINE AND FOOD FESTIVAL
The Food Network and Cooking Channel's South Beach Wine and Food Festival will, indeed, take place in 2021 – but it has been rescheduled to give organizers more time to plan a safe event.
The new dates: May 24-27, 2022. Make sure to mark 'em on your calendars!
Here's the official statement on the event Facebook page:
"Due to growing concerns over the COVID-19 pandemic, and with the well-being of attendees, partners, participants and staff as the number one priority, #SOBEWFF has decided that rescheduling the event is the most responsible course of action at this time. We know it is the right thing to do.
A fundraising event for FIU's Chaplin School of Hospitality & Tourism Management and the Southern Wine & Spirits Beverage Management Center, the festival has raised more than $31.8 million.
MARCH
March 19-21
Presented by the South Florida Bluegrass Association, the 43rd Annual Everglades Bluegrass Festival will feature three days of musical fun at Greynolds Park in North Miami Beach.
Some of the musicians expected to perform include:
Willie Wells and Blue Ridge Mountain Grass
Bear Hill Bluegrass
Jamie and the Last Hippies
Justin Mason and Blue Night
Sandy Back Porch
Stringtime Jubilee
Remedy Tree
Admission: $5 for March 19; $15 for March 20; $10 for March 21; and $25 for a three-day pass. Entry is free for children younger than 17 who attend with a paying adult.
The park is at 17530 W. Dixie Highway. For more information, visit the association's official page by clicking here.
March 20
MAY
May 14
FRIENDS OF JUPITER BEACH FOOD & WINE FESTIVAL
Taking place from 2 p.m. – 5 p.m. on May 14, the festival is dog-friendly and features live entertainment & food items for local restaurants. Regular entry fees are $54.09 purchased online prior or $65 at the event, $22.59 for ages 4-11 and free for 3 and younger. Jupiter Riverwalk Plaza Down Under, 25 Coastal Way, Jupiter 33477, information online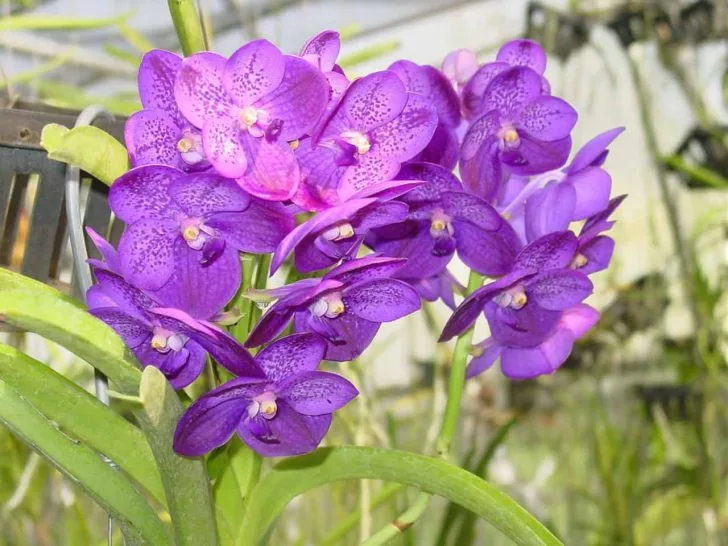 May 13-15
TAMIAMI INTERNATIONAL ORCHID FESTIVAL
Looking forward to the Tamiami International Orchid Festival? The popular event, considered among the biggest orchid shows nationwide, is set for 11 a.m.-7 p.m. May 13-15, 2022, at the Miami-Dade County Fair Expo Center, 10901 SW 24th St., Miami.
About 90 vendors from around the world are expected to be there, according to the official website. The festival will also feature exhibits of rare and exotic orchids and growing classes in English and Spanish.
Admission is $15 at the door for guests older than 12, but you can get a discount if you buy early online. Find more details by clicking here.
May 7
Free Comic Book Day – during which businesses nationwide give away FREE comic books – has typically taken place every first Saturday in May.
And after having had to reschedule in 2021, this special, much-awaited event returns to its usual spot in 2022.
During this special event, many Miami comic book stores host special events, including live sketching by comic artists or visits by costumed characters. You may choose from 50 free comic books, though all books may not be available at all stores. The list includes Avengers, Spider-Man, Star Wars and more.
To find a participating Miami store near you or get more information, click here.
May 22
SHORTS UNDER THE STARS: A NIGHT OF ANIMATION
Looking for a fun outdoor activity? Have you heard of "Shorts Under The Stars"?
The Deering Estate, in partnership with the Miami Short Film Festival, is presenting this popular movie event on Sunday, May 22, 2022.
Attendees are invited to enjoy stunning views (including the sunset!) then pick a spot on the lawn to watch short films. Doors open 6 p.m., with the screening scheduled to start at 7 p.m.
The Deering Estate is at 16701 SW 72nd Ave. For more information, click here.
May 21
Ocean Brews & Blues Beer Fest is 3 p.m. – 8 p.m. on May 21 oceanside in Deerfield Beach. Event includes live entertainment, art vendors and artisan vendors. Food & beverage vendors include a variety of breweries. Event is @ Deerfield beach parking lot, 149 SE 21st Avenue, Deerfield Beach 33441.
Entry is free. Fees apply for food, beverages & other vendor items. Tasting tickets are $40 and $60 for VIP prior to the event. At the event, tasting tickets are $45 & $65. Information is online.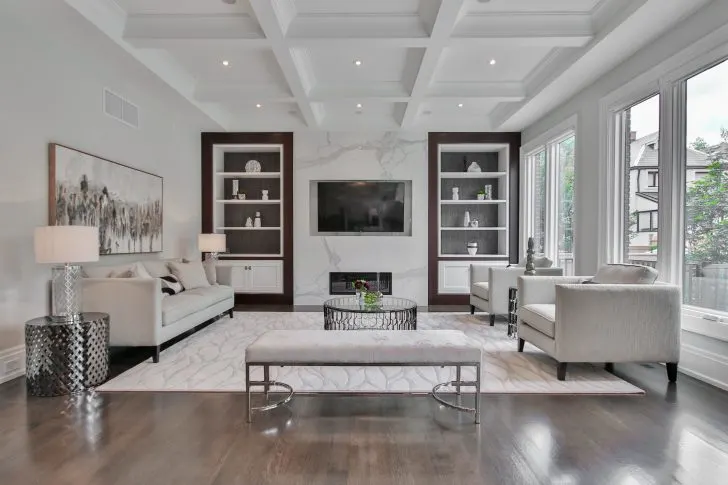 May 27-30
PALM BEACH HOME DESIGN AND REMODELING SHOW
The Palm Beach Home Design and Remodeling Show is back for another year.
If you've been itching to finally get that kitchen redone, this is just the place to get your wheels turning with great ideas and inspiration. The show will run from May 27-30, 2022, at the Palm Beach County Convention Center, 650 Okeechobee Blvd.
Regular admission is $12 per person. For more information and to purchase tickets, click here.
JUNE
JUNE 10-12
Wynwood Pride returns this year, bringing three days of special events to our beloved arts district.
From June 10-12, 2022, this communitywide event will include activities at restaurants, bars, shops, galleries, and other Wynwood spaces – featuring concerts, drag shows, art, food and more.
Please note: There are so many events to choose from, but not all are free. Some are limited capacity; some require RSVP. Make sure you pay attention to the details in the schedule. Click here for more information.
June 11
FLOATARAMA PRIDE BOAT PARADE & SAILOR'S DANCE
Dozens of decorated watercraft participate in FLoatarama, a floating Pride parade on the New River & the Intracoastal Waterway in Fort Lauderdale.
The event is free for spectators. FLoatarama is 12:30 p.m. June 11 on the New River from Esplanade Park, east to the Intracoastal Waterway, north on the Intracoastal Waterway to the Residence Inn Fort Lauderdale Intracoastal.
June 18
STONEWALL PRIDE PARADE & FESTIVAL IN WILTON MANORS
Entry is $5 for the vibrant Stonewall Pride Parade & Street Festival in South Florida.
Festivities are 3 p.m. – 11 p.m. June 18 on Wilton Drive in Wilton Manors. The parade is at 7 p.m. Entertainment occurs at different points during the event
On June 18, Wilton Drive is not open for traffic from NE 21st Court to Five Points. Entry is $5 for ages 12 and older. Information is on Stonewall Festival and Parade website or 754-200-2979.
JULY
July 2
Vegan BBQ Party is 4 p.m. – 10 p.m. on July 2, featuring vegan foods & drinks, vendors, art, entertainment & family fun zone. Entry is $13.10, which includes fees & tax, & free for kids 10 & younger. Huizenga Plaza, 32 East Las Olas Boulevard, Fort Lauderdale.
Tickets are online, or at the event if not sold out.
July 8-10
Through the years, Supercon has evolved into an annual three-day convention that celebrates comic books, animation, cartoons, anime, video games, cosplay, fantasy, sci-fi and more. Find out ticket prices by clicking here.
For more information, click here.
JULY 1-31
Round up the family because the Ninth Annual Taste of Doral event has officially begun.
The program, created by the Doral Chamber of Commerce, aims to promote the food scene in Doral throughout the whole month of July. We can already feel our tastebuds tingling!
the city of Doral invites locals and visitors to explore many of the area's finest restaurants and enjoy special prix fixe lunch and dinner options. Whether you're craving Italian or Peruvian fare, or simply a juicy burger, there's something for the whole family to enjoy. For more details, click here.
JULY 10-11
Summer in Miami means mango trees are filled with the ripe tropical fruit. Come celebrate this popular South Florida fruit during the Mango Mania Festival 2021, set from 9 a.m.-4 p.m July 10-11 at Casaplanta Garden Center.
The event includes tastings, arts and crafts for kids, live music and more. Admission is free, but the tasting event does require a ticket. Sample different varieties of mangoes by paying $6 a person. (Of course, you can enjoy the event without entering the tasting tent.) For information, click here.
AUGUST
August 13
Sunrise Comic Con, Civic Center, 10610 W. Oakland Park Boulevard, Sunrise.
Tickets are $10 for adults & $7 for ages 10 and younger. After August 7, prices go up. Purchase adult tickets online. For kids, purchase at box office, 954-747-4646. Event includes panel discussions, gaming, vendors, how to draw panels & other fun. Information is online.
SEPTEMBER
SEPT. 15-OCT.15
HISPANIC HERITAGE MONTH
This year's Hispanic Heritage Month is from Sept. 15-Oct. 15 – and we've got some activities rounded up so you can mark the occasion.
The monthlong celebration honors the rich and diverse Hispanic culture. Whether you're out and about or are still staying at home, there are several ways you can participate, including free live performances, dance and horse shows, arts and crafts and more.
Grammy Award winner Tony Succar is headlining the City of North Miami Beach's Hispanic Heritage Month Concert on Saturday, Sept. 25. The free concert will be at the North Miami Beach Library and Senator Gwen Margolis Amphitheater from 6 to 9:30 p.m. For more information on this concert, click here.
For a regularly updated roundup of free and cheap Hispanic Heritage Month events throughout Miami, click here.
OCTOBER
OCT. 3
The Love-In Music Festival returns to Greynolds Park this summer! But the date of this signature event of the Miami-Dade County Parks, Recreation and Open Spaces Department has changed.
Originally scheduled for Sunday, Sept. 5, the festival has now been moved to Sunday, Oct. 3, 2021. If you already have tickets, those will be honored, according to the event's official Facebook page. General admission tickets are $15.
If you haven't purchased your tickets yet, there's a special BOGO ticket offer to take advantage of: Buy one ticket and get one free! Click here to learn more about the event and to get the promo code.
OCT. 16-24
Car enthusiasts, it's almost time for the 2021 Miami International Auto Show! The annual show at the Miami Beach Convention Center, 1901 Convention Center Drive, had been rescheduled for May 2021 but had to be postponed once again. But now, the show is happening Oct. 16-24, 2021.
Presented by the South Florida Automobile Dealers Association, the event typically features more than 190 dealerships in Miami-Dade, Broward, Palm Beach and Monroe counties, displaying cars, trucks, vans, sport utility vehicles, hybrids and concept vehicles by the world's leading automotive manufacturers. Show attendees can take a drive along the most picturesque roadways of Miami Beach in their favorite new cars and trucks at the Ride-n-Drives.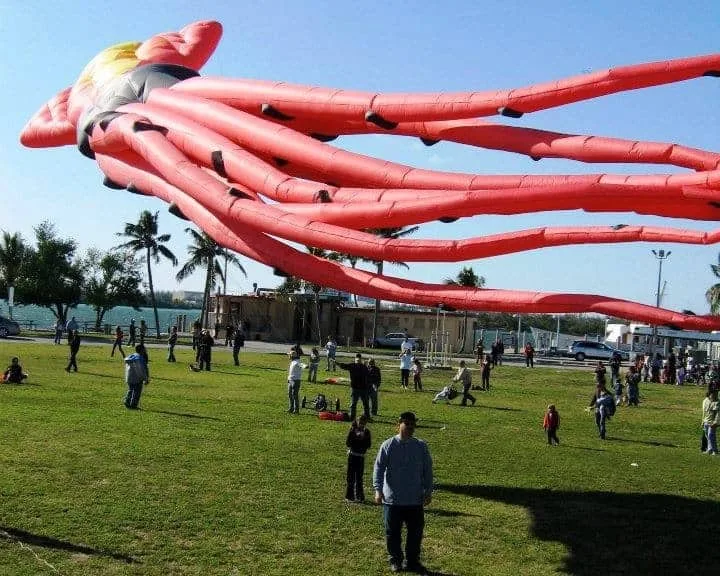 OCT. 23
NOVEMBER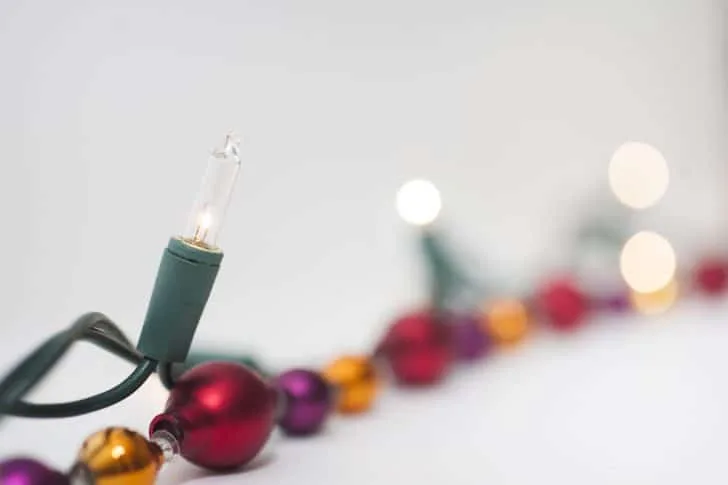 NOV. 4-JAN. 2
This annual Miami tradition is expected to return this year!
The popular holiday theme park is known for its carnival rides, shows, games and towering trees laden with twinkling lights. Miami may not have seasons, but drivers on the Palmetto Expressway always know fall/winter has arrived when they pass the lights along Tropical Park.
Dubbed the "World's Largest Holiday Theme Park," Santa's Enchanted Forest has been around for more than 37 years. It was canceled in 2020, but now is scheduled for Nov. 4, 2021-Jan. 2, 2022.
The icing on the cake: There's a discount. If you buy your tickets now, before opening day, you can get an "Early Elf" Season Pass for up to 30 percent off the regular ticket price. And this isn't the only discount available! Click here for more information.
NOV. 6
Savor the delicious blend of South Florida cultures at the Miami Food Festival on Saturday, Nov. 6, 2021.
This outdoor event – set for 11 a.m. to 10 p.m. at the German-American Social Club of Greater Miami, 11919 SW 56th St. – will offer a "a marriage between gastronomy and culture to eat, laugh, share and enjoy," according to organizers. Cost is $10 a person.
Expect music, dance, art and more from around the world. Of course, cuisine is the highlight, with restaurants, food trucks, bakeries and street vendors offering items from Peru, Cuba, Colombia, Uruguay, the Dominican Republic, Venezuela, Italy, Germany, and the United States.
Click here for more information.
NOV. 6
Like hard seltzers? Come November, there's a hard seltzer festival making its way down to South Florida to showcase more than 100 fizzy flavors. Called Seltzerland Miami, it will be taking over Miami's Costa Del Sol Golf Club on Saturday, Nov. 6, and the fun starts at 12:30 p.m.
"We created Seltzerland to give hard seltzer fans the opportunity to sample new flavors in the most fun way possible. With one-of-a-kind activations, brand-new seltzer varieties and beautiful golf courses, Seltzerland is a can't-miss experience." said Cannonball Productions CEO and founder, Kate Levenstien, in a statement.
Aside from all of the fizzy fun, you can indulge in seltzer swag and tons of photo ops perfect for Instagram! Click here for more information.
NOV. 7
VINTAGE AUTO SHOW AT DEERING ESTATE
Drive up to the ninth annual Vintage Auto Show and check out classic cars on the grounds of Miami's historic Deering Estate. Presented in collaboration with the Antique Automotive Club of America – South Florida Region, the latest edition of this popular show will take placefrom 10 a.m.-3 p.m. Sunday, Nov. 7, 2021.
Spend a relaxing day out in the fresh air as you peruse vehicles from 1965 and older. The displays will include The Harvester Truck, which was donated to the Deering Estate Foundation. You're also welcome to bring along blankets, lawn chairs, and small picnic baskets.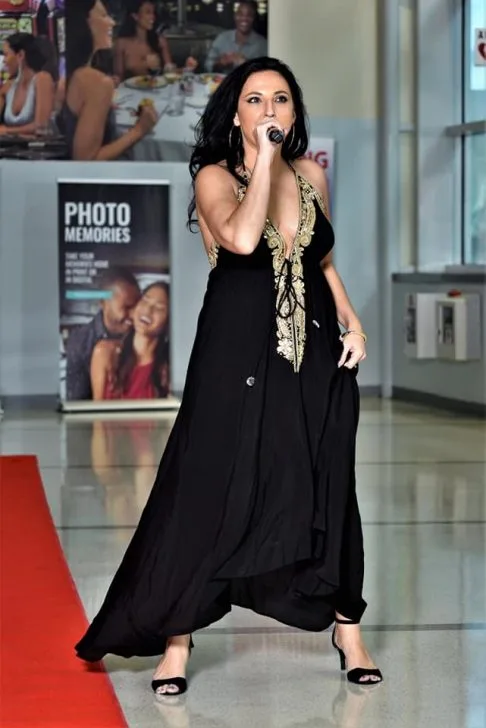 NOV. 7
Get out your dancing shoes because the Miami Beach Salsa Fest is coming back in November!
Presented by Melina Almodovar, known as "La Muñeca de Salsa," this special annual event will celebrate the music – and its culture on Miami Beach – from 4-10 p.m. Sunday, Nov. 7, 2021, at the North Beach Bandshell.
The Miami Beach Salsa Festival typically has featured Latin bands, food vendors and visual artists. General admission for this year's event is $10 a person. For information, click here.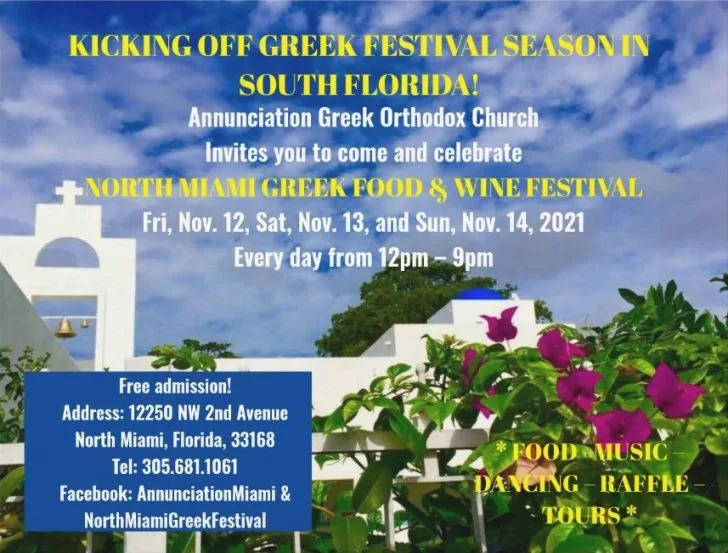 NOV. 12-14
NORTH MIAMI GREEK FOOD & WINE FESTIVAL
Annunciation Greek Orthodox Church is celebrating its annual North Miami Greek Food & Wine Festival on Nov. 12-14, 2021.
From noon to 9 p.m. each day, guests can enjoy a menu of authentic Greek recipes, traditional live music, a raffle and tours of the church, at 12250 NW 2nd Ave., North Miami.
Admission to this event is free, and you can even score a Groupon deal for up to 27 percent off select food items. Click here for more information.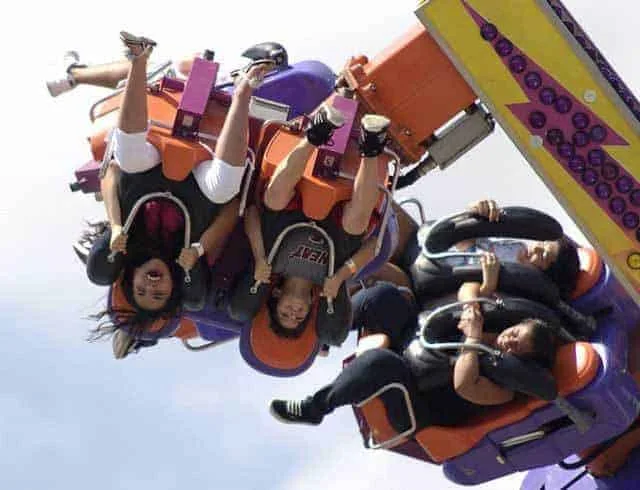 NOV. 18-DEC. 5
South Florida's springtime tradition is moving to the fall!
Originally set to start in mid-March, the Miami-Dade County Youth Fair has been rescheduled for Nov. 18-Dec. 5, 2021.
The official website has this announcement: "When the emergency order was issued by Miami-Dade County in March 2020, we could not have foreseen the effects and duration of the pandemic. At the time, we were confident we would be able to re-open for our March 2021 dates. As the Youth Fair's annual Spring dates approach, we have continued to closely monitor the coronavirus pandemic. After careful consideration and with the best interests of our guests, vendors, volunteers, performers and staff in mind, we have decided to reschedule this year's Youth Fair to November 18 – December 5, 2021."
The Miami-Dade County Fair & Exposition Center is at 10901 Coral Way (SW 24th St.), Miami. General admission is $14. Parking is free, and all entertainment and concerts are free of charge, too.
For more information – and to find out what to do if you had purchased 2020 tickets, click here.
DECEMBER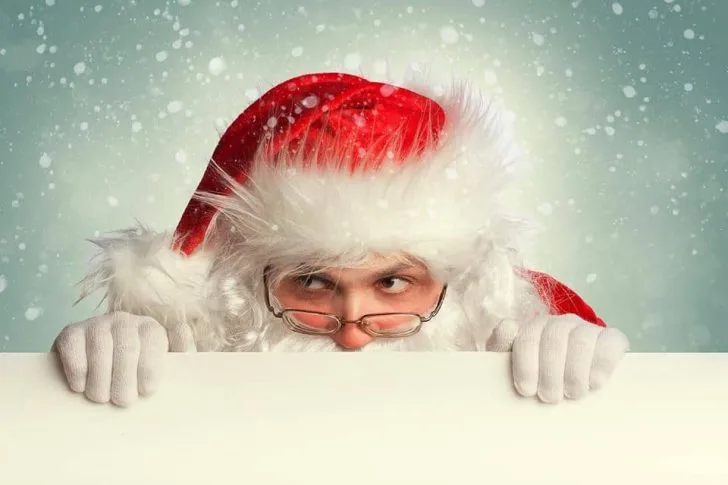 DEC. 5
Looks like Santa's Parade of the Elves in South Miami is returning this year!
Presented annually by the South Miami Parks & Recreation Department, this popular parade has been scheduled for Sunday, Dec. 5. 2021. Starting at 2 p.m., you'll find the streets flooded with floats, horses, Girl Scouts and Boy Scouts, dancers, horses, marching bands and more. And let's not forget Santa and Mrs. Claus!
The grand marshall will be beloved South Florida personality, Ron Magill, who is Zoo Miami Goodwill Ambassador and communications director.
Click here for more information.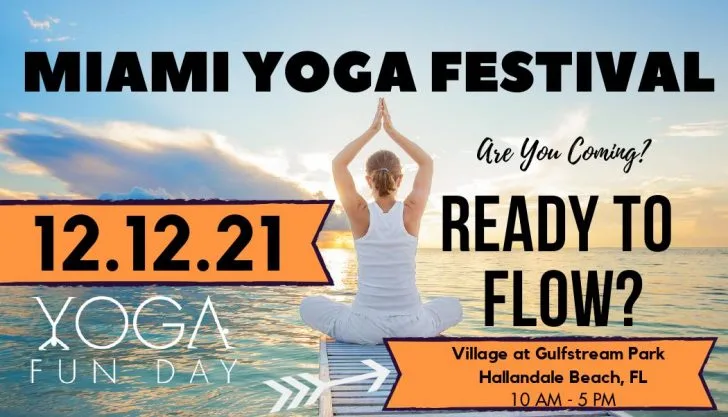 DEC. 12
MIAMI YOGA FESTIVAL: YOGA FUN DAY MIAMI
This one-day family friendly event did not take place in 2020, and is now rescheduled for Dec. 12, 2021.
The wellness and fitness festival, set for 10 a.m.-5 p.m., will feature yoga classes, workshops, live music acts, and a free vendor village. Its location is technically outside of the Miami area – at The Village at Gulfstream Park in Hallandale Beach – but it's just minutes away from the Miami-Dade County line.
The official event website includes a tentative schedule, as well as this message: "ALL RECOMMENDED CORONAVIRUS PRECAUTIONS WILL BE IN TAKEN. MASKS ARE OPTIONAL AND WE ASK YOU DO WHAT FEELS BEST FOR YOU. ALL CLASSES WILL BE OUTSIDE AND IN LARGE SPACES. VENDOR VILLAGE WILL BE SPACED OUT WITH A LOT OF SPACE BETWEEN VENDORS. BRING YOUR OWN MATS AND BLOCKS AND PROPS. PLEASE KEEP SOCIAL DISTANCE THROUGHOUT THE FESTIVAL. PRECAUTIONS BEING TAKEN EVENT MANAGEMENT IS NOT RESPONSIBLE FOR ANY ILLNESS DUE TO ATTENDING THIS EVENT. IF YOU HAVE RECENTLY TRAVELED AND FEEL SICK PLEASE DO NOT ATTEND THE FESTIVAL."
Early-bird registration costs start at $39. Children pay $10. For more information or to buy tickets, click here.
Entertainment and Events Calendar
Thursday, September 28, 2023
Friday, September 29, 2023
Saturday, September 30, 2023
Sunday, October 1, 2023
Monday, October 2, 2023
Tuesday, October 3, 2023
Wednesday, October 4, 2023