This legal drag racing event open to all car enthusiasts 18 and older with a valid driver's license and proof of registration and insurance, Fast Lane Friday allows drivers the opportunity to race their cars against other street-legal cars on the drag strip.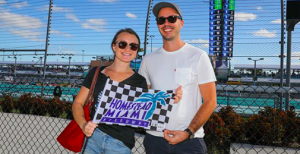 Drag racing was born in the dry lake beds in the California deserts. In the 1930s as engines got better and drivers got braver, speeds began topping 100mph. But it wasn't until after World War II that a bunch of kids with cars, hanging out with nowhere in particular to go, turned into something more serious (and fun).
Homestead-Miami Speedway opens Pit Road to the public on select Fridays from 6:00 p.m. to 12:00 a.m. for the 1/8th Mile "Test & Tune" experience. Competition fee is $20 if purchased in advance, or $25 at the gate, for multiple runs. Spectator fee is $10 in advance or $15 at the gate, and kids 12 and under are free.
Upcoming dates in 2022:
September 23
October 7
November 4
December 9
To purchase tickets, call 866-409-7223 or visit here.
The speedway is located at One Ralph Sanchez, Speedway Blvd, Homestead, FL 33035.
Concession options will be available for cashless purchase during the events.
Law enforcement and advocacy groups long have sought safe alternatives to illegal street racing that plagues South Florida roadways. To combat this dangerous activity, Homestead-Miami Speedway created Fast Lane Friday.
Other fun & entertainment in South Florida, including free events

Sunday, February 5, 2023
Monday, February 6, 2023
Tuesday, February 7, 2023
Wednesday, February 8, 2023
Thursday, February 9, 2023
Friday, February 10, 2023
Saturday, February 11, 2023