This year, it isn't a question of "Where can you get a free turkey for Thanksgiving?" but "Where can you get a whole Thanksgiving dinner for free?" Available through select retailers, Ibotta is launching its 'Free Thanksgiving Dinner' program — in an effort to feed millions of families this Thanksgiving.
The offer is available to new and existing Ibotta users through Thursday, Nov. 25, 2021, or while supplies last.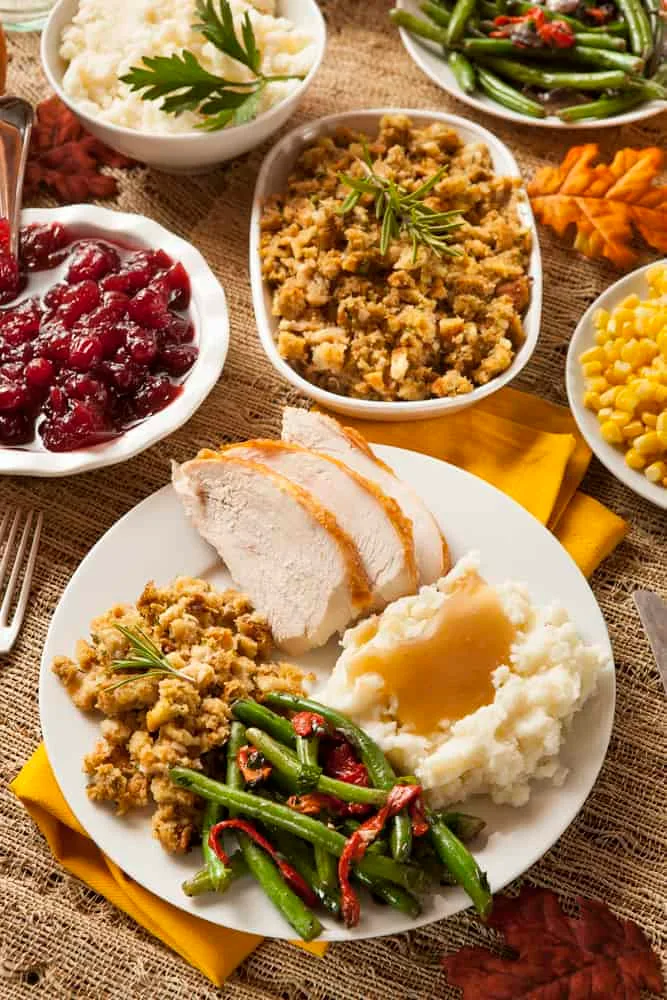 These offers are available in November while supplies last.
How to get 100% cashback on Thanksgiving dinner with Ibotta
Here's how this works: Ibotta is teaming up with select retailers to give you cashback on everything you need to make a fabulous turkey dinner for the family.
1. The first thing you'll do is sign up for an Ibotta account if you don't have one.
To sign-up for a FREE Ibotta account, register here.
2. Next, sign in to the app or browser extension and look for the free Thanksgiving offers. The items available for 100 percent cash back (while it lasts) are:
FREE frozen whole turkey (eligible for $15 cash back – available to all new users and available to existing users when they refer a friend)
FREE Campbell's Condensed Cream of Mushroom Soup (.98 cash back)
FREE Jiffy Corn Muffin Mix (.67 cash back)
FREE Idahoan Family Size Mashed Potatoes ($1.88 cash back)
FREE Great Value French Fried Onions ($2.28 cash back)
FREE Great Value Stuffing Mix (.82 cash back)
FREE McCormick Gravy Packet ($1.12 cash back)
FREE Birdseye Frozen Vegetables ($1 cash back)
FREE Great Value Cranberry Jelly ($1.28 cash back)
FREE Coca-Cola, 2-liter bottle ($1.98 cash back)
3. Follow the instructions to add all (or as many as you want) free Thanksgiving offers to your list at the store.
4. Shop in-store with the Ibotta app or link your pick-up and delivery account to shop online with the Ibotta browser extension. Either way, you'll get cash back.
Tip: If you're an existing user and you don't see the Thanksgiving offer in your app, download the browser extension. You will probably see it there.
Important notes about the Ibotta FREE Thanksgiving dinner offer
Remember, the free Thanksgiving offer is "while supplies last," so you don't want to sleep on this deal.
The Ibotta app works by giving you cash back after you pay for your items, so you will need to be prepared to pay for them up front. But since you're getting 100 percent cash back on the items, it is essentially a FREE Thanksgiving dinner.
In every case, check the offer details and scan the barcode in-store to make sure the item you're buying qualifies.
If you buy more than one product or a larger turkey, you won't get the 100 percent cash back on the additional product. The cash back is only eligible for the items you see in your app or browser extension – even if they differ from what's listed here. (They shouldn't differ, but if they do, believe what the app is telling you and buy that product.)
Bargain hunters are always grateful for big savings! And this tasty offer — a Thanksgiving meal feeding five for FREE — will definitely have smart shoppers thankful for the opportunity to save money on the biggest (and often costly) family feast of the year.
Get your new Ibotta account here. (It's free.)
This article originally appeared on our parent site, Living On The Cheap.
Free food distributions in South Florida
Organizations continue offering free food distribution for families needing help. Some sites provide drive-through pickups, while others offer doorstep deliveries for eligible participants. Please check with each organization concerning COVID-19 safety protocols. For the full roundup, click here.
More Useful Resources