It's time we celebrate the return of live music – and what better way than with a free summer concert?
Toyota and JBL, the audio equipment company, have launched the JBL True Summer concert series, featuring a number of free concerts throughout the country, with a stop in Miami.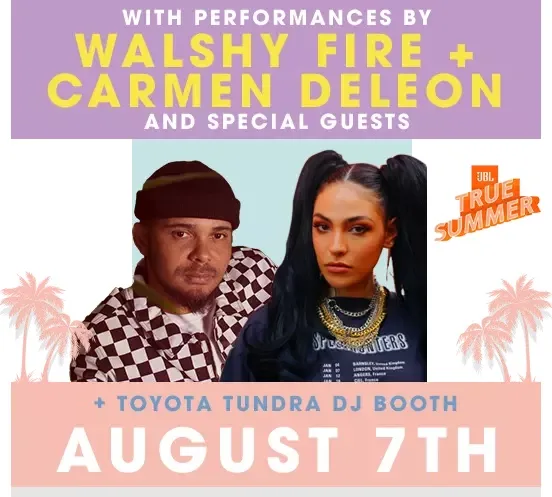 The free event will be taking place from 3-9 p.m. Saturday, Aug. 7, along Northwest Second Avenue, near Wynwood Walls. Guests can expect live musical performances by DJ Walshy Fire, pop artist Carmen DeLeon, and more. For music-lovers, other activities include JBL brand activations, product customization, giveaways, and a Toyota Tundra DJ Booth.
"The JBL True Summer campaign is our way of delivering a unique experience music fans have missed over the last year while supporting a larger movement to bring back live music," said Ralph Santana, chief marketing officer at HARMAN, in a statement. (JBL is owned by Harman International Industries.)
According to organizers, the outdoor venue will offer limited capacity based on the COVID-19 restrictions in place at the time of the event.
There's also a philanthropic aspect to the True Summer concert series. By making a purchase at JBL.com, music-lovers will be supporting the reopening of concert venues, as JBL plans to donate a portion of sales and make a product donation valued at $100,000 to the National Independent Venue Association (NIVA). The association has a #SaveOurStages initiative that benefits musicians and workers affected by the pandemic.
So, if you're looking to upgrade the way you listen to music this summer, check out the popular True Wireless headphones, which will be available for discounts all summer long on the JBL website. Not only will you be rocking a new pair of wireless headphones but you'll also be helping an organization with your purchase. We call that a win-win situation!
For more information on the free concert series, click here.
Entertainment calendar
Sunday, June 4, 2023
Monday, June 5, 2023
Tuesday, June 6, 2023
Wednesday, June 7, 2023
Thursday, June 8, 2023
Friday, June 9, 2023
Saturday, June 10, 2023