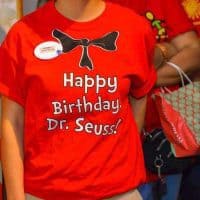 Join Miami Children's Museum on Friday, March 2, from 10 a.m. to 6 p.m. as the museum celebrates Dr. Seuss' birthday.
The free admission to the museum's day-long celebration will include celebrity readers, performances, appearances by Dr. Seuss characters, activities such as balloon twisting and face painting and birthday cake. Children can design birthday cards with Blick Art Materials, and take pictures with the Cat in the Hat.
The Museum is located at 980 MacArthur Causeway, 33132. 305-373-5437
Other museum deals, free days and special events:
Monday, December 6, 2021
Tuesday, December 7, 2021
Wednesday, December 8, 2021
Thursday, December 9, 2021
Friday, December 10, 2021
Saturday, December 11, 2021
Sunday, December 12, 2021
See all the free and cheap events this week.