HistoryMiami's annual CultureFest 305 will be a live, in-person event once again.
After going virtual in 2020, the museum has now scheduled its special celebration of the Magic City for Saturday, Nov. 13, 2021, from 11 a.m.- 4 p.m.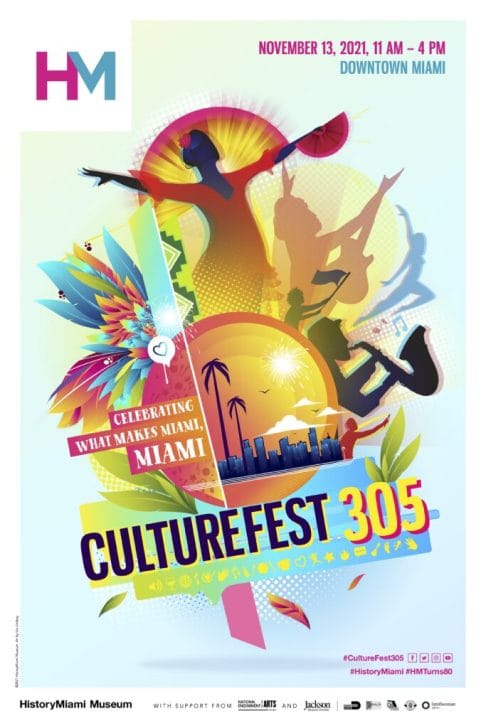 The free event at the museum, 101 W. Flagler St., invites you to "discover all that makes Miami the diverse, vibrant, and extraordinary city we love!" according to organizers. Expect a day of music, dance, food and art, plus artist performances and demonstrations and activities for all ages.
CultureFest 305 2021 schedule
Performances
12:30 PM – 1:15 PM Willie Stewart, Rhythms In Conversation Percussion Performance
2:00 PM – 2:30 PM Clarita Filgueiras & Flamenco Puro Dance Company, Flamenco Music and Dance
3:30 PM – 4:00 PM Bachaco, Reggae Rock & Latin Roots
Demonstrations
12:00 PM – 12:30 PM Louines Louinis Haitian Dance Theater, Haitian Drumming and Storytelling
1:30 PM – 1:50 PM Ukrainian Dancers of Miami, Ukrainian Folk Dance Demonstration
2:45 PM – 3:15 PM Rhythms School of Dance, Indian Dance Workshop
Ongoing Demonstrators
Miami Beach lifeguard tower model-making, Alcibiades Cerrud
Chinese calligraphy, Asian American Advisory Board & World Languages Department at Miami Dade College
Local food culture, Edible South Florida
Live digital painting demonstrations, Izia Lindsay
Marimba music demonstrations, Mexican folklife, and cafesito, Mi Folklor y Cafesito
Live painting demonstrations, Omar Corrales Mora and Futurama Art Galleries
Connection Bingo, Radical Partners & Global Shapers Community Miami
Live woodturning demonstrations, South Florida Woodturners Guild
Ukrainian folk traditions, Ukrainian Dancers of Miami
Ongoing Activities
11:00 AM – 4:00 PM Poster Signing with Artist, Izia Lindsay
11:00 AM – 4:00 PM Take-Away Craft Activities
11:00 AM – 4:00 PM Food and Drink Vendors
COVID-19 Safety Precautions
According to organizers, the event rules and guidelines include:
Masks

required

indoors for all attendees age 2 and older.
Masks

recommended

outdoors for all attendees age 2 and older.
Masks

required

for all exhibitors, staff and volunteers.
A 6-foot distance should be maintained when possible.
Hand sanitizer will be available throughout the event.
For more information on this event, go to the official website or Facebook page.

Miami 2021 events: A month-by-month guide
Yes, many plans changed in 2020 … with vacations and shows and festivals canceled throughout Miami, South Florida and the world. However, the New Year brought with it hope of brighter and better times ahead. Car shows, art festivals and more have been scheduled for 2021.
We've compiled a month-by-month roundup of events in our area. Keep in mind that some events may be virtual. Others may follow strict safety protocols. You'll want to get all the details and decide which options are best for you and your family. Click here for a handy guide!
Popular Miami events canceled for 2020-2021
The year 2020 brought many firsts and never-before-seens, including the cancellation of some of our favorite events, including Santa's Enchanted Forest, Coral Gables Festival of the Arts, Coconut Grove Arts Festival, Florida Renaissance Festival and more.
We've compiled a roundup of canceled events, so you can see if your favorite festivals will take place or not. Many will have to wait for now, but hopefully they'll be back soon! Click here to see which ones have been affected for the 2020-2021 season.
Entertainment calendar