Get ready to celebrate all things Irish and to wear your favorite green outfits!
St. Patrick's Day is March 17 and – while many Irish pubs are closed – some bars are bringing that Irish vibe back through special menu items, bar crawls, and even karaoke.
For those craving a bit of fun while keeping social distance, we've compiled a handy guide of free and cheap St. Patrick's Day celebrations throughout Miami-Dade County. We always advise that you check with the venue or organizers to make sure events are still happening. This year, we also advise you look into COVID protocols, so you can make a safe decision.
Keep checking back, as we will continue to update this post!
American Social
This St. Patrick's Day, get shamrocked with drink specials at a waterfront venue that features amazing craft brews and comfort food. American Social is offering $8 Jameson cocktails, $8 Jameson shots, $4 green beer, and $10 Frozen Irish Coffee made with Jameson Cold Brew, Kahlua, coffee ice cream, and more. The restaurant is located at 690 SW First Court, Miami. For reservations and other information, click here or call 305-223-7004. South Florida has another location, in Fort Lauderdale, at 721 E. Las Olas Blvd.
The Wharf

On March 17, party at this hot spot along the Miami River, where you can buy a shot of Jameson and receive a free Guinness beer. Enjoy live music, food, games, and more starting at 4 p.m. Remember to don your green face mask, and be mindful of social distancing during this outdoor celebration. Event organizers say social distancing markers will be set up in areas such as the entrance line and restroom waiting area, so guests can ensure they are keeping the appropriate distance. The event will be located at 114 SW North River Drive. RSVP is required. For more information, click here.
Duffy's Sports Grill

Get lucky with an Ireland-inspired menu at Duffy's Sports Grill through the month of March.
Taste a Shamrock Pie or a juicy Reuben Burger paired with Jameson Irish Whiskey – to experience that feeling of being whisked away to Ireland.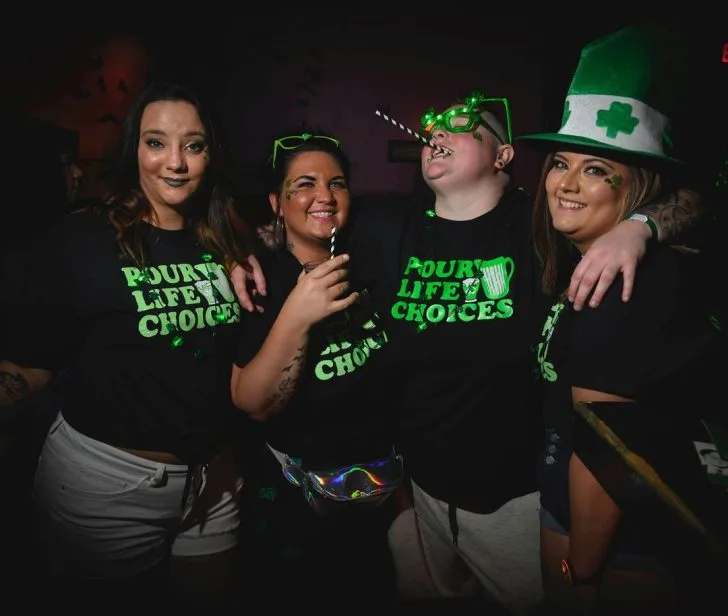 Sixth Annual St. Patrick's Day Bar Crawl in Brickell
Take your Irish spirit to Brickell for the largest holiday bar crawl hosted by Miami Bar Crawls. This crawl event, set for 5 p.m. to 11 p.m. March 17, will feature five free drinks at Brickell's best bars including Riverside Miami, American Social, Rosario, and RedBar Brickell.
Start your crawl adventure at Blackbird Ordinary for $20 and expect St. Patrick's Day swag, while supplies last. Click here to get your tickets.
Organizers say mask wearing will be enforced at participating venues, though they may be removed when drinking or sitting at your table. And they're making a limited amount of tickets available to promote social distancing. So, if you're interested, you'll want to make arrangements fast!
Dimelo Cantando at Lincoln's Beard Brewing Co.
Have a good laugh at this St. Patrick's Day-themed karaoke night with stand-up comedy starting at 8 p.m. Remember to wear your best emerald attire and come ready to sing out loud.
The karaoke starts at 9 p.m. March 17, and you can enjoy house-brewed beers while watching the different performances.
According to organizers: "For the safety of guests and employees, wearing a mask is required while walking or standing around the brewery. You may be allowed to take off your mask while seated at a table or when you are singing your chosen karaoke song."
This event is located at 7360 SW 41st St., Miami. Admission is free, but you'll need to register. For more information, click here or call 305-912-7390.
Bulla Gastrobar
Enjoy a happy hour special at Bulla Gastrobar locations in Coral Gables, The Falls, and Doral. The Coral Gables and Doral locations will be offering happy hour specials from 5 p.m. to 7 p.m., while The Falls location will be offering specials from 3 p.m. to 6:30 p.m. You can expect $3 off bottled beers and pinta drafts, $7 house specialty cocktails, and $6 house liquors. Click here for more details.
Pisco y Nazca
For those wanting to enjoy Latin food on St. Patrick's Day, Pisco y Nazca will have deals going on from 4 p.m. to 7 p.m. at the Kendall location and 5 p.m. to 7 p.m. at the Doral location.
Some specials you can expect to find at both locations, including $3 off bottled beers and pinta drafts, $7 house specialty cocktails, and $6 house liquors. Click here for more details.
Burlock Coast
Enjoy a signature Bootleg Burger, Fish and Chips, or a delicious Florida key lime pie with ocean views at Burlock Coast. The waterfront restaurant will have specialty drinks from 11 a.m. to 10 p.m. including $5 Guinness Extra Stout and Irish Juleps for $14. The celebration will take place at Fort Lauderdale 1 N Fort Lauderdale Beach Boulevard inside the Ritz Carlton. Click here for more information.
Fireman Derek's Bake Shop
The famous bakeshop in Wynwood is baking an Irish-inspired pie with generous swirls of Bailey's custard, Jameson whiskey caramel, espresso whipped cream, toasted almonds, and Guinness reduction. Oreo crush is also included. The festive dessert dubbed the Irish Car Bomb Pie ($38 per pie/$7.50 per slice) will be available throughout the month of March 2021. Fireman Derek's Bake Shop has locations in Wynwood and Coconut Grove. For more information call 786-703-3623 or 786-502-2396.
Tobacco Road
Pay tribute to the new Tobacco Road during their unofficial grand opening soiree on St. Patrick's Day. Patrons can enjoy $5 Green Pabst Blue Ribbon beer, $5 Tullamore Dew Irish Whiskey shots, $6 Irish coffees, $7 Irish car bombs, and limited-time corn beef nachos all night long. The party will feature live blues performances by Lone Wolf Omb, Uncle Scotchy, and Matt Rosman. Tobacco Road by Kush is located at 650 South Miami Avenue. For more information click here or call 786-703-3120.
National St. Patty's Day deals
Krispy Kreme has introduced a limited-time selection of St. Patrick's Day doughnuts. AND if that's not enough, any guest that wears green to their local Krispy Kreme on March 16-17 may get one O'riginal Glazed doughnut FREE, no purchasing necessary – offer available via in-shop, pick-up or drive-thru.
Got an event that should be listed here? Email information to news@miamionthecheap.com.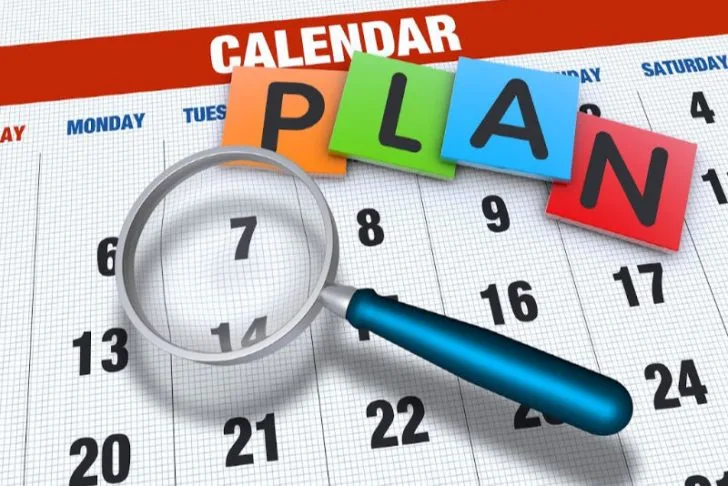 Guide to Miami festivals & other 2021 events
Yes, many plans changed in 2020 … with vacations and shows and festivals canceled throughout Miami, South Florida and the world.
However, the New Year brings with it hope of brighter and better times ahead. Car shows, art festivals and more have been scheduled for 2021.
We've compiled a month-by-month roundup of events in our area. Keep in mind that some events may be virtual. Others may follow strict safety protocols. You'll want to get all the details and decide which options are best for you and your family. Click here for this handy guide to Miami events!
Canceled events in Miami
Throughout Miami – and all of South Florida, really – organizers have had to make tough decisions about whether to go ahead with their annual events.
Some are doing the best they can under the circumstances. Others have decided their events will just not happen.
Click here to see which events have been affected for the 2020-2021 season. These events will have to wait for now, but hopefully they'll be back soon!
Entertainment and Events Calendar
Sunday, October 1, 2023
Monday, October 2, 2023
Tuesday, October 3, 2023
Wednesday, October 4, 2023
Thursday, October 5, 2023
Friday, October 6, 2023
Saturday, October 7, 2023
Other museum deals, free days and special events:
Sunday, October 1, 2023
Monday, October 2, 2023
Tuesday, October 3, 2023
Wednesday, October 4, 2023
Thursday, October 5, 2023
Friday, October 6, 2023
Saturday, October 7, 2023
St. Pat's Wynwood presented by Swarm

After attracting nearly 20,000 guests, this celebration returns with the largest block party in Wynwood. Presented by Jameson Irish Whiskey, St. Pat's Wynwood encourages Irish lovers, partygoers, and beer aficionados to bust out their favorite green fashion ensembles and party on the streets with Miami's finest DJs, green beer, arts 'n' crafts, street art, and local food trucks. Admission to the block party is free. The celebration takes place on March 17th. For more information click here.