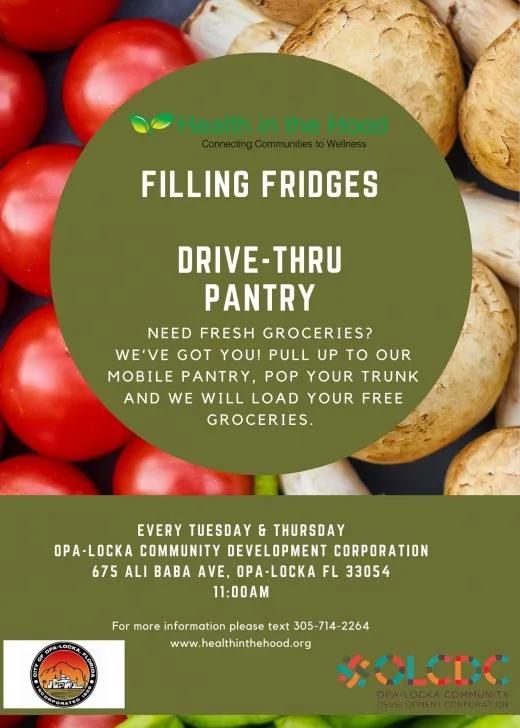 Health in the Hood is distributing food to Miami's most vulnerable residents, including seniors, low-income families and displaced citizens.
The nonprofit organization has partnered with Miami-Dade County Public Schools and the Opa-locka Community Development Corp., among others, to identify areas of need for food distribution.
Through its "Filling Fridges" project, it is:
Distributing 100 produce bags to displaced Miami-Dade County Public School students at 11 a.m. Tuesdays and Thursdays via drive-thru collection. Location is at The Pull Up Pantry, 675 Ali Baba Ave., Opa-locka.
Delivering 300 prepared meals to senior centers, homeless shelters and religious organizations on Mondays, Wednesdays and Fridays. The plan is to reach 10,000 meals delivered.
Gifting $100 grocery cards to displaced workers.
Several organizations are helping in this effort, identifying areas of need for the prepared meal distribution:
The WOW Center
Lotus House
Friendship Missionary Baptist Church
Office of City of Miami Mayor Francis Suarez
Feeding South Florida
Farm Share
Eat Clean
Jewish Community Services Kosher Food Bank
The Edison Senior Community Center
Miami-Dade County Public Schools
Health in the Hood is also seeking donations. Contribute by mailing to Health in the Hood, c/o Asha Walker, 2020 N. Bayshore Drive, #4102, Miami, FL 33137 or by clicking here.
For more information, click here.
For details on free food distributions throughout South Florida, click here.
More Food Resources