Plantation Historical Museum is always free, and is featuring a display of running model trains.
The museum usually is open 10 a.m. to 12 p.m. and 1 p.m. to 4:30 p.m. Tuesdays, Thursdays, Fridays and Saturdays, with occasional exceptions. It's wise to verify it's open the day you are interested in.
Extra train-theme events are
August 20 Run your Own Trains
August 25-27 Lionel Days
September 3 Cartoon Trains
September 17 Train Safety
September 24 Halloween & Christmas
Donations are accepted. Information is on the website.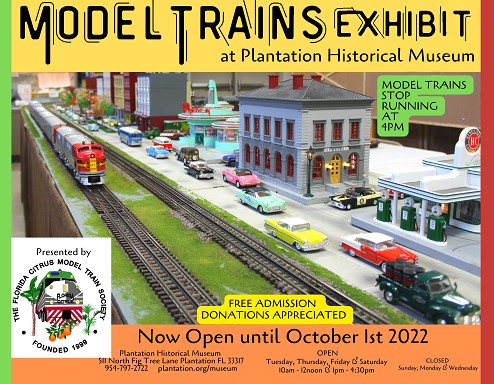 Plantation Historical Museum, 511 N. Fig Tree Lane, Plantation 33317, 954-797-2722
Other Train Fun
Entertainment in South Florida, including free events

Thursday, August 18, 2022
Friday, August 19, 2022
Saturday, August 20, 2022
Sunday, August 21, 2022
Monday, August 22, 2022
Tuesday, August 23, 2022
Wednesday, August 24, 2022