You'll laugh until your sides hurt.
If you're needing some comic relief right about now, the "Ship to Shore" comedy show at the Miami Improv Comedy Theatre in Doral is where you'll want to be.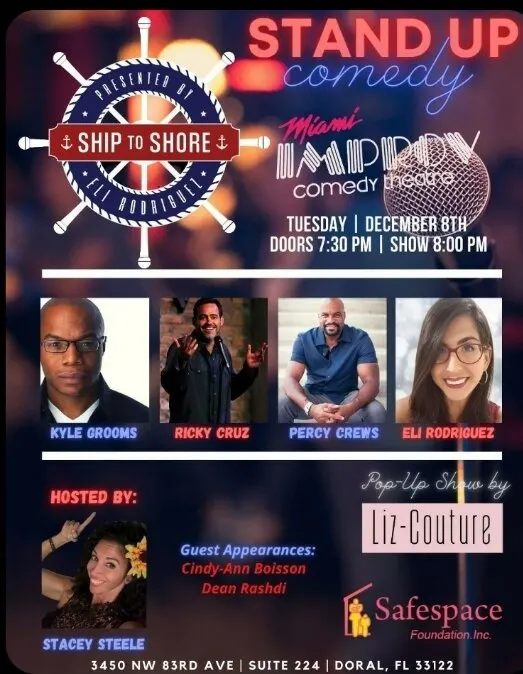 The show is set for 8 p.m. (doors open at 7:30 p.m.) on Tuesday, Dec. 8. Tickets are $5.
Headlining the show is local comedian Elizabeth (Eli) Rodriguez, whose act combines stories about her life in the corporate world as well as in comedy. The show title refers to her time working in the cruise industry and the experience she gained there from so many talented professionals.
Joining her are comedians Kyle Groomz, Ricky Cruz and Percy Crews, plus special guest appearances by Cindy-Ann Boisson and Dean Rashdi. These comedians have been featured on Sirius XM, Comedy Central, HBO and Netflix. The evening will be hosted by Stacey Steele.
The event will also feature a pop-up show by Liz-Couture, with proceeds benefiting Safespace Foundation Inc.., and a toy drive.
For more information, visit Miamiimprov.com.
More Free and Cheap Things To Do in Miami:
Sunday, December 3, 2023
Monday, December 4, 2023
Tuesday, December 5, 2023
Wednesday, December 6, 2023
Thursday, December 7, 2023
Friday, December 8, 2023
Saturday, December 9, 2023