For a fun sightseeing excursion on the water – or for a different form of transportation – Water Taxi service is available in Fort Lauderdale and Hollywood. Discount opportunities are offered.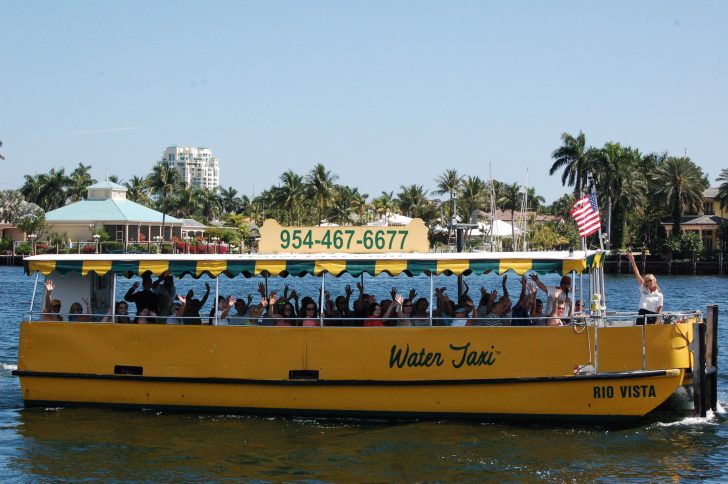 (Photo/Water Taxi)
Regular Water Taxi routes
Some use the yellow vessels to travel from place to place, appreciating the luxury of avoiding traffic and parking. Water Taxis provide
hop-on/hop-off points for shopping, dining and sightseeing along regular routes on the Intracoastal Waterway and New River.
Hollywood Express runs from Fort Lauderdale to Hollywood
Narrated Tours. Relax onboard and savor the scenery and narrated tours. Narration includes "fun facts about all the gorgeous homes, yachts, and South Florida history," the Water Taxi website states. Some vessels sell adult beverages and other drinks.
Regular fares
$35 for age 12-64
$30 for age 65 and older and military
$15 for age 5-11
Free for age 4 and younger
Sunset cruises
Evening excursions 6:30 p.m. Fridays during summer with live entertainment. The fare is $20. Purchasing online is recommended. Step aboard at 335 SE 6th Avenue, Fort Lauderdale.
Discounts
July 4th reduced rates for direct routes to July Fourth festivities on Fort Lauderdale beach are $5, and $2 for seniors, free for kids 4 and younger, & free for active military. For other Fourth of July events, July Fourth fireworks, parades & fun in South Florida
Happy Hour fares after 5 p.m. are $20 and drink deals are offered onboard
Group rates for at least 10 people available (inquire by phone)
July 4
For July 4th, limited routes are offered, and reduced rates are offered.
Routes to Las Olas marina from
Riverside Hotel/Stranahan House, 335 SE 6th Avenue, Fort Lauderdale
Galleryone Doubletree Hotel, 2670 E. Sunrise Boulevard, Fort Lauderdale
Hilton Marina, 1881 SE 17th Street, Fort Lauderdale
Discounts at Restaurants & Shops
With your Water Taxi ticket, you may receive discounts at select restaurants, attractions and other vendors. Participating businesses are listed with each stop on the interactive map on Water Taxi website. For more information, click here.
Information about Water Taxi and purchasing tickets is online or 954-467-6677