For a dazzling outdoor display — including flying whales — Haulover Park is hosting Kitetober Festival.
The Kite Festival is 11 a.m. to 6 p.m. October 21 and 22, 2023, and entry is free.
At the event, fly your own kites if you'd like, or watch others.
Kites of all shapes and styles are featured, including the following:
100-foot flying octopus, stingray and cuttlefish
30-foot flying astronaut
300-square-foot parafoils
Food trucks will be on site, plus music and games, plus kites will be available for purchase at the event. See more details on eventbrite.
The festival is hosted by Skyward Kites, 305-893-0906; and Miami-Dade Parks, 305-947-3525.
Haulover Park in Miami Beach is at 10800 Collins Avenue, Parking is $7, and is limited.
No pets. No glass. No Styrofoam. Kites representing different nationalities are encouraged.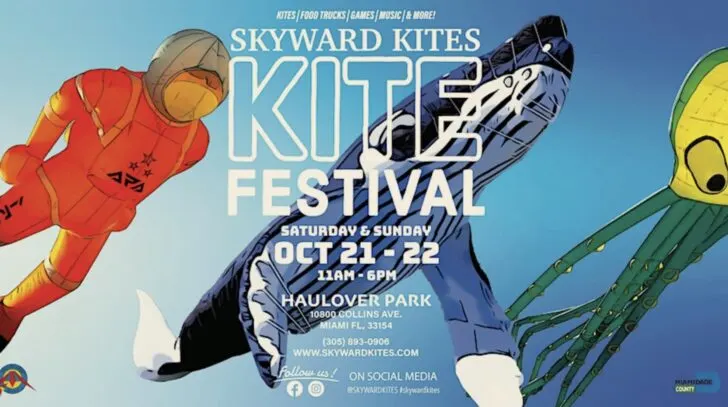 Other entertainment:
Sunday, December 3, 2023
Monday, December 4, 2023
Tuesday, December 5, 2023
Wednesday, December 6, 2023
Thursday, December 7, 2023
Friday, December 8, 2023
Saturday, December 9, 2023