When we hear "family fun day" and "free" in the same sentence, you know we get excited!
On Saturday, Nov. 20, from 1-3 p.m., the Salvation Army is teaming up with Miami's Dadeland Mall to host a Holiday Hoopla for the whole family to enjoy.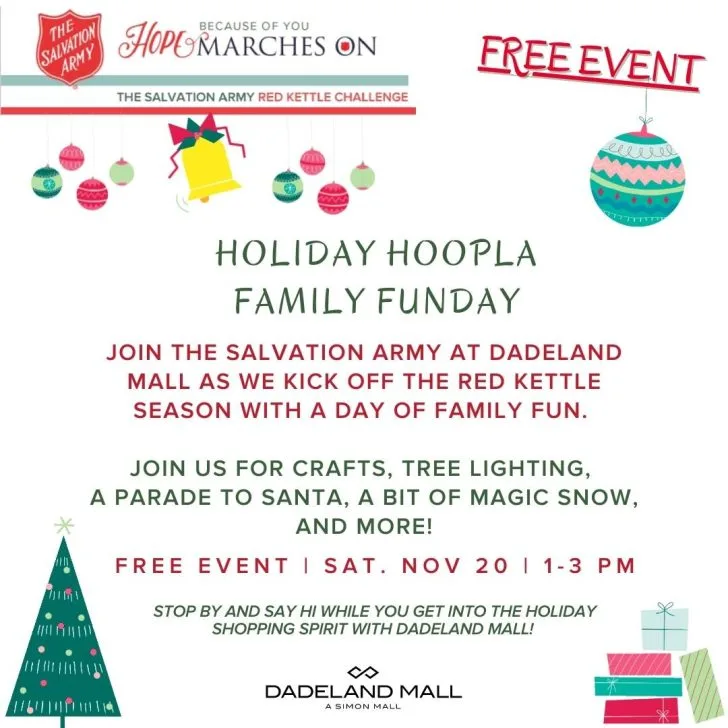 Head to the mall's Fashion Wing, where the Holiday Hoopla fun will be set up, complete with lots of fun activities including:
Crafts
Tree lighting
Parade to Santa
Magic snow
Holiday music
Performance by The Salvation Army School for the Performing Arts
Dadeland Mall is located at 7535 N. Kendall Drive.
More free and cheap South Florida holiday events
Tuesday, December 5, 2023
Wednesday, December 6, 2023
Thursday, December 7, 2023
Friday, December 8, 2023
Saturday, December 9, 2023
Sunday, December 10, 2023
Monday, December 11, 2023
Tuesday, December 12, 2023
Wednesday, December 13, 2023
Thursday, December 14, 2023
Friday, December 15, 2023
Saturday, December 16, 2023
Sunday, December 17, 2023
Monday, December 18, 2023
Tuesday, December 19, 2023
Wednesday, December 20, 2023
Thursday, December 21, 2023
Friday, December 22, 2023
Saturday, December 23, 2023
Sunday, December 24, 2023
Monday, December 25, 2023
Tuesday, December 26, 2023
Wednesday, December 27, 2023
Thursday, December 28, 2023
Friday, December 29, 2023
Saturday, December 30, 2023
Sunday, December 31, 2023
Monday, January 1, 2024
Tuesday, January 2, 2024
Wednesday, January 3, 2024
Thursday, January 4, 2024
Friday, January 5, 2024
Saturday, January 6, 2024
Sunday, January 7, 2024
Monday, January 8, 2024
Tuesday, January 9, 2024
Wednesday, January 10, 2024
Thursday, January 11, 2024
Friday, January 12, 2024
Saturday, January 13, 2024
More holiday events