Halloween festivities will hopefully feel a bit more normal this year than in 2020. Already, we're finding more in-person themed events for 2021.
Still, it's important you check with each event about safety protocols, including social distancing and mask-wearing rules (although mask-wearing shouldn't be a problem for Halloween, right?).
In addition to events, expect Halloween-themed deals and freebies at eateries throughout Miami and the South Florida area. Check those out by clicking here!
Ghosts, goblins, witches and ghouls … read on to find our most current list of kid (and some adult) events.
NOTE: We are constantly updating this list, so scroll down and check back often!
HALLOWEEN 2021 IN MIAMI & SOUTH FLORIDA
Oct. 16
Pumpkin Carving Workshop at Lincoln Eatery
Lincoln Eatery, 723 Lincoln Lane North, Miami Beach
3 p.m.
$29
Become a pumpkin carving pro this Halloween and learn how to carve a pumpkin with expert fruit carver Roger Epres of TYO Sushi at the Lincoln Eatery. Children under 10 years of age are welcome to share a pumpkin with an adult. Children 10 and over are required to purchase their own tickets. For $29 you'll receive a pumpkin and carving tool.
Oct. 21
Lowe's Hal-LOWE-en
Multiple Lowe's locations around South Florida
5-7 p.m.
Free
Families are invited to register and come dressed in costume to get free candy and pose with a scary-cute spiderweb backdrop. Space is limited for this event and registration is required.
Oct. 23
Hocus Pocus Movie at the Park
Dr. Paul Vogel Community Park, 7920 West Dr., North Bay Village
6-9 p.m.
Free
Head to a fun movie at the park and watch the ever popular Hocus Pocus! Make sure to dress up as there will be a contest and prizes for best costume, best group costume, and best pumpkin design!
Through Oct. 24
The Witches Of Westward
Miami Springs Woman's Clubhouse, 200 Westward Drive, Miami Springs
11 a.m.-8:30 p.m. Oct. 23-24
$6-$10
This first-time event from the Miami Springs Woman's Club will have "witches" hosting a magical high tea, plus storytelling, crafts and games. Proceeds will go toward the Miami Springs Woman's Club-supported charities and initiatives.
Hogwharf at The Wharf
The Wharf Miami, 114 SW North River Dr., Miami
Oct. 22-24
Free
Harry Potter fans rejoice! The Wharf Miami will be hosting a spellbinding weekend full of magical drinks, live entertainment, giveaways, and thrilling adventures. Make sure to RSVP for a FREE Hogwharg Scarf! Children and leashed dogs welcome with parent or guardian before 6 p.m. After 6 p.m. venue is strictly 21+.
Oct. 24
Hocus Pocus screening
Sandrell Rivers Theater, 6103 NW Seventh Ave., Miami
3-5 p.m.
$5 suggested donation

Watch an afternoon screening of the fun Halloween classic, "Hocus Pocus," starring Bette Midler, Sarah Jessica Park and Kathy Najimy.
Spooky Symphony
Miami-Dade County Auditorium, 2901 West Flagler St., Miami
4-5 p.m.
Free but tickets required
Spooky Symphony is a one-hour free performance for families and children to enjoy movie themes from the Superman, Batman, Star Wars and Pirates of the Caribbean sagas, and dramatic classical showpieces with eerie themes.
Oct. 28
Rocky Horror Picture Show
Pinecrest Gardens, 11000 Red Road, Pinecrest
Gates open at 6:30 p.m., movie screens at 8:30 p.m.
$10
Watch the annual showing of this cult classic, a social phenomenon with audience participation. Don't forget to come in costume for the contest and bring your props! Limited capacity.
City of Miami Police Presents Pal-Loween
Miami Police Central Station, 400 NW 2 Ave., Miami
6-9 p.m.
Free
Enjoy safe family-fun this Halloween with a not so spooky haunted house, candy, movies, trunk or treating, costume contest, prizes and more!
Oct. 29
Track or Treat
Evelyn Greer Park, 8200 SW 124th St., Pinecrest
5 p.m.
Free
Here's another "Hocus Pocus" screening in honor of Halloween! The Pinecrest Parks and Recreation Department, along with local businesses, will present an evening of trick or treating and a screening of "Hocus Pocus" at 7:30 p.m. Bounce houses, photo opps, music, and more will be available for all ghosts, goblins and witches to enjoy!
Wicked Wharf at The Wharf
The Wharf Miami, 114 SW North River Dr., Miami
4 p.m.-3 a.m.
Free
Creep it real at The Wharf Miami with their first-ever Wicked Wharf. The weekend-long Halloween festivities kick off with happy hour specials like $1 Wharf Lager and $3 wine by the glass. Stay for a night of ghoulish fun! Children and leashed dogs welcome with parent or guardian before 6 p.m. After 6 p.m. venue is strictly 21+.
Nightmare on Montrose "The Return" Halloween Event
Mary Collins Community Center, 15151 NW 82 Ave., Miami Lakes
6-10 p.m.
Free
The town of Miami Lakes is welcoming back the community for another year of fear! Experience the fun, music, entertainment, a pumpkin decorating station for the little ones, Food Trucks, Candy Stations, a Halloween costume contest and for the fearless, the signature, Montrose Haunted House.
Oct. 29 & 30
Chuck E. Cheese Halloween Weekend Costume Contests
Multiple locations throughout South Florida
7 p.m.
Free
Visit Chuck E. Cheese in costume on Friday, Oct. 29, and Saturday, Oct. 30, for a chance to compete and win prizes in the costume contest, judged by Chuck E. himself.
Oct. 30
Howl-O-Ween
Pinecrest Police Department, 11000 Red Road, Pinecrest
11 a.m.-5 p.m.
$8 online, $10 at the gate, free for children younger than 2 and members of Pinecrest Gardens
Make Halloween a Howl-O-Ween this year and dress up with your furry friend! Pinecrest Gardens and Paws4You are welcoming four-legged ghouls with their human companions for a night of tricks and treats, plus a costume contest, doggie fun zone, and much more.
Halloween Half Marathon and Freaky 4-Miler
South Pointe Park, 1 Washington Ave., Miami Beach
6:30 a.m.
Registration fee starts at $30
The Halloween Half Marathon and Freaky 4-Miler is a great way to work off the week's Halloween candy before getting to the real festivities at night. Come decked out in full costume – and be ready to sweat it off – while running a half-marathon or an easier 4-mile run for those who want to jump right into the Halloween fun.
Pirates of The Wharf – Halloween Weekend
The Wharf, 114 SW N. River Drive, Miami
12 p.m. until late
Free
There's no doubt, The Wharf always puts on a great party for any holiday – and Halloween is no different. The space will transform into a scary pirate fortress, and guests are invited to join the fun with their costumes. Children and leashed dogs welcome with parent or guardian before 6 p.m. After 6 p.m. venue is strictly 21+.
Kiddo-Ween Party
CityPlace Doral, 8300 NW 36 St., Doral
2-8 p.m.
Free
Kiddos Magazine bringing spooky family fun and entertainment to CityPlace Doral! The activity-filled party will feature safe trick-or-treating, character appearances, scary faces Photo Boo-th, and an amazing Pumpkin Patch station. Masks will be required for everyone's safety. Families must register to attend during a specific time range.
Hal-GLOW-ween at The Yard
The Doral Yard, 8455 NW 53 St., Doral
3-6 p.m.
Free
Kids, adults, and pups are welcome to join in the espooky fun at The Doral Yard. Enter the pet costume contest in partnership with Woof Gang Bakery and enjoy an afternoon of fun with the family.
Bodega Taqueria y Tequila Halloween
Bodega Fort Lauderdale, 21 Las Olas Blvd.
Bodega South Beach, 1220 16 St.
9 p.m. till late
Free
Explore the world of Euphoria at Bodega's Halloween event! Their Ft. Lauderdale and South Beach locations will transform into a winter formal where party-goers will experience a euphoric state. Make sure to RSVP for complimentary admission and a free welcome shot before 9 p.m.!
Annual Halloween Doggie Costume Contest
Coral Gables Museum, 285 Aragon Ave., Coral Gables
4 p.m.
$15 registration fee per dog
Our four-legged friend's kick-off Halloween festivities with a paw-fect costume contest at the Coral Gables Museum! All are welcome to enjoy live music with Marco Barrios, signature drinks, trick-or-treating and fun prizes.
Halloween at Layla Miami Beach
Layla at Kayak Hotel Miami Beach, 2216 Park Ave., Miami Beach
7 p.m.
Free
Experience Halloween at Layla in partnership with CADA Culture. Reserve dinner at Layla prior to getting the party started on the rooftop or just RSVP for drinks without dinner. Costumes are definitely encouraged!
Veza Sur 2021 Halloween Party
Veza Sur Brewing Co., 55 NW 25 St., Wynwood
7 p.m.-1 a.m.
Free
Here's a Halloween pachanga you won't want to miss! The Veza Sur Halloween party will have live music and beats by DJ KA5 and Los Wizzards. Guests are encouraged to come in their Halloween costumes to participate in a contest with cash prizes! Since it is a brewery you're going to want to try the Horchata Cream Ale that gives you a sweet, spicy, and creamy beer flavor.
Halloween Movie Night at Bayfront Park
Bayfront Park, 301 Biscayne Blvd., Miami
5-10 p.m.
Free
Wear your best costume and enjoy a movie by water with the whole family. Head to Bayfront Park and catch the kid-friendly Halloween movie, Coco. Trick or Treating starts at 7 p.m. followed by the movie at 8:15 p.m.
VOUS Trunk or Treat
Jose De Diego Middle School, 3100 NW 5 Ave., Miami
11 a.m.-1 p.m.
Free
At VOUS Trunk or Treat guests will walk through four themed zones, collect candy from our designated Candy Stations and vote for the best decorated trunks. Guests are encouraged to dress up as a character from one of our four zones: Animal Kingdom, Fall Harvest, Superheroes, or Sports.
Frost Science 5th Annual Spooky Science Monster Mash
Phillip and Patricia Frost Museum of Science, 1101 Biscayne Blvd., Miami
11 a.m.-4 p.m.
Included with regular admission
Want to give yourselves goosebumps then understand the science behind them? Then don your most creative costume and join this safe and unique spin on Halloween. Coming in costume? Frost will give you a complimentary collectible Halloween mini-button for getting into the spirit.
The Monster Mash Bash: Trick or Treat Street Drive-Thru
Victory Pool Family Aquatics Center, 1980 NE 171 St., North Miami Beach
5-8 p.m.
Free
At this haunting event, attendees will encounter chilling yet family-friendly ghosts and monsters on their journey to collect bags of treats. Attendees are encouraged to join in the fun by decorating their cars and dressing in their best Halloween costumes. Attendees are required to stay in their vehicles and wear a mask in accordance with COVID-19 protocols.
Oct. 30-31
Bass Pro Shops/Cabela's Boating Center
Head to the Dania Beach location, at 200 Gulf Stream Way, for free Halloween kids' activities on Oct. 31, 2021.
Saturday, October 30th, 2021: 4 p.m. to 7 p.m.
Sunday, October 31st, 2021: 3 p.m. to 5 p.m.
According to organizers, both days will include a costume parade and trick or treating opportunities. Plus, each department in the store has carved a pumpkin, and participants will be able to vote on a fave!
Through Oct. 31
Haunted Circus Miami
Tropical Park, 7900 SW 40th St., Miami
Sept. 17-Oct. 31
Fri. 5 p.m.-12 a.m.
Sat.-Sun. 10 a.m.-12 a.m.
Get 35 percent off Haunted Circus tickets here
This Halloween-themed, family friendly carnival is said to have mysteriously appeared and be led by a mad ringmaster in search of a missing acrobat! The traveling troupe will bring with them a variety of activities for all ages to enjoy such as acrobatic shows, petting zoo, tarot card reading, pumpkin carving, and more.
(Video courtesy of House of Horror)
House of Horror Haunted Carnival
Miami International Mall, 1625 NW 107th Ave., Doral
Sept. 30-Oct. 31
Tues.-Thurs. 6-11 p.m.
Fri.-Sat. 5:30 p.m.-midnight
Sun. 5:30 p.m. 11 p.m.
$15-$35
This Halloween experience is back this year at Miami International Mall with three haunted houses, unlimited rides, and more. The monthlong event is not for the faint of heart. Those who dare have the choice of walking through haunted houses such Mall Mayhem, Toxic Apocalypse, and 1455 Asylum. If you make it through all three, or just one, you'll need to gain your strength back, so make sure to head to the delectable treats!
(Video courtesy of No Way Out Haunted City Miami)
No Way Out Haunted City Miami
Westland Mall, 1675 W 49th St., Hialeah
Sept. 30-Oct. 31, 7 p.m.-midnight
$25
Get 20 percent off tickets here
Two very scary haunted houses are making their way to Westland Mall, with characters so creepy they will haunt you in your sleep! Walk through terrifying hallucinations and experience the feeling of being trapped inside your own nightmares. Beware of Abbadon the Demon and Linda the Old Hag!
Nightmare at the Curtiss Mansion
Curtiss Mansion, 500 Deer Run Road, Miami Springs
Daily starting Oct. 7, 6-11 p.m.
$29

Take a terror-filled journey through this historic spot in Miami Springs, where you'll encounter demons, cannibals, clowns and witches from real-life horror stories to the supernatural.
Zoo Boo 2021
Zoo Miami, 12400 SW 152nd St., Miami
Oct. 30 & Oct. 31, 10 a.m.-3 p.m.
Included with the price of admission
This is arguably the best trick or treating event for kids age 12 and younger. Zoo Boo at Zoo Miami is a great way to roam the park – during cooler weather – while also enjoying a great family friendly event. There will be costume contests, Halloween crafts and special characters.
The Vampire Circus
Aventura Mall's Circus Tent, corner of Biscayne Blvd. and Abigail Road
Oct. 1-31
$39.99
The Vampire Circus is an immersive 90-minute experience that brings surreal performances by vampires to life. The performance includes acrobatic feats and comical interactions with the audience that is sure to bring a smile to your face and a little fright. Performance times are at 7 p.m. on Thursdays and Fridays, 4 p.m. and 7 p.m. on Saturdays, and 3 p.m. and 6 p.m. on Sundays.
Miramar Halloween Drive & Scream
Miramar Regional Park, 16801 Miramar Parkway
7-11 p.m. Thursdays-Sundays, from Oct. 1-Nov. 1
$60 per car (up to six passengers)
Take a spooky 45-minute tour through seven routes that will eventually lead you to your "final resting place," where the drive-thru experience ends and the hocus-pocus fun begins. We're talking about music, carnival games, food and beverages and more – but only if you dare to get through the terror first!
HalloWYN Block Party
Wynwood Marketplace, 2250 NW 2 Ave., Wynwood
Oct. 30-31, 12 p.m. – 3 a.m.
Free
Wynwood transforms into a spooky party, guests will enjoy live music from some of Miami's best DJs, craft cocktails, a costume contest, Instagrammable photo booths, themed activations and more.
Halloween goodie bags at Dolphin Mall
Dolphin Mall, 11401 NW 12 St., Miami
Oct. 1-31, 11 a.m. – 7 p.m. daily
Free
Visit the mall's information booth to pick up a goodie bag filled with candy, chocolate, a free kids meal coupon, and passport to shopping certificate.
Tinez Farms Trick or Treat
Tinez Farms, 16405 SW 177 Ave., Miami
Oct. 29-31
$10-$22
Head over to Tinez Farms for the first annual Trick or Treat event! You will find all new photo ops and decor, food vendors, live music, kids activities, pop-up shops, costume contest, and trick or treating!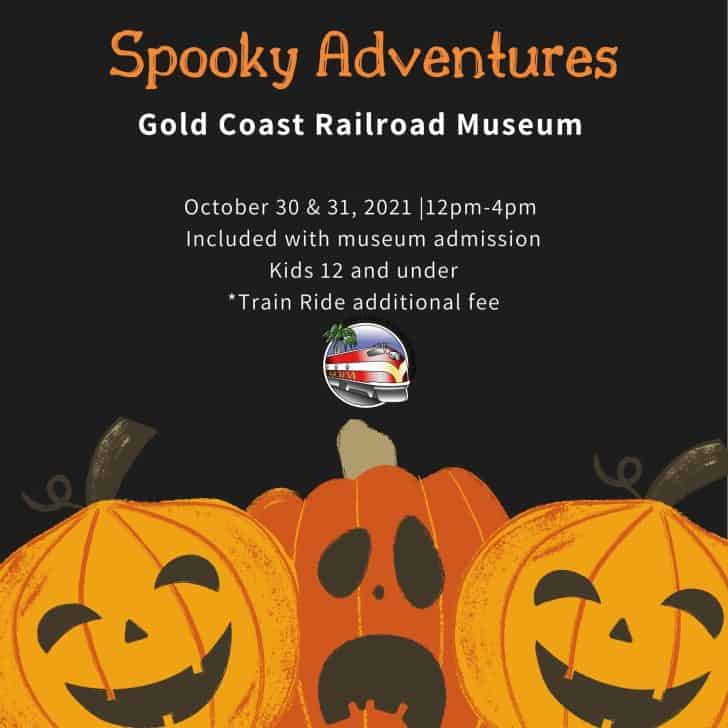 Spooky Adventures at Gold Coast Railroad Museum
Gold Coast Railroad Museum, 12450 SW 152 Ave., Miami
Oct. 30-31, 12-4 p.m.
$5-$12
Spooky Adventures will be held Oct. 30 and 31. Families and kids ages 12 and under are invited to trick-or-treat in costumes, participate in the costume contest for a chance to win prizes, make Halloween crafts and ride the Spooky Train for an additional fee. Costume contest starts at 2:00pm.
The Horrorland Drive thru Haunted Attraction
Aventura Mall Parking Lot on Abigail Road across from Apple
Oct. 1-31, 7-11 p.m.
$48.99-$78.99
This horrifying drive-thru experience is back for another frightening year. Fans of blood, guts, chills in the night, all roads lead to Horrorland, an in-vehicle experience that is a fun-filled, scary joy ride through eight haunted houses.
Chuck E. Cheese Halloween Boo-tacular Nights
Multiple locations around South Florida
Now through Oct. 31
6 p.m.
Enjoy fun games, ghoulish goodies, free game play for kids in costume, a new show and candy provided by Chupa Chups starting at 6:00 p.m. every night now through Oct. 31.
Oct. 31
Spooktacular Safe Streets Halloween Party
Block Party, Sunset Drive – Southwest 72nd Street to 57th Avenue
4-7 p.m.
Free
Miami Kids Magazine and The City of South Miami are teaming up to provide a safe and fun trick-or-treating event for the whole family. The epic block party will be handing out free candy, prizes for best costume, and pumpkin carving. Unvaccinated individuals must wear a mask. Masks are optional for children and vaccinated individuals. Before the event, about 24 hours prior, all attendees must complete a SymCheck health screening.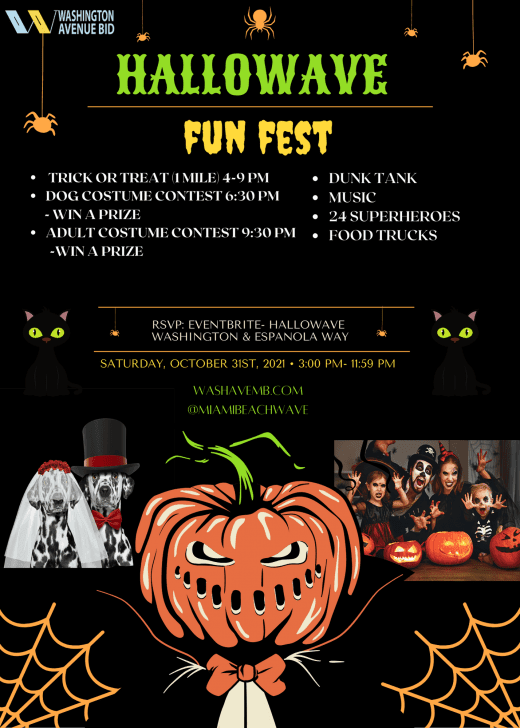 Hallowave Fun Fest
Española Way East, 1445 Washington Ave., Miami Beach
3 p.m.-Midnight
Free
A family fun fest on the night of Halloween where kids can meet their favorite superhero and trick-or-treat along the 1.5 mile stretch of Washington Ave. For pet parents, enter a costume contest to win a prize for the best costume! There will be live music, Food Trucks, a dunk tank, and so much more.
Little Monster Tales
Sandrell Rivers Theater, 6103 NW Seventh Ave., Miami
3 p.m.
$5
Fantasy Theatre Factory presents delightfully funny stories from children's books about monsters, children, and other squiggly creatures. Kids are welcome to put on their Halloween costume and attend the Halloween performance that combines reading, literature, comedy, puppets, music – even a headless butler who can juggle!
Rocky Horror Picture Show presented by O Cinema
North Beach Bandshell, 7275 Collins Ave., Miami Beach
6 p.m.
$25
O Cinema's Halloween tradition returns for a glorious evening of madness, mayhem and music at The North Beach Bandshell on Halloween Night for their annual screening of THE ROCKY HORROR PICTURE SHOW! Plus each ticket comes along with your very own Virgin Kit Prop Bag so that everyone can join in on the fun!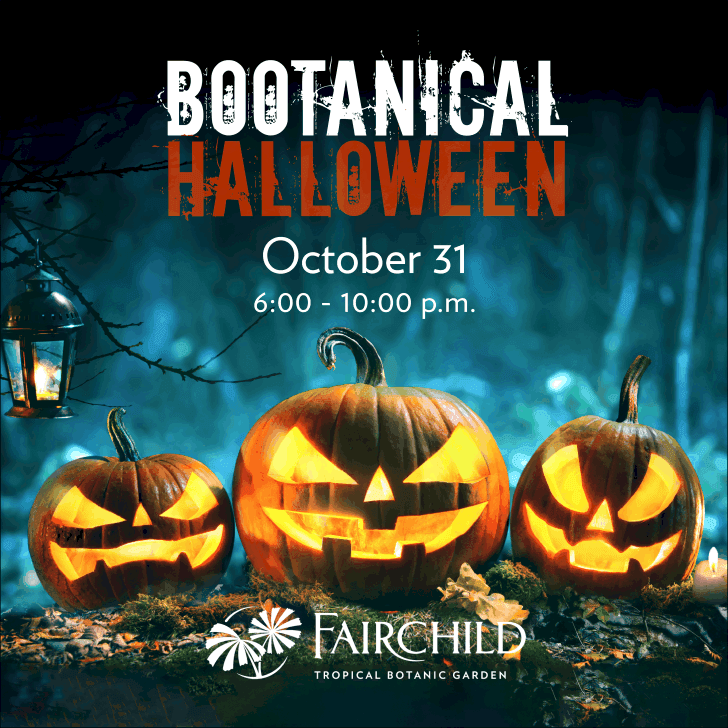 A Bootanical Halloween
Fairchild Tropical Botanical Garden, 10901 Old Cutler Rd., Coral Gables
6-10 p.m.
$19.95 for members, $24.95 for non-members
Gather up your goblins and head to Fairchild Tropical Botanical Gardens (costumes encouraged) for a creepy evening of tricks and treats with events like: trick-or-treat path, Jack-O-Lantern decorating, spooky storytime, after dark birdhouse hunt, costume contest, and so much more!
Wharf Horror Story at The Wharf
The Wharf Miami, 114 SW North River Dr., Miami
12 p.m.-1 a.m.
Free
The Wharf Miami gets a whole lot creepier on Halloween Night! Wear your best costume and expect things to take a turn for the scarier as the night goes on. Children and leashed dogs welcome with parent or guardian before 6 p.m. After 6 p.m. venue is strictly 21+.
Trick or Treat at The Wimbley's
Wimbley's Courtyard, 17701 NW 22 Ave., Miami Gardens
5:30-8:30 p.m.
Free
This free community event is perfect for children ages one to 13! Families can get together on Halloween evening and trick out their tables to win great prizes. There will also be candy, food, and beverages.
Miami Seaquarium Happy Hauntings
Miami Seaquarium, 4400 Rickenbacker Causeway, Key Biscayne
Oct. 23, 24, 30, 31
11 a.m.-4 p.m.
Activities included with general admission
A spook-tacular event awaits at the Miami Seaquarium for kids of all ages! The Happy Hauntings event will feature themed shows, Flipper's Dance Party, and a variety of trick-or-treat stations during two weekends of fun! The event activities are included with general admission and start at $34.99 when you purchase online. You can also purchase a four-pack of general admission tickets to Happy Hauntings for the special online price of $119.96. For more information on ticket prices, click here.
Trunk or Treat Cooper City
Potential Church, 12401 Stirling Rd., Cooper City
Oct. 31
6-8 p.m.
Free
Trunk or treat at Potential Church is a safe and family-friendly alternative to traditional trick or treating. Kids will walk through the closed off parking lot and go trunk-to-trunk. All trunks will be decorated and themed out, enhancing the family fun atmosphere.
Halloween Drive-Thru at IKEA
IKEA, 1801 NW 117 Ave., Miami
Oct. 31
1-4 p.m.
Dress in costume and head to the Miami Ikea store for a fun trick-or-treat, drive-thru event with Halloween wrapped candy and a goodie bag.
Pumpkin Carving Experience by FunDimension
FunDimension, 2129 NW 1 Ct., Miami
Oct. 23, 24, 30, 31
11 a.m.-6 p.m.
$18.99
FunDimension is hosting a Halloween event and unique pumpkin carving experience, perfect for the little ones to safely enjoy this spooky season. Ticket price includes one free activity to choose from including laser tag, bumper cars, virtual reality, and more.
Halloween at Oasis Wynwood
Oasis Wynwood, 2335 N. Miami Ave., Wynwood
4 p.m.
Free
Head to Oasis Wynwood for an afternoon of fun for the whole family (four-legged members included). Kids can "Trick or Treat" to collect candy from Oasis Wynwood's six food vendors, and big kids can head to the Tower Bar to enjoy Oasis Wynwood's Charcoal Oaxacan Mule for $10.
Halloween Pumpkin Float
Venetian Pool, 2701 DeSoto Blvd., Coral Gables
6-8 p.m.
$20 per family (cannot exceed 6 people, includes snacks)

Join the Venetian pool's Halloween festivities for our Pumpkin Float event! Each family will get to carve a pumpkin, enjoy some ghoulish snacks, and watch the spooky Jack-o-lanterns float in the historic Venetian pool! Prizes will be awarded for costumes and pumpkin carvings.
House of Horror Spooktacular Parade & Show
Miami International Mall, 1625 NW 107 Ave., Doral
3 p.m.
Adults $25-$40, kids (ages 2-6) $15-$20 and children under 2 free
What better way to celebrate Halloween with the family than spending it at this family-friendly House of Horror Haunted Carnival event? Meet some of your favorite television and movie characters, watch the Spooktacular Parade, wear your own Halloween costume, take part in the trick or treat candy giveaway, have fun on the 20 carnival rides and enjoy classic carnival food.
Chuck E. Cheese Sensory Sensitive Sunday
Multiple locations throughout South Florida
Free
Chuck E. Cheese will open two hours early on Halloween morning for a sensory-friendly experience. Sugar-free candy will be provided for kids in costume.
Day of the Dead Salsa Festival
Normandy Fountain, 7802 Rue Vendome, Miami Beach
6-10 p.m.
Free
Head to Normandy Fountain for an amazing Halloween food, art, dance and music festival, with performances of Miami Girls Tumbao! Trick or treating for kids and free face painting!
Got a Halloween event to list here? Submit here.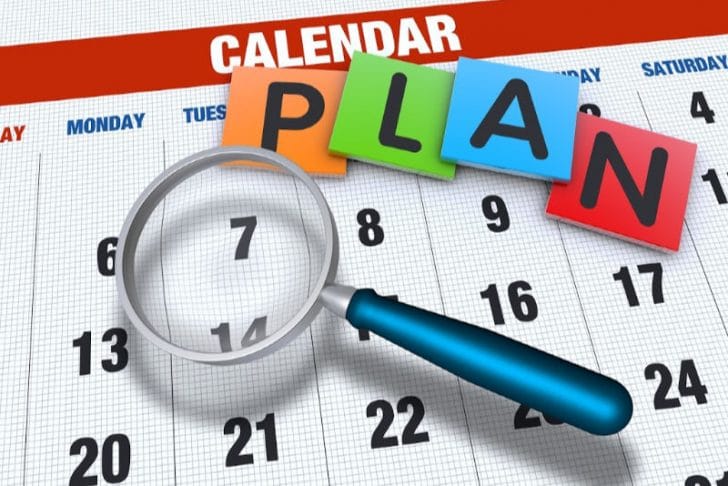 Miami 2021 events: A month-by-month guide
Yes, many plans changed in 2020 … with vacations and shows and festivals canceled throughout Miami, South Florida and the world. However, the New Year brought with it hope of brighter and better times ahead. Car shows, art festivals and more have been scheduled for 2021.
We've compiled a month-by-month roundup of events in our area. Keep in mind that some events may be virtual. Others may follow strict safety protocols. You'll want to get all the details and decide which options are best for you and your family. Click here for a handy guide!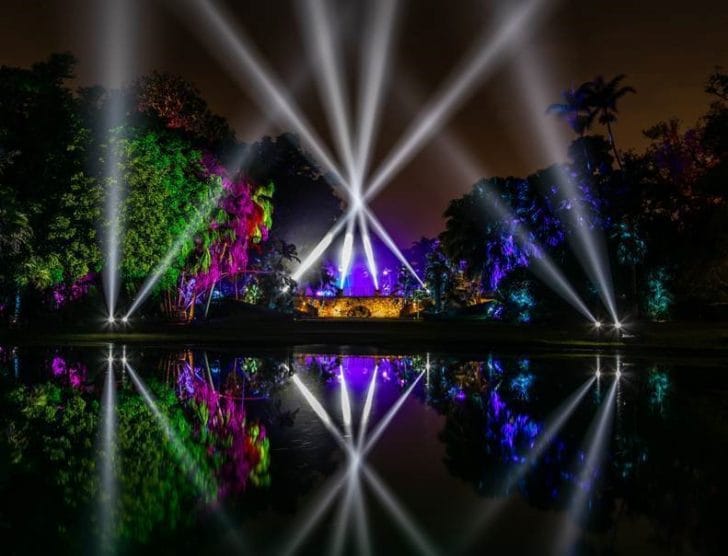 Popular Miami events canceled for 2020-2021
The year 2020 brought many firsts and never-before-seens, including the cancellation of some of our favorite events, including Santa's Enchanted Forest, Coral Gables Festival of the Arts, Coconut Grove Arts Festival, Florida Renaissance Festival and more.
We've compiled a roundup of canceled events, so you can see if your favorite festivals will take place or not. Many will have to wait for now, but hopefully they'll be back soon! Click here to see which ones have been affected for the 2020-2021 season.
Entertainment calendar