Celebrate the right way on Cinco de Mayo this year! These South Florida spots have got you covered with grub, beer and cocktails worthy of the Mexican anniversary of the Battle of Puebla.
Miami
Pez Loco – Wynwood
Enjoy mezcal and tequila pairings and special deals on brisket and octopus tacos with guajillo salsa, smoked potato flautas and beet and watermelon salad. Click here for more info.
Open from noon to 2:30 p.m. and 5-11:30 p.m., 50 NW 24 St.
7th Annual Cinco de Lolo's – Miami Beach
Lolo's Surf Cantina South of Fifth on South Beach has a slew of specials to celebrate Cinco de Mayo including $5 tacos, Jose Cuervo Margaritas and shots and all draft beer. Click here for all the info.
Open from 7 a.m. to 9 p.m., 161 Ocean Dr., Miami Beach
The Wharf Miami and Fort Lauderdale
Free sombrero with RSVP to The Wharf Miami's Cinco de Mayo party! Enjoy drink specials from 4 p.m. to close, buy a shot of Casa Noble Tequila and get a free Corona or Modelo Beer. Mariachi Bands, luchadores, piñata's and more will be there.
Both open 4 p.m. to 2 a.m., 114 SW North River Dr., Miami and 20 W. Las Olas Blvd., Fort Lauderdale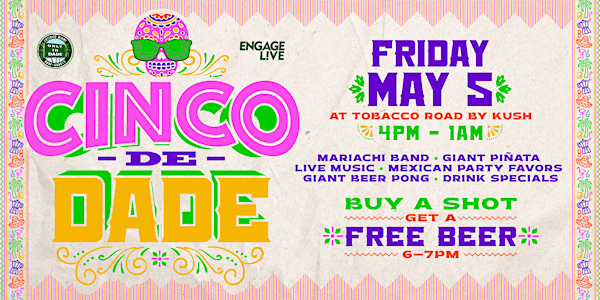 Cinco de Dade at Tobacco Road by Kush
Miami's oldest bar reimagined by Matt Kusher is hosting a Cinco de Dade party with mariachi band, live music, Mexican party favors, drink specials. Buy a shot and receive a complimentary beer from 6-7 p.m. Click here to RSVP.
Open 4 p.m. to 1 a.m., 650 S. Miami Ave.
Cinco de Mayo Specials at Shoma Bazaar in Doral
Throughout the day, Shoma Bazaar will be offering a wide range of drink specials, including traditional El Jimador Margaritas ($7 each), Micheladas ($5 each), Single Coronitas ($4 each), and the special combo deals include a Margarita and Coronita ($10), and a Coronita and 1.5 oz shot of El Jimador ($9).
Known for its locally-sourced, culturally-creative cuisine, Doce Provisions will be serving mouthwatering Chilaquiles Verdes con Pollo at a special price of just $16.50. Click here for all info.
From 9:30 a.m. to 2 a.m., 9420 NW 41 St., Doral
Miami Marlins Cinco de Mayo offer
Grab $5 tickets to select Miami Marlins games during their one-day only flash sale on Friday, May. 5. Click here on May 5 to buy tickets.
Home games are at LoanDepot Park, 501 Marlins Way in Little Havana.
Cinco de Wynwood at Wynwood Marketplace
Free tacos anyone? That's what you'll get from 4-6 p.m. at this outdoor hotspot in Wynwood. Click here to RSVP.
Open 4 p.m. to 3 a.m., 2250 NW 2 Ave., Wynwood
5 de Mayo at The Yard
So much going for Cinco de Mayo at this food hall and entertainment venue. Enjoy tequila and mezcal drink specials all day and through the night, get down to some great tunes by DJ Smiley at 6 p.m., Mariachi at 8 p.m. and Xperimento at 9 p.m. From The Bar at The Yard, enjoy $4 Ojo del sol tequila shots, $5 Olmeca Altos shots, $6 Avion tequila shots, and $7 Ojo de tigre Mezcal shots. Enjoy Tacos al Pastor from Los Buenos, one (1) free extra taco with the purchase of any taco order, and free chips and salsa with the purchase of a Burrito or Bowl. Free conchipapas with jalapeno queso with purchase and free Lil' Santos sundae ice cream celebrating Santo Dulce's fifth anniversary. Click here for info.
Open from 6 -11:30 p.m., 8455 NW 53 St.
Oh Mexico – Miami Beach
Celebrating from 3 p.m. to closing with drink specials, decorations and live entertainment including a beer bucket with 4 beers for $20 with the purchase of two tequila shots and a live mariachi band from 6-8 p.m. and a live DJ from 8-11 p.m. Click here for info.
Open 11 a.m. to midnight, 1440 Washington Ave., Miami Beach
Toro Toro – InterContinental Miami, Downtown
Taco and tequila enthusiasts can rejoice this Cinco de Mayo as Toro Toro, Chef Richard Sandoval's Pan-Latin steakhouse, is celebrating on Friday, May 5 from noon to 11 p.m. with live Mariachi entertainment and a vibrant lineup of $5 specialty tacos including Al Pastor, Carnitas, Carne Asada and Fish tacos. Pair your tacos with aMexican Cantarito Don Julio tequila-based cocktail for $12. Reservations are encouraged and can be booked here.
Open 11 a.m. to midnight, 100 Chopin Plaza, Downtown Miami
Broward
Taco Beach Shack – Hollywood
Break out the lime and salt and make your way to Taco Beach Shack for the annual Cinco de Mayo celebration with tacos, drinks, and live entertainment. Click here for more info.
Open noon to midnight, 334 Arizona St.
Lona Cocina & Tequileria – Fort Lauderdale
On Friday, May 5 Lona is celebrating its Mexican roots from 6-8 p.m. with $10 Espolon Margaritas and a live Mariachi band. Reservations can be made by clicking here.
Open 11:30 a.m. to 2 a.m., 321 North Fort Lauderdale Beach Blvd.
Canyon – Fort Lauderdale
Choose from crispy tacos, elote loco or a short rib tostada and $10 Prickly Pear Margarita, all evening long. Reservations can be made by clicking here.
Open 5-11 p.m., 620 S. Federal Hwy., Fort Lauderdale
Tacocraft Taqueria & Tequila Bar – Victoria Park
In celebration of Cinco de Mayo, Tacocraft Taqueria & Tequila Bar in Fort Lauderdale's Victoria Park neighborhood, will host its Annual Block Party, certain to be a festive celebration and fantastic event. From 5 to 11 p.m., guests can enjoy live Mariachi and DJ entertainment, along with a variety of Tacocraft's famed handcrafted margaritas including Jalapeño Cucumber, Passionfruit, Watermelon, Prickly Pear and Strawberry Basil. The festivities happen at their three other locations as well, click here for more information and locations.
Open 11:30 a.m. to 11 p.m.
Palm Beach
THRoW Social – Downtown Delray Beach
The entertainment venue celebrates with $3 taco specials and drink specials including $10 margaritas and $4 Corona beers, great for if you decide to partake in the taquito-eating contest which kicks off at 7 p.m.
Guests are invited the Margarita Bike for a great photo opportunity and shake their maracas to the sounds of Steve Memmolo Band from 7-10 p.m. $10 cover.
Click here for more info.
Open 1 p.m. to 2 a.m., 29 E Second Ave.
Tropical Smokehouse – West Palm Beach
Celebrate Cinco de Mayo Tropical Smokehouse style with Chef Rick's Brisket Tacos ($5) and Mahi Tacos ($7) both served with pickled onions, avocado salsa on a house made soft tortilla. Tropical will also be serving up their famed Margaritas & Palomas ($8) all day. Click here for info
Open 11:30 a.m. to 9 p.m., 3815 S. Dixie Hwy., West Palm Beach
Rocco's Tacos & Tequila Bar – Boca Raton and Fort Lauderdale
Join the Cinco de Mayo Block Party in either Palm Beach or Broward County where they'll have live entertainment, street eats and drink specials. Click here for more info.
Open 11:30 a.m. to 1 a.m.
1313 E. Las Olas Blvd., Fort Lauderdale
5250 Town Center Circle, Boca Raton
Lime Fresh Mexican Grill – Various locations around South Florida
LIME locations around South Florida will be hosting a fiesta all day on Friday May 5 starting at 5 p.m. with live music, drink specials, giveaways and more.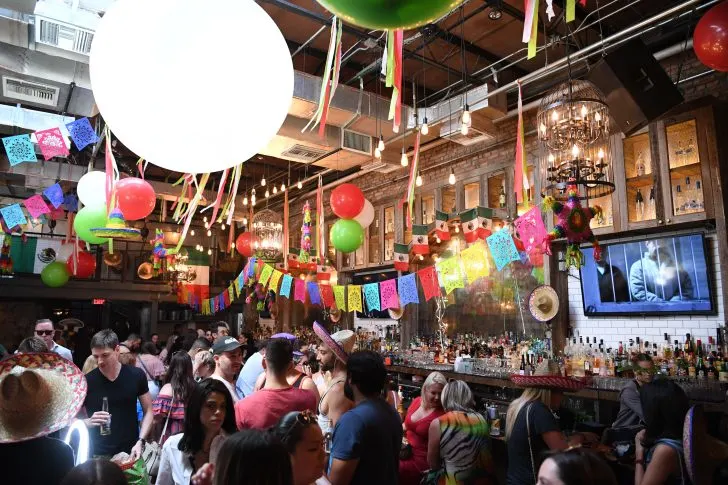 Bodega Taqueria y Tequila – Various locations around South Florida
You can expect Bodega to go all the way out in a major way for Cinco de Mayo – all locations will have a variety of activities and entertainment taking place with different drink specials from Cazadores and Patron including Cazadores Draft Margarita $5 (until 5PM), Patron Silver Shot $5, Draft Beer $5, Patron Margarita $10, and Ranch Water $10. Specifically for Fort Lauderdale and Coconut Grove, themed dancers from Zhantra Entertainment will be dressed up in Cinco De Mayo themed and interacting with guests/performing from 11PM to 1AM.
Addresses:
Aventura: 19129 Biscayne Blvd, Aventura, FL 33180
Coconut Grove: 3419 Main Highway, Coconut Grove, FL 33133
Fort Lauderdale: 21 W Las Olas Blvd, Fort Lauderdale, FL 33301
South Beach: 1220 16th Street, Miami Beach, FL 33139
West Palm Beach: 118 S Clematis St, West Palm Beach, FL 33401
A special street festival awaits…
Let there be Tex-Mex music and tacos!
Join El Camino on May 5, 2023, for Cinco De Mayo and enjoy a free street festival full of games, an outdoor bar, face painting, family craft activities, and more — experience live music on the lawn and catch a mariachi band performance. Food and beverage prices vary.
May 5, 2023; 3-10 p.m. Hosted at El Camino and in the courtyard below the restaurant, at The Square, 700 S. Rosemary Ave., West Palm Beach. See more details at this website.
All are welcome to come enjoy a great selection of tacos and a huge selection of tequilas and mezcal starting at 11 a.m. at their West Palm Beach as well as Fort Lauderdale and Delray Beach locations.
Friday, May 5, from 5 to 9 p.m.
175 N. Military Trail, West Palm Beach

Calling all Vegans, Vegetarians, Semi-Vegetarians, Flexitarians, and Meat Reducers:
Cinco de Mayo festivities are planned at Dope Vegan in West Palm Beach. You can get a free e-ticket on Eventbrite to attend. Customers will not only be serenaded by a live mariachi band, but they can also enjoy great vegan food, like vegan tacos, vegan bowls, vegan quesadillas, and more.
Also, the public is invited to join the City of Pahokee at the Campground and Marina, 190 North Lake Avenue, Pahokee, to celebrate Cinco de Mayo on Saturday, May 6, 2023 from 3 to 8 p.m. There will be music, food vendors and fun for all. Contact 561-924-5534 or visit cityofpahokee.com for details. Admission is free.