Young rockstars are set to take the stage at the Sixth Annual Miami Beach Youth Music Festival on Saturday, Feb. 5, 2022.
The City of Miami Beach, together with The Rhythm Foundation, will be hosting the event live at the North Beach Bandshell, 7275 Collins Ave., as well as via a livestream so everyone can enjoy the show – whether they want to go out or not.
This rockin' event is free with RSVP. However, a $5 donation is suggested to benefit music programs at Miami Beach public schools.
Headlined by the Miami Beach Rock Ensemble, the event will feature an additional 25 solo artists and bands throughout the day, starting at 4 p.m. Performances will take place on two different stages — the Clark D. Burris stage in the Bandshell, and the Garden Stage in Bandshell Park.
The musical offerings will range from classic rock to jazz and more, featuring indie singer-songwriters, talented instrumentalists, even a kid-sized Beatles cover band! Additionally, food and drinks will be available for purchase.
View the livestream at any of the links below:
MiamiBeach.rocks
NorthBeachBandshell.com
Youtube.com/rhythmfoundation
Facebook.com/northbeachbandshell/live
Or RSVP to attend in person by clicking here.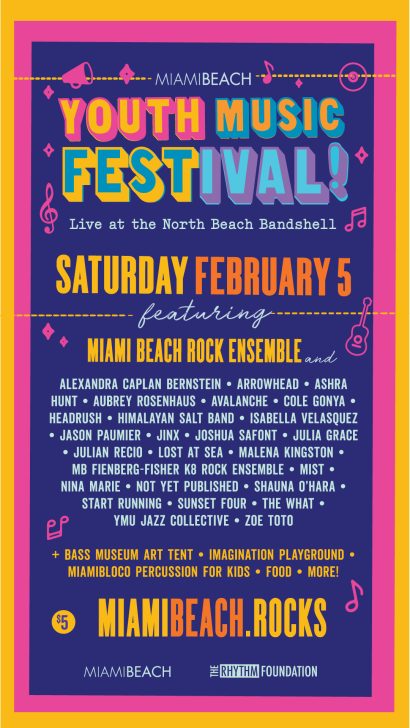 "The City of Miami Beach Youth Music Festival has surpassed anything I could've imagined when I started it six years ago," festival founder John Star Aleman said in a statement. "Our local artists and young rockers continue to come together to create a really fun community event, and their musical impact is being felt not just here at home but around the world through the digital expansion that was created out of necessity during the pandemic.
"The opportunity for these young people to perform in front of an audience of thousands on a big professional stage is crucial training for them, and a heck of a lot of fun for the rest of us."
Though the venue is an open-air space, COVID-19 protocols will be followed and mask-wearing encouraged. For details on safety issues, click here.
More free and cheap music events this week:
Wednesday, February 8, 2023