There will be several opportunities to learn about and to celebrate Kwanzaa this year.
Kwanzaa is observed from Dec. 26 through Jan. 1 – and typically there are multiple celebrations and programs planned in Miami and throughout South Florida. This year, many have been canceled, but we've found some events taking place virtually. One is planned in Miami Gardens, but others are taking place throughout the country.
Keep checking back, as we will continue to update this roundup! And, as always, please email us at editor@miamionthecheap.com or news@miamionthecheap.com if you know of other events.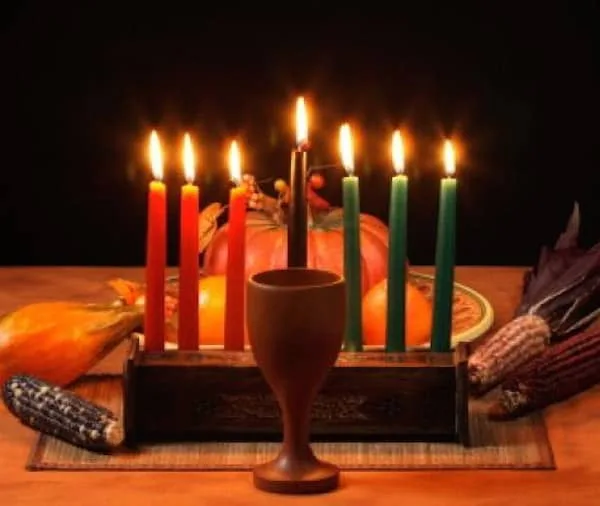 Kwanzaa is a non-religious holiday that lasts seven days, each one with a focus on a different principle:
Day 1: "Umoja" means unity.
Day 2: "Kujichagulia" means self-determination.
Day 3: "Ujima" means working together.
Day 4: "Ujamaa" means supporting each other.
Day 5: "Nia" means purpose.
Day 6: "Kuumba" means creativity.
Day 7: "Imani" means faith.
Virtual Kwanzaa celebrations in 2020
DEC. 26
Virtual Kwanzaa in the Gardens: 4 p.m. Free. Presented by the City of Miami Gardens, this virtual event will featuer live entertainment, cultural performances and more. Watch live on Facebook (Miami Gardens Public Affairs) or YouTube (City of Miami Gardens FL Government). Click here.
It's A Kwanzaa Celebration!: 5-7 p.m. Donation requested. Featuring musical performances, storytelling, a virtual marketplace and more. Click here.
Detroit Book City's Kwanzaa Virtual Celebration 2020: 6:30-8 p.m. Free. Featuring a comprehensive overview of Kwanzaa, including the history, symbols, principles, songs and chants. Click here.
Celebrate the Seven Days of KWANZAA Virtually w/ Sankofa Children's Museum: Dec. 26-Jan. 1. Starts at $15 per day, per family. The Sankofa Children's Museum of African Cultures will feature daily discussions of Kwanzaa principles, youth art activities led by WombWork Productions, and more. Click here.
Kwanzaa 2020 Virtual: 7-8 p.m. Free weeklong celebration, featuring nightly observance "designed for family engagement." Click here.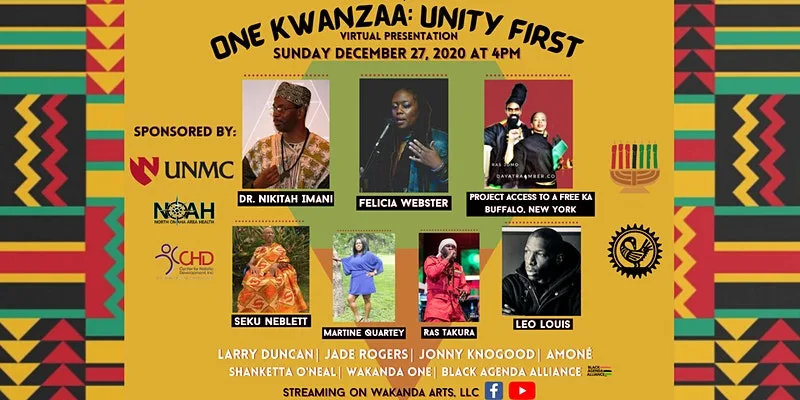 DEC. 27
One Kwanzaa Virtual Program: 5 p.m. Free; donations requested. Featuring guest speakers and performances. The link for this event will be emailed an hour before the broadcast. Click here.
Kwanza Celebration- Kujichagulia: Self Determination: 4 p.m. Free. Join the staff of the Broward County West Regional Library for the virtual celebration of the principle of Kujichagulia: Self Determination, featuring music, dance and speakers. Click here.
Apollo Theater Presents Kwanzaa Celebration: Regeneration Night: 7 p.m. Free; suggested donations. Featuring dance, poetry, ritual and community, in New York City and around the country. Click here.
Kwanzaa Joy Celebration 2020: 3-6 p.m. Free. Featuring activities "inspired by African celebrations of new beginnings, heritage, and unity." Click here.
Ottawa Kwanzaa Virtual Celebration: 4:30-6:30 p.m. Free. Featuring a spoken word performance, keynote speaker, live musical performance, virtual candle-lighting ceremony and more. You will receive information to join the celebration once you reserve your free ticket online. Click here.
Information from our sister site, Charlotte on the Cheap, was used to supplement this report.
Holiday events in Miami-Dade:
Highlighting the principle of self-determination, Delou Africa presents a free annual Kwanzaa concert and program on Sunday, Dec. 27, from 4:30 to 7:30 p.m. at the Little Haiti Cultural Center, 212 NE 59th Terr.
The festivities begin with a traditional Kwanzaa ceremony, a concert featuring several adult and youth performance groups, including Delou Africa Dance Ensemble, Delou's Youth Arts Initiative Y.A.I (Liberty City Elementary), Sons of Mystro, Rebecca "Butterfly" McVaughns, The Nuclear WordHeads Poets & Players of Instruments and Watoto African Dance Theatre.
The keynote speaker will be King Kevin Dorival. There will be a silent auction and book bag giveaway.
For more event information call 305-978-3866.