Miami-Dade residents have a new store delivery option. Cornershop is an on-demand delivery service that brings groceries and specialty products from the store straight to your door.
Customers can shop from their favorite grocery stores or unique specialty stores, from pet stores and gourmet products to electronics, bakeries, and more. In Miami, you can order from Walmart, Costco, Petco and Fireman Derek, among others. The service includes a variety of stores, from specialty markets like Graziano's and Marky's, to local favorites such as La Latina, Fireman Derek's and Verde.
And Cornershop has a deal for Miami on the Cheap readers: Use promo code WELCOME15 for $15 off your first $30 order.
Shoppers shop for you as if you were a close friend, from customer calls before checkout to picking the perfect avocado. Cornershop Shoppers carefully select your items, communicate replacements, and give a courtesy call for last-minute requests. Your order will be at your doorstep, all within an hour or two.
The company makes customer experience a priority, both in the app and during the delivery itself. The company is always exploring innovative ways to leverage the Cornershop experience, including customer-loved quirky bags, perks from Cornershop Pop membership, and substantial discounts from big retailers and local businesses.
Enabled by technology and a dedicated group of expert personal shoppers, Cornershop began operations in 2015 in Chile and Mexico. Today, the company serves seven countries: Chile, Mexico, Brazil, Colombia, Peru, Canada, and Dallas and Miami in the United States.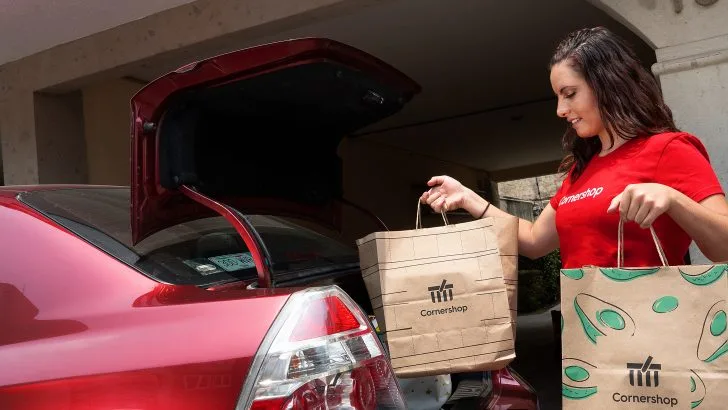 Backed by investors Uber and Accel, Cornershop is an online and app-based platform that allows consumers to browse and buy products from local supermarkets, independent grocers and specialty stores for on-demand and scheduled delivery.
Users can also subscribe to Cornershop POP, a membership option that offers free delivery on orders over $30, as well as other discounts and benefits.
Ready to try Cornershop? The Cornershop mobile app is available for download on the Apple App Store and Google Play Store. For more information and to learn more about flexible earning opportunities as a Cornershop Shopper, please visit www.cornershopapp.com.
Get the Miami on the Cheap deal at Cornershop here.