Drugstores carry everything from health and beauty items to school supplies and kitchenware, often at relatively low prices.
We looked at three chain drugstores available in Miami to decipher their rewards programs and let you in on the potential perks and pitfalls.
Rite-Aid
Sign up for a wellness+ account to be eligible for several discounts at Rite-Aid and to earn reward points for purchases. If you sign up in your local store, make sure to register your account online as well. Downloading their app is likely the easiest way to ensure quick access to any coupons, points or other rewards you may want to use, but it is not required to join the program.
When you sign up, you'll instantly have access to members-only sale pricing and discounts throughout the store — just make sure to check the weekly ad. You'll also get e-mail deals and offers, be able to add flavoring to your child's medication for free and chat with a healthcare professional.
When you join the program, you'll start as bronze member. Each purchase (including some prescriptions) will earn you points to the higher silver and gold memberships. As a silver member, you would receive 10 percent off regular price, in-store purchases, while gold members get 20 percent off. All wellness+ points balances reset to zero on Jan. 1, so use them while you have them.
Another feature of the wellness+ program is BonusCash rewards. These are digital coupons that are earned on participating items and promotions in-store and online and are automatically loaded to your account. The rewards expire after 30 days and can only be used beginning at 6 a.m. the day after they've been issued.
If you're looking for more coupon opportunities, their Load2Card service offers them. This tool lets you select coupons online and then load them directly to your wellness+ rewards card. They can then be redeemed in-store or online. All the coupons you want, with absolutely no printing required. You can also "stack" coupons for bigger savings, meaning you can use both a Rite-Aid coupon and a manufacturer's coupon toward the purchase of a single item.
Rite-Aid also has a wellness program for those 65 and older, known as wellness65+. The free program includes 20 percent off regular price, in-store purchases on the first Wednesday of each month, as well as special monthly activities featuring a different health topic each month. Membership also includes a free pharmacist consultation, which includes a review of your medications, your immunization needs, free pharmacy services, free blood pressure screening and discussion of Medicare Part D questions. You can sign up online or at your local Rite-Aid.
Find other deals and exclusive offers at Rite-Aid's Facebook page, or on Twitter, @riteaid.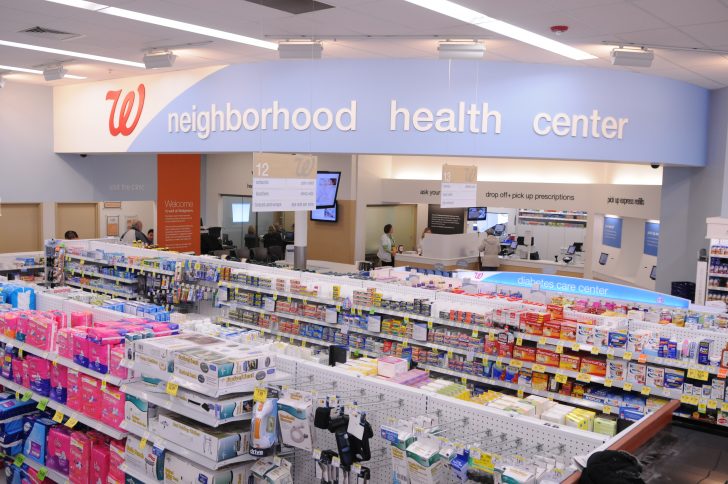 Walgreens
Walgreens introduced its Balance Rewards card in 2012 but has now shifted to the myWalgreens reward program. You can join by signing up online, on their app or in-store at checkout.
The program helps you earn 1 percent Walgreens Cash rewards on purchases in-store and online, including those made at the pharmacy. If you want to earn more, buy Walgreens branded products — they'll score you 5 percent in Walgreens Cash rewards. Once you've earned enough points, you can redeem your rewards on Walgreens purchases. $1 in Walgreens Cash reward is worth $1 off your future purchase. However, Walgreens Cash rewards can't be used towards the purchase of prescriptions or other pharmacy items.
You can also earn rewards by setting and reaching health goals. To reap this benefit, join a four-week challenge and connect a device and track your progress. Then, earn Walgreens Cash rewards for every week you complete.
Healthy challenges can be tracked manually or automatically depending on the activity. To track manually, click the "track" button in the challenge card to check your successful days. Automatic tracking will use a connected wireless device after you select a challenge marked "automatic tracking".
Health challenges include physical activity and lifestyle goals, and you can participate in one challenge of each type simultaneously. All challenges begin on Monday and end in seven days, and will let you earn up to $1 Walgreens Cash rewards per month. Complete all four challenge weeks for a bonus spin worth up to $2 Walgreens Cash rewards.
AARP members earn 10 percent Walgreens Cash rewards on Walgreens branded health and wellness products and 3 percent Walgreens Cash rewards on select beauty and personal care products. Make sure to link your myWalgreens and AARP memberships to use these benefits.
Watch the company's Facebook page or Twitter feed, @Walgreens, for special offers.
CVS
CVS offers a member rewards card called ExtraCare. The pharmacy is about to revamp its rewards program, so make sure you check their website for any updated information.
Signing up will let you earn 2 percent back in ExtraBucks Rewards every time you shop with you ExtraCare card. This excludes some items, including prescriptions, alcohol, postage stamps, newspapers and magazines. Your membership will also allow you to automatically snag the sale prices seen in their weekly ad.
You can also sign up for ExtraCare Pharmacy & Health Rewards with your same ExtraCare card. This add-on lets you earn credits with each prescription and select immunizations, which can then be redeemed for Pharmacy & Health ExtraBucks Rewards. You can also enroll your family members — including your pets! — to earn points faster.
Joining the ExtraCare BeautyClub is another way you can earn rewards points. Right now, you can earn rewards on qualifying purchases of fragrances, hair care, hair color, facial care, and hand and body lotion. Their website says big changes are coming in August 2021, so make sure to check online for updated information.
Signing up for CVS pharmacy emails and ExtraCare text alerts will help you get even more savings, as they'll keep you up to date with personalized deals and exclusive offers. Downloading the CVS app will let you link your card so you can easily take advantage of current deals, track rewards points and more. Right now, they're offering a free gift in their app every week through July 31, 2021. The gift can be redeemed online or in-store, while supplies last.
The company does allow you to combine an in-store coupon or deal with a manufacturer's coupon. The store's coupon policy page includes an example of a "buy one, get one free" shampoo deal, and using two "$1 off one" manufacturer's coupons to receive both bottles of shampoo free.
The company also has a Facebook page and a Twitter feed, @CVSPharmacy,that announces exclusive discounts and online sales.
This article first appeared on our parent site, Living On The Cheap.
More useful resources