Chuck E. Cheese is loads of fun for kids year-round – and now they're all decked out for the holidays!
If you're looking for seasonal activities, check out what kids and their families can experience through Jan. 3.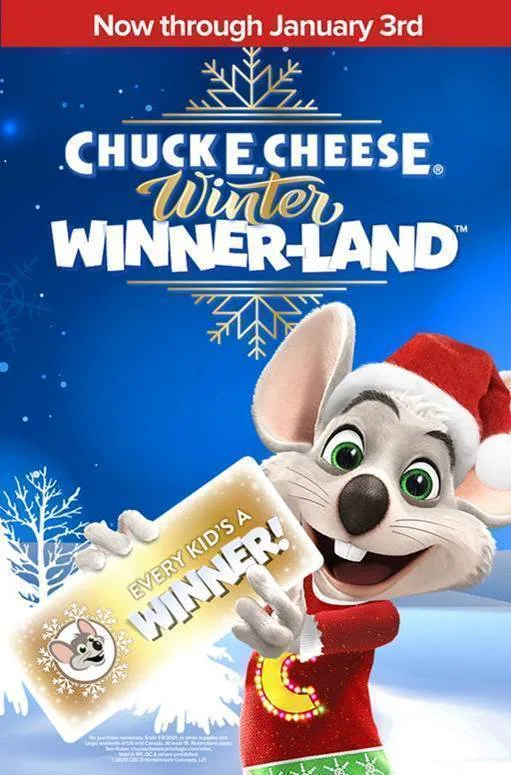 As part of its "Winter Winner-Land," the entertainment venue has been transformed into a snow globe-inspired wonderland with festive decor including twinkling lights, snow and ornaments.
Plus, it is giving away lots of prizes with instant-win opportunities in store and at home. Each kid can choose a free game piece that holds an exclusive prize, after completing Kid Check during an in-store visit. For takeout and delivery orders, one game piece will be automatically included so families can win prizes at home.
Winnings include free play bands, play points and e-Tickets, collectible cups and fun treats like cotton candy and ice cream. Two Grand Prize Winners will win the chance to select a brand-new, full-size arcade game. Guests who complete the Afternoon Fun Break snowflake activity sheet receive a free bag of Chuck E.'s fluffy cotton candy.
The home-based afternoon Fun Breaks include festive crafts, interactive games and downloadable activity sheets, along with holiday music favorites featured on their YouTube channel, as well as iTunes and Spotify. Visit chuckecheese.com to download the snowflake activity sheet and coupon for a "free bag of snow" (their white cotton candy) with any food purchase.
Click through the calendar below for more holiday activities:
More free and cheap holiday events in Miami-Dade: