Immerse yourself in a full-day festival where African Diaspora cuisine, music, art, and culture merge — the Black Pepper Food & Wine Festival.
This FREE event which benefits diversity, equity, and inclusion initiatives, is taking place Saturday, June 4 from 3- 8 p.m. at the Florida International Biscayne Campus, 3000 NE 151 St.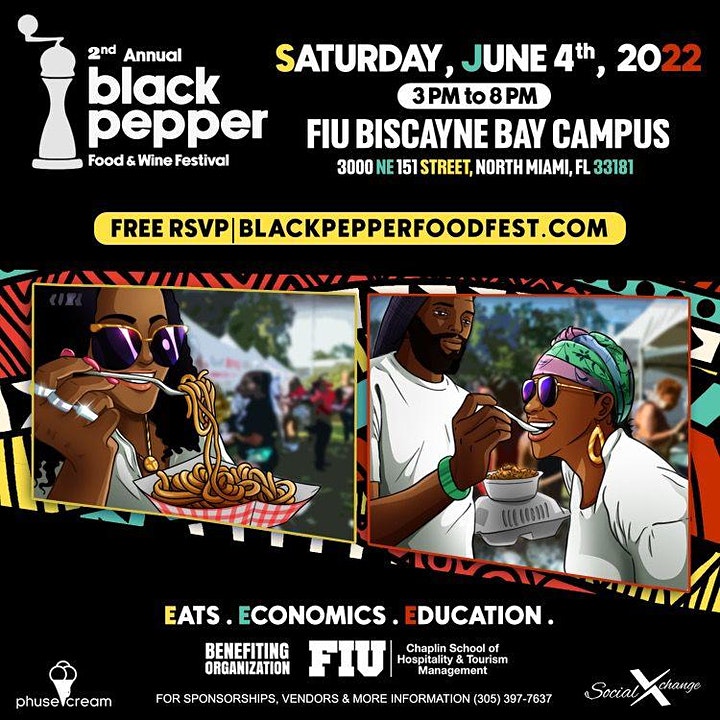 Several activations will be taking place as part of the festival including:
Live music with DJs and bands
On-site cook off competition
Live podcast interviews with chefs
Black vendor marketplace
And more!
The Black Pepper Food Festival is a huge part of growth and exposure for Black owned restaurants (and food trucks) in the community and is a fun way to show your support.
Guests can register for free but if you're looking for the full experience and have some extra money to spare, VIP tickets are also available for purchase at this link.
South Florida is definitely flavorful. For relishing the rich variety of epicurean delights, food festivals and events offer appetizing opportunities to nibble on scrumptious fare, including dishes from local restaurants and vendors.
Often, food festivals also feature live entertainment, demonstrations and art exhibits.
Black Pepper Food & Wine Festival
When
June 4, 2022 @ 3:00 pm-8:00 pm
What
Black Pepper Food & Wine Festival