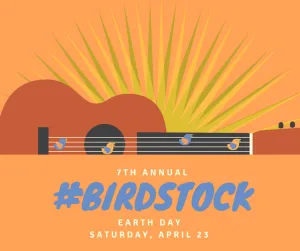 Six Florida bands will celebrate Earth Day by competing in the seventh annual Birdstock music festival on Saturday, April 22.
The bands are Axe and the Oak, Edan Archer, ERICoustic, Gold Dust Lounge, Lucid Room, Snow Moon and South Bound Suspects, and all will perform original music.
Republic National Distributing Co. and Miami Brewing Company will provide free beverages.
The event is at Tropical Audubon, 5530 Sunset Drive, Miami, Florida 33143.
Gates open at 7 p.m.
Admission is $10 for adults with children under 12 free.
Parking is available on-site (limited) via the 55th Avenue entry gate or in garages within one to three blocks. Take Metrorail to South Miami Station.
Find more Earth Day events in Miami.