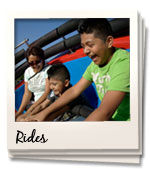 The Miami-Dade County Youth Fair & Exposition is offering free admission on opening day and an Express Access Pass to get in the rides faster.
GET IN FREE OPENING DAY:  
Free admission on opening day, Thursday, March 14, with the purchase of an advance ticket.
EXPRESS ACCESS PASS:
Purchase a $15 Express Access Pass and get on all the rides faster.  Available for purchase at The Youth Fair at Ride Ticket Booths and on sale at www.fairexpo.com.
General admission $10 and free admission for children 5 years and younger. Admission for active duty and retired military personnel $5 during weekdays (with military ID). Parking is always free. Preferred parking is available for $15 per vehicle. Space is limited.
The Youth Fair is located on Coral Way (SW 24th St.) at 112th Ave. Gates open on weekdays at 3 p.m., Saturdays & Sundays at 12 p.m. and at 12 p.m.
The Youth Fair will take place, March 14-31.  For more information, visit www.fairexpo.com or call (305) 223-7060.