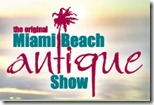 We're ready to give something away: two tickets to the Original Miami Beach Antique Show, which runs Feb. 2-6 at the Miami Beach Convention Center.
The antique show, which is celebrating its 51st year, will have 900 deals from 22 countries, including 100 new exhibitors. Show times are noon to 8 p.m. Feb. 2-6 and noon to 6 p.m. Feb. 6.
Admission fee is $20 to attend all five days. You can get $3 off if you order your ticket online.
From noon to 6 p.m on Feb. 4, you can get a free appraisal of one item with your ticket.
The antique show also will be providing free shuttle service Feb. 2-5 to and from the 17th St Parking Garage;  200 block of 16th St Parking Garages; 420 Lincoln Rd/1601 Drexel Ave Parking Garage; 1600 block Jefferson Ave Parking Garage; and the 1755 Meridian Ave Parking Garage.
So how do you win two tickets?
Subscribe to our daily email from Miami FL on the Cheap or Fort Lauderdale on the Cheap. If you already subscribe, proceed to step 2.
Send an email with your full name, postal mail address and the e-mail address with which you subscribe to On the Cheap to miami27@miamionthecheap.com. ENTRIES WITHOUT MAILING ADDRESSES WILL BE DISQUALIFIED. We don't sell or even save these addresses but use them to verify eligibility. You must use your full legal name is it appears on your ID, which the winner will need to pick up the tickets.
Put ANTIQUE CONTEST in the subject line. Entries without the correct subject line will not end up in the contest mailbox.
Deadline to enter is midnight Eastern time Sunday, Jan. 29.
The drawing will be conducted and winners will be notified Jan. 30. Winners will pick up their tickets at WILL CALL at the venue and will need to show photo ID.
Contestants must be 18 or older. One entry per household. Winners must be residents of South Florida.