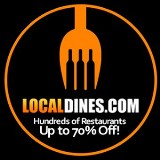 We're always trying to find a way to dine out on the cheap. One way to do that is through Local Dines, formerly known as South Florida Dines. The South Florida company sells discount dining certificates to more than 350 restaurants in Miami-Dade, Broward and Palm Beach counties.
The usual discount is 50% off. But Blue Plate Specials take that discount even deeper at times.
Click here to find a deal near you.