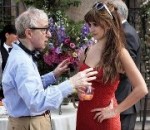 On Tuesday, July 17, at 6:30 p.m. at Books & Books, there will be a free, open-to-the-public panel discussion, To Woody Allen with Love, co-sponsored by the store and the Gables Cinema.  Allen's new hit "To Rome with Love" playing through July 19 at the Coral Gables Art Cinema
The discussion will range over the whole body of work of filmmaker and writer Woody Allen.
Panelists include film critic from www.hudakonhollywood.com and Chairman of the Florida Film Critics Circle Dan Hudak; Books & Books and Miami Book Fair founder Mitchell Kaplan; University of Miami School of Communication Associate Professor Christina Lane; Florida International University Professor Emeritus and author of "Woody, From Antz to Zelig" Richard Schwartz; and film critic, television producer and archivist Kevin Wynn.
Books & Books is located directly across the street from the Gables Cinema at 265 Aragon Ave., in Coral Gables. For more information, call 786-385-9689.
Tell Your Friends