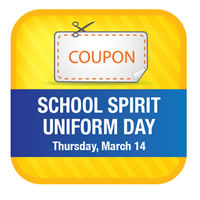 The Miami-Dade County Youth Fair & Exposition is offering free admissionon opening day on Thursday, March 14 for students wearing their Uniform/Spirit Shirts and special marked coupon.
School ID may be required for high school Students. Get the coupon here
The Fair is March 13-31, 2013, at Coral Way(Southwest 24th Street) at112th Avenue. Gates open at 3 p.m. weekdays, noon Saturdays & Sundays and during Spring Break, which is March 22–29.
For more information visit www.fairexpo.com or call 305-223-7060.