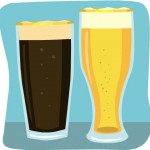 We've been remiss in not reporting that John Martin's Irish Pub & Restaurant in Coral Gables has been celebrating the end of Prohibition all week with 76-cent beer.
But you've got one more Happy Hour left at those prices, 4 to 7 p.m. Thursday, April 9. Prohibition ended 76 years ago this month, in case you were wondering how they arrived at that number.
Friday night's Happy Hour celebrates a more recent event, the 20th anniversary of John Martin's itself. From 4 to 7 p.m. Friday, April 10, beer will be 20 cents.
John Martin's is at 253 Miracle Mile, Coral Gables.