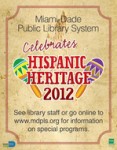 Join Miami-Dade Public Library System's Hispanic Heritage Month celebration. Enjoy the sultry moves of Argentina's Tango to the melodic sounds of Andean music.
View a new documentary on the profound impact Cuban exiles have made to South Florida. Hear detailed historical accounts of the Bay of Pigs Invasion from some of its survivors.
For details on Hispanic Heritage Month programs, and all other special programs and events, click on the Calendar of Events or call (305) 375-BOOK (2665).