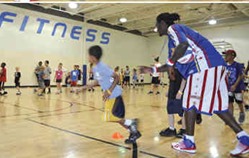 Goldstar is offering discounts for youngsters in South Florida to participate in hands-on basketball workshops with entertaining Harlem Globetrotters players.
Members of the team are in South Broward and Miami in June demonstrating some of their trademark tricks, and also working with kids ages 6 to 12 on  shooting, passing and dribbling.
The Goldstar price is $57. The regular price is $99.  The basketball clinics various are in June at 24 Hour Fitness venues in Pembroke Pines and Miami.
Information about the deal, which includes ticket vouchers for a Harlem Globetters game,  is featured on the link, discount price for Harlem Globetrotters clinics in South Florida.  More deals for activities and events in South Florida are featured on the Entertainment Page and the Daily Deals headquarters.
Goldstar is an advertising partner of On The Cheap.